Janet Prescott reports
Challenges and opportunities in what was acknowledged as "the continuing move back to British manufacturing", were formulated as the theme Back in Britain by Rory Wilson, Chairman, at The Weaving Group conference.
Held every two years, it is an international affair with expert speakers and weaver delegates from all over the UK. This year held in Huddersfield, 200 delegates and textile professionals gathered from Britain and Europe, a big increase. Highlighting UK success stories, the interface between industry, academia and customers was underlined, with manufacturers urging weavers to collaborate, advising more talking and exchanging information.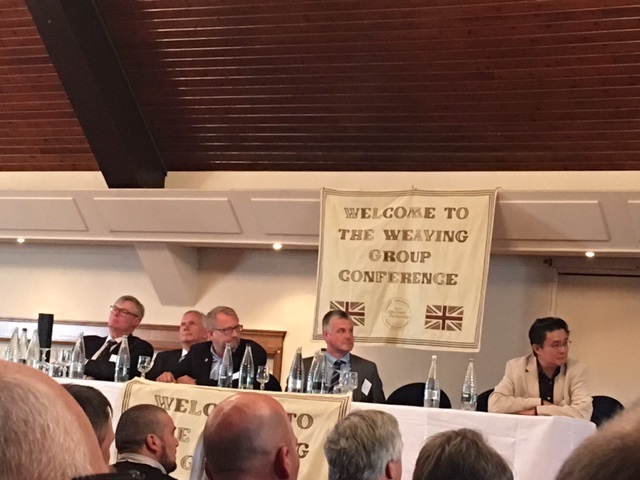 Mark Drysdale, of Heathcoat Textile Solutions, brought to the fore 200 years of manufacturing in Tiverton Devon, emphasising local expertise and great emphasis on innovation, a reputation for technical textiles developed for extreme performance, for automotive industries and geotextiles, as well as fabrics like net and tulle. Attitudes to production and development need to be intimately worked out with customers.
Rhys Herbert, of Lloyds Bank, discussed how growth could be either rebalanced or slowed in the economic outlook by attitudes to Brexit. Donato Langone, of Albini Energia, spoke of engineering solutions in energy optimisation. The highly successful Albini Group offers advice to other textile companies through energy audits and system solutions to provide efficiency.
Machinery specialists included Fritz Legler, of Swiss firm Staubli, stressing advances in step by step automation. He highlighted the importance of relationships between human and machine automation. Automatic drawing systems use new digitised manufacture with higher data volumes. Newest developments in woolen and worsted weaving with Active warp control include automatic detecting of the right colour systems and yarns.
Dominique Baldeck, of Itema, presented developments in air-jet weaving innovation, rapier air-jet and projectile. New heavy duty weaving features double rapier technology, a modular system with double weft insertion, and complete systems. A significant percentage of mechanical and electronic parts are fully interchangeable with their rapier models, reducing spare part costs. User friendliness was stressed. New avenues were fabrics for agriculture in overseas markets: "using fast developing techniques; fibreglass, PVC coated yarns for mosquito nets, filter fabrics, insect-proof materials for agriculture". Airbag systems are woven in one piece with scimitar rapier machines.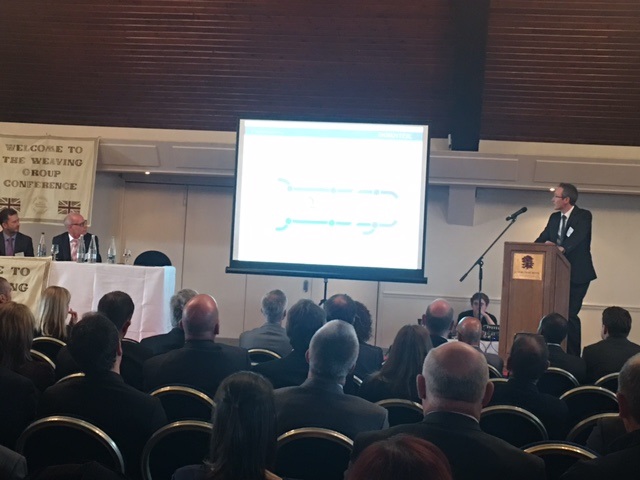 Bonas' Bob Harding spoke on the holistic approach to textile management. Based principally in Belgium, the company is privately owned and riding high: "We have never made so many machines," said Mr Harding. Bonas produces weft insertion systems, and carpet weaving machines from Axminsters, to prayer mats, to trainers and Geotex aviation products; automotive woven structures are being developed to replace metals. Mr Harding sees exciting possibilities in flat weaving, advocates waste reduction and digitisation of weaving, including jacquard for cost control.
Michael Schaaf, of Karl Mayer, called recent years "the best", as specialists in warp beams for the weaving industry identified increasing acknowledgement of a shortage of people worldwide willing to work in textiles, including formerly cheaper labour countries, and high production for shorter lengths. "It's obvious that automation is essential," explained Mr Schaaf. The company's universal yarn tensioner Prosize that was unveiled at ITMA, is experiencing high demand in the UK. The yarn is fully guided and gets rid of fluff etc.
Manchester University's scientist Dr Xiaogang Chen develops textile composites for 3D manufacturing. 3D for the reinforcement of composites, a polymer matrix and multiple phase material using new materials – nano particles of graphene and matrix are very light, enabling engineering properties. Textile companies working with aerospace and military are able to solve a number of problems, for example, they can now drape fabrics into one piece for composite for helmets. According to Mr Chen, ''partnership with universities is something we can do as an industry."
John Standish and Richard Humphries, The Worshipful Company of Weavers, introduced the involvement of the Livery company in reducing reoffending among underprivileged youngsters. Also with a Making it in Textiles conference and a tour in Bradford, they are introducing top UK-wide textile students to real experience of British factories. They stressed the importance of involving the weaving industry in providing placements for the scheme, bringing in young talent to manufacture.
Richard Hamshire, founder of McNair Shirts, shared his success story combining wool and British manufacture, creating markets for a quality, natural fabric. Richard's high-fashion experience recognised wool as "'an unsung technical fabric which should be developed for outdoor fashionable wear – the unplastic mountain jacket". The ultra-cool ranges sell internationally in prestige outlets.
Shaun Daniel, of Alpaca Comfort, the premier British-made alpaca duvets manufacturer, stressed quality. The brand produces Gots-certified cotton covers, handmade, filled with British-raised alpaca wool, hypoallergenic, etc, made with handstitching, maximizing individual approaches and successfully targeting contemporary concerns and local production.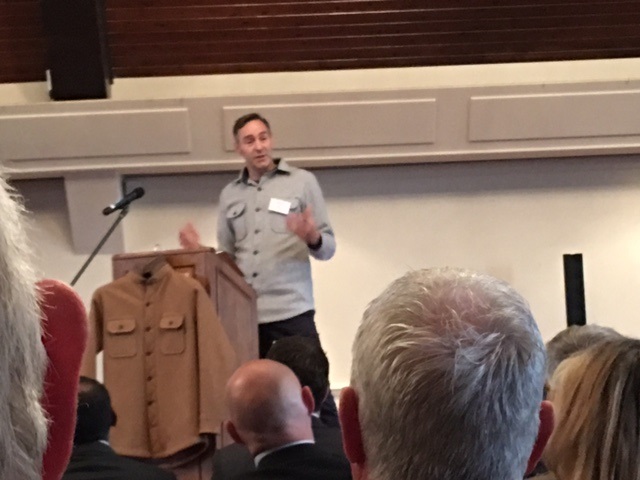 Andy Ogden presented English Fine Cotton, first new cotton spinning plant for generations, housed in the historic buildings of Tower Mill in Greater Manchester. Almost £6million were invested to produce premium yarns for exclusive UK companies, raw materials are imported from Barbados, India, Egypt, and the USA. The UK company Culimeta-Saveguard has ordered Zinser machinery to equip the factory.
Simon Spinks, of Harrison Spinks, making luxury beds and components since 1840, recounted how innovation can transform a traditional product. They purchased a farm for raw materials, reducing chemicals, growing hemp for mattresses, timber for construction, expanding uses of the farm for marketing and as a wedding venue; citing "emotional innovation". Their motto is "our beds don't start life in a factory but on a 300-acre farm in Yorkshire".
Trouser Town, as Hebden Bridge used to be called, was responsible for making 1 million pairs of trouser a year, and now has trouser manufacture brought back to the town by Ed Oxley and Brant Richards, with a new factory and brand, Hebtro. A traditional quality product with contemporary appeal is marketed in a groundbreaking way, using pop up shops, social media, and the power of facebook-type marketing – the heritage story with a new twist.
Kate Hills, founder and CEO of Make it British, rounded off the conference, which showed that there is a remarkable tide of optimism about local British manufacture at a high level. She founded Make it British in 2011, tapping into an international movement for localising manufacture, and has almost single handedly galvanised a British movement.