The biannual trade show A+A in Düsseldorf is a must for everyone who is involved in safety and health at work. And it is an important newsroom for the latest technical textiles applied in protective clothing and work wear.
In 2011 the sector is heading for a new generation of protective wear: it combines multi-risk protection and high comfort such as sweat management, breathability and a cool hand. In work wear, on the other hand, sustainable fibres are on the move.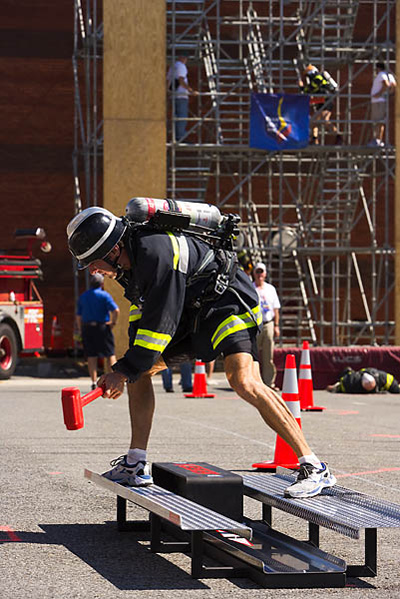 Besides its protective properties personal protective equipment (PPE) nowadays is required to offer high physical performance. Body cooling is essential to avoid heat stress and over-heating. It provides a better wearing comfort and flexibility.
Manufacturers intensify the use of flame retardant, high comfort fibres such as Lenzing FR. The cellulosic fibre seems to allow a "perfect" protective heat and flame resistant fabric as it combines high fastnesses against fire, flame and molten metal with a soft touch, a cool feeling on the skin and excellent moisture management properties.
At A+A 2011 many new fabrics were presented which are based upon the inherent flame retardant Modal fibre from Austria. A large variety of fibre blends in several weight categories and structures are made to fulfil the specific needs of different applications in working places that are at a risk.
"By using 70% Lenzing FR in a blend with 15% para-Aramide and 15% other fibres it is possible to reduce transferred energy and second degree burns fabrics in flash fire exposure even in light weight material of 260 g/m²," points out Ivan Heyvaerts, Area Sales Manager from Utexbel in Ronse-Renaix from Belgium.
"Our LavaPro wovens do not show break-open and do not shrink due to a phenomenon of expanding during flame exposure, offering a high level of protection."
Disadvantages of synthetic fibres wear off
Providing better wearer comfort in tough jobs is an issue for modacrylic fibres, too. Yet, the inherent flame retardant fibre has not been known to offer a high grade of breathability. Therefore there has been work carried out at Waxman Fibres to develop a new, comfortable fibre blend which is available in four levels of protection, based on different end use criteria.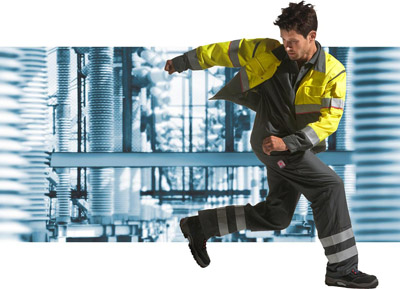 The company developed a blend of modacrylic fibres with FR viscose and combed untreated cotton which is supplied under the brand name of Protal. As Greg Cluskey, managing director of Waxman Fibres points out, the new fibre-blend "does not only offer extremely high levels of multi-hazard protection, but is also comfortable for the wearer and thanks to its unique breathability properties is ideal for people working in hot climates, as very light weight fabrics are available."
"Improving of safety, durability, comfort and price is a major topic that has been pushing on latest developments in PPE fabrics." says Martine Kok from TenCate Protective Fabrics in Nijverdal (Netherlands).
"Moreover sustainability is becoming increasingly important. TenCate therefore uses biological and eco-friendly fibres in its multi-risk protection fabrics."
The company replaced cotton fibres in its new TenCate Tecasafe XL line by special bio-cellulose fibres which absorbs perspiration into the fabric and offers high moisture regulation characteristics to the modacrylic based fabrics.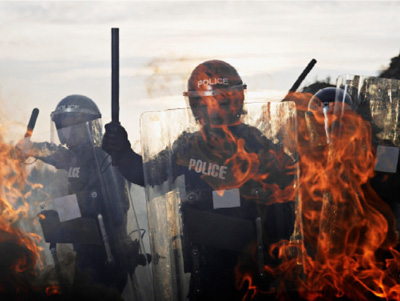 Another way to transport moisture away from the skin and help to keep the body temperature thermoregulated is by using multi-channel fibres which were especially designed for this purpose. Some years ago they have been established in the apparel industry where they offer a high level of sweat absorption to outdoor clothing and sportswear.
Now, a new flame retardant generation of multi-channel fibres is available. ThermoCool FR was presented by Advansa at the A+A show. The fibre is inherently flame retardant, self extinguishing with no-drip and permanently safe. It draws away sweat from the skin quickly in order to keep it dry, to provide a high wearier comfort and to maintain physical and mental effectiveness. According to its manufacturer it meets many flammability standards.
Teflon is cool
There were many more attempts to create an upgrade in the wearer comfort of protective garments. One of the most advanced is a knitted fabric made from a blend of Nomex and PTFE. Both fibres are flame retardant and the material complies with ISO 11612 A1 B1 C1.
What is more Teflon fibres create an extremely cool effect on the skin which is why the inside mainly consists of PTFE while the outside is made from Nomex. The special construction is reflected in the fabric´s colour: it is blue piece-dyed fabric by Eschler on the outside and light-coloured in the inside.
"We wanted to create a fail-safe flame retardant knitted material with an ultimate sweat management for Special Forces and special applications such as underwear for jet fighter or Formula 1 pilots." explains Emanuele Tolino, Business Unit Manager Workwear with Christian Eschler, Bühler (Switzerland).
"That is why we blended highly sophisticated PTFE fibres with Nomex. By doing so we achieve almost full marks in humidity absorption: grade 7 of 7."
Upgrade for FR treated cotton
Flame retardant treated cotton is another material which has long been applied in the manufacturing of protective clothing that comply to ISO 11611, ISO 11612 and the standard for protection against electric arc IEC 61482-1-2.
Due to the high quantity of the flame retardant finish, fabrics are mainly tough, heavy and rather stiff and dispense with sweat absorption. By replacing "normal" cotton by Pima cotton, which is the ultimate quality of cotton fibres, Westex (Illinois, USA) enhanced FR treated cotton. The natural fibre with a long staple permits the spinning of fine yarns with a silk-like hand and a very soft touch allowing combining wearer comfort with multi-functional risk-protection.
Sustainable fibres hit the road
A+A did not only present new developments in protective fabrics, but in work wear fabrics, too. One of the most important trends traces back to the pricing of cotton in 2010. It triggered an increasing influence of Tencel fibres (Lenzing) to work wear fabrics.
Mainly blends of 50% Tencel with polyester respond to a physically demanding working day, where comfortable workwear is an absolute must. The ideal garments are expected to provide all-day comfort and well-being.
"Blended fabrics with the Lyocell fibre Tencel offer softness, smoothness and absorbing properties. This is what prompted us to develop our range of Tencel workwear fabrics last year", explains Manfred Seeber, CEO of Melchior Textil.
"We were impressed by its incredible cool, soft handle and excellent moisture-management properties. What is more, the fabrics also meet the tough demands of rental textiles and are able to withstand repeated industrial laundering without any adverse effects."
Blends in many weight categories and with different portions of the sustainable fibre were the latest news from many fabric and work wear manufacturers. Tencel which is made from wood even finds its way into the high visibility clothing when it is combined with 80% polyester.
It is not only man-made Lyocell fibres which have become trendy. Recycled polyester, too, is in the starting blocks to replace the virgin man-made fibre.
"Sustainability has become an important topic for fabric manufacturers." says Andreas Will, Account Manager with Klopman Germany. "We observe an increasing demand for alternative fabrics. The garment manufacturing industry requires long lasting, durable and eco-friendly fabrics for work wear and protective clothing. That is why we introduced a collection of polycotton work wear textiles which is made from recycled polyester yarn. It is available in standard and high visibility colours and fulfils the requirements of EN 471."
Still, the use of recycled synthetic fibres in technical textiles is only at the beginning. Nonetheless it appears that they are going to play a part in the world of a new generation of fabrics. But this remains to be seen - at A+A in 2013.
Sabine Anton-Katzenbach
Our correspondent, textile finishing specialist Cert-eng. Sabine Anton-Katzenbach provides technical consultancy services for the textile and apparel industries through her company, Büro für Textiltechnische Beratung. She is also an accredited journalist and her clients include companies from the chemical, fibre, textile and apparel industries, textile service companies, marketing agencies and publishers.