5th January 2017, Ichinomiya, Japan
New chlorine free hydrophobic shrink resist treatment for wool
A new shrink resist treatment developed in Japan helps retain wool's hydrophobicity without removing scales. Toabo Corporation, Sotoh Co. Ltd., and Moriyasu Dye Works Co. Ltd., have recently worked together to establish a pilot plant for a new chlorine free treatment called Life Fibre Eco-Friendly Treatment (Life Fibre EFT) in the heart of Japan's wool industry, Ichinomiya. The new treatment is to be launched at the Woolmark stand at ISPO in Munich on the 5th of February 2017.
"Product finalization has been completed in the latter half of 2016 and three companies are looking to offer international top makers to utilize the technology to develop Zero AOX wool products towards the global markets in the near future," commented Toshiya Inoue of Life Fibre Company.
"Life Fibre EFT is based on Interfacial Polymerization which enables to encapsulate the native hydrophobic surface of wool fibre with polyamide, which prevents wool fibres from entangling thus provides shrink proof attributes to the products."
The process involves bringing a solution of a Diacid Chloride in a water-immiscible solvent, into contact with an aqueous solution of a Diamine, by which, polymer is formed at the interface of the two liquid phases.
"This treatment is new and unique, as it is commercially applicable enabling the continuous processing, although the technology itself has long since been established," Toshiya Inoue said, adding: "Benefits of Life Fibre EFT consist of several unique elements such as superior shrink resist functionality without removing scales unlike other treatments such as Super-wash, Enzyme and Plasma treatments, which maintains wool's native hydrophobic attributes. It is remarkable in view that off-scaling of those treatments damages the fibre a lot and often leads to yellowing and deterioration in fibre strength."
"This is also significant under the circumstances that environmental regulations are becoming more and more stringent around the globe especially in Europe. Also, this new processing requires less water and less electricity, as it can be treated with a second order reaction and it only requires water temperature of 40 degrees in centigrade maximum."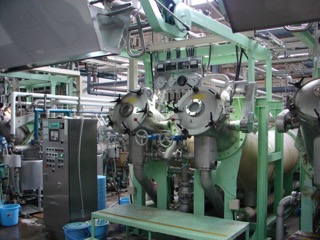 "Interfacial Polymerization comprises the molecular binding, thus, this polymer encapsulation, in comparison with Chlorine Hercosett, generates better durability, and furthermore, products developed with Life Fibre EFT are not only machine-washable compliant to IWS TM31 - ISO 6330-1984, but also they endure the application of Tetrachloroethylene that is commonly used in the dry cleaning system and are often tolerant against enzyme detergents,"
In addition, Toshiya Inoue says, the treatment can theoretically be engaged with any forms of intermediate products such as top sliver, yarn, and knitted and woven fabrics.
"Lastly, Life Fibre EFT technology is able to bring possibility in brilliant white colour and light shades with durable colour fastness to light by mixing pigment dye-stuff and ultraviolet absorber in the Polyamide polymerized on the preserved scales," Toshiya Inoue concludes.
"The treatment is proven to be applicable to other fibres regardless either they are man-made or natural fibres, which enables to add functionality such as UV protection and FIR by blending substances to the polymer."
Further information
Toshiya Inoue
Life Fibre Company
E-mail: [email protected]
Tel: +81 3 3662 6731
Fax: +81 3 3662 6742
Mobile: +81 90 6540 5252
This article is also appears in...