Technology/Machinery
New Itema machines on stage at ITMA 2019
Among the seven machines displayed – along with special products highlights – are two new market launches.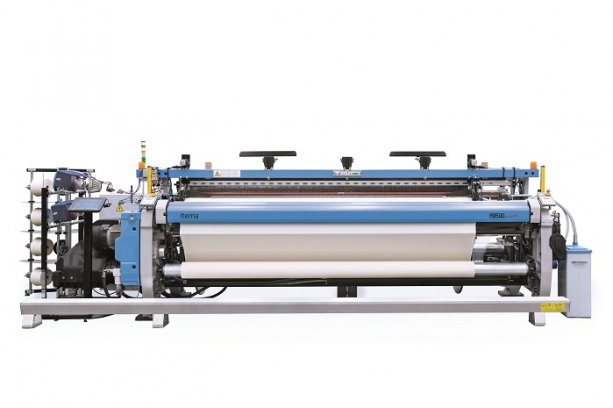 10th June 2019
Innovation in Textiles
| Colzate
A9500-2bedsheeting. © Itema
Itema, a leading Italian provider of weaving solutions, will exhibit at the upcoming ITMA trade show that takes place from 20-26 June in Barcelona. The company recently launched Itematech – the new division dedicated to technical textiles born as a result of the agreement signed with PTMT – and will feature three stands and 11 weaving machines.
Among the seven machines displayed – along with special products highlights – are two new market launches, a never-before-seen weaving insertion concept and a series of weaving novelties.
A9500-2bedsheeting
Developed to provide the most demanding bed sheeting weavers with an airjet weaving machine capable to reach the highest performances and to guarantee fabric quality and design versatility, the Itema airjet A9500-2bedsheeting will make its debut at ITMA 2019.
Key machine components, such as main and tandem nozzles, have been redesigned along with the whole pneumatic platform to ensure superior performances in terms of speed coupled with fabric quality and textile efficiency. Absolute new launch and core advancement featured on the A9500-2bedsheeting are the brand-new heald frames Skyframe, made of aluminium and carbon and designed by Itemalab in cooperation with Lamiflex.
A9500-2
The second airjet weaving machine on display is the A9500-2, the second generation of the Itema airjet A9500 and A9500p. Thanks to a new and optimised pneumatic platform, the weft insertion cycle is improved, leading to a quicker system response when handling air load and pressure guaranteeing minimised vibrations and higher structural reliability, the company reports. The whole machine structure has been revised to increase the air tank capacity ensuring textile performances even at the highest speeds.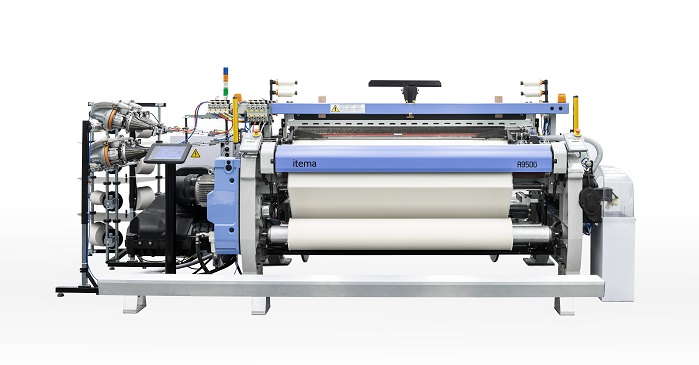 A9500-2. © Itema
The A9500-2 features the brand-new Bi-Power stretch nozzle, designed to ensure perfect weft catching pick by pick. Compact, powerful and cordless, the Bi-Power stretch nozzle allows air consumption reduction and increased fabric quality by keeping the weft perfectly straight in the fabric. The user-experience has also been further optimised thanks to a new machine ergonomics with a lowered front frame to improve machine accessibility.
R9500-2denim
The denim dedicated rapier R9500-2denim will be equipped with iSaver – the Itemalab latest mechatronic advancement, which eliminates the weft and warp waste on the left-hand side of the fabric. New innovative and cutting-edge solutions have been developed to further boost the R9500-2denim as the racehorse in its category and will be showcased during ITMA.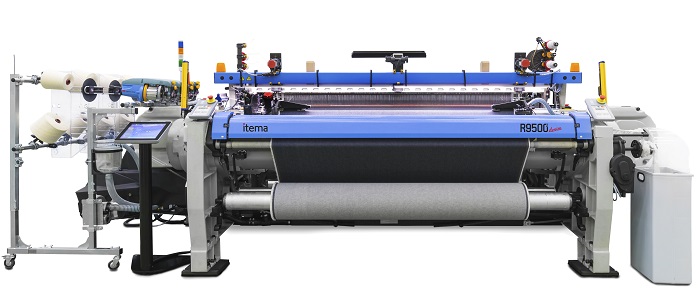 R9500-2denim. © Itema
At ITMA, the R9500-2denim comes with a further optimised weft transfer system. The iBooster package is said to boost machine's performances, without compromising reliability. When running extremely fast, key rapier insertion system components are subject to considerable stress. Thanks to a deep materials study made by Itemalab, in close cooperation with Lamiflex, Itema succeeded in developing new reinforced tapes, sprocket wheels and micro smart coolers to ensure extended lifetime.
R9500-2
The R9500-2 rapier machine in second generation features some key advancements that are now said to make this machine the most energy efficient rapier weaving machine on the market. The machine lubrication system and main mechanical components have been optimised to guarantee a considerable energy consumption reduction. Moreover, the Itema R95002 is equipped in its standard configuration with a direct drive motor with oil cooling, which ensures a double valuable advantage: reduced maintenance and energy saving.
The R95002 features a lowered front frame to facilitate machine accessibility for the weaver when carrying out daily textile operations. The weaver has a complete machine control through the brand-new latest generation, high-performance, sensitive console. Thanks to the brand-new Itema plant management software iManager, the plant manager can easily control and access machines data and statistics from computer or portable devices.
R9500-2. © Itema
Two R9500-2 will be exhibited, the first equipped with top fancy beam and weaving a high-end shirting fabric and a wide Jacquard loom weaving a complex fancy furnishing style. Three more R9500-2 machines will be on show at ITMA at Stäubli, Bonas and MEI booths.
Itema Discovery
ITMA 2019 will also be the absolute world premiere of the brand-new Itema Discovery, developed by Itemalab. Introduced at ITMA as a concept, Discovery "completely redefines weaving foundations by basing its operations on mechatronic principles and not anymore, as it happens on current weaving machines, on mechanical drives", according to the manufacturer. The machine that will run only a couple of times during the exhibition daily demo hours is set to "amaze worldwide weaving aficionados".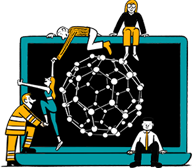 Business intelligence for the fibre, textiles and apparel industries: technologies, innovations, markets, investments, trade policy, sourcing, strategy...
Find out more