Nonwovens/​Converting
Nonwovens made of 'different fibres'
With globalisation and an increase in world population, the demand for textiles is increasing as well, and so is the consumption of fibres.
2nd August 2018
Innovation in Textiles
| Albstadt
With globalisation and an increase in world population, the demand for textiles is increasing as well, and so is the consumption of fibres. Fossil fuels as well as mineral resources, in part, are limited by their natural finiteness. This increases the demand for new and renewable resources and sustainable materials.
The constantly growing synthetic fibre industry also generates constantly increasing amounts of plastic waste and microplastic particles in the world's oceans. Some 4.8 to 12.7 million tonnes of plastic waste get into the ocean every year. Between 15-31% of that consists of very small plastic particles. One cause of this pollution is the improper disposal of waste.
In the meantime, the first companies have begun working intensively on this topic, producing the first products made from recycled materials, for example from discarded fishing nets that are normally made from polypropylene (PP), polyamide (PA), or polyester (PET). These are processed back into fibres and introduced back into the textile supply chain.
Geotextiles made from banana fibres
In July 2016, Groz-Beckert, a leading provider of industrial machine needles, reported on processing PET bottles into needlepunched textiles. Now, the company introduces alternative fibre types. "Banana fibres are a by-product of banana harvesting, for example," the company explains. "As you probably assumed from the beginning, this does not refer to fruit fibres, but rather to parts of the palm trunk. Since banana trees only produce fruit once in their lives, the entire parent plant is cut down during harvest. The trunks are then cut open and separated into individual layers. These individual layers are processed via machine into separate fibre bundles by squeezing out the fluid components of the fibres. Finally, the fibres are hung up to dry."
"In addition to using banana fibres in clothing fabrics, tea bags, and Japanese yen notes, they are also processed into nonwoven mats for use in the geotextile industry as erosion or weed protection, for instance."
Coconut matting
Because of their resistance to moisture, coconut fibres are also used for erosion protection and in gardens and landscaping. Coconuts consist of an outer solid shell, a layer of fibre around 8cm thick underneath, the rock-hard inner shell, and the inner white core (nut meat) with the milk contained within. The fibre layer makes up approx. 30-35% of the total weight. It is composed of short fibres and fibre bundles that are up to 30cm long. The latter is machined into individual fibres.
Coconut fibre mats are used as nonwoven material for heat insulation but also as mattress pads, carpet backings, or reinforcement elements for natural fibre reinforced plastics (NFRP). Car interior linings are just one of many applications.
'Tequila fibres' for automotive
The car manufacturer Ford is one of the companies focusing on the topic of sustainability and new resources. In cooperation with the tequila producer Jose Cuervo, Ford is researching the use of agave fibres for possible applications in vehicle interiors or as a light-weight vehicle part.

Agave fibres, commonly known as sisal, are a by-product of tequila production and are harvested from cut leaves of the agave plant. The share of fibres in agave leaves is around 5%, and these fibres are removed from the meat of the plant through a mechanical process similar to the one used to acquire banana fibres. In addition to being used in the automotive industry, agave fibres, like banana and coconut fibres, are also used as mats and geotextiles.
Fibres and felting needles
"The fibre cross-section of natural fibres is not uniform, which makes needling difficult, in principle. This means that conical felting needles or vario barb needles with varying vario barb sizes are used, thus ensuring increased stability and leading to less needle breakage creating a longer product life," the manufacturer says. "This plays an important role, even in abrasive natural fibres such as coconut fibres."
"Gebecon felting needles from Groz-Beckert distinguish themselves with their conical working part and a continuous conical geometry to the shaft. This results in a reduced penetration force at the beginning of the penetration process, which also reduces the strain on the needling machine. In addition, the slim working part results in smaller penetration holes in the end product, thereby improving the surface appearance."

Compared to standard felting needles with intermediate reductions, Gebecon felting needles are said to show more even deflection during stress tests. Overload points are absorbed by the improved dynamic behaviour, thus minimizing the danger of needle breakage. In addition, the more uniform bending strength ensures reduced draft for higher flexibility and allows for faster line speeds.
"Product processes must be harmonized in order to meet the requirements of the end product. Choosing the correct needle is essential for this. A suitable felting needle with optimized product life also ensures an economic production process," the company concludes.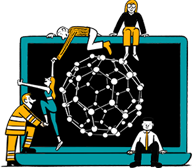 Business intelligence for the fibre, textiles and apparel industries: technologies, innovations, markets, investments, trade policy, sourcing, strategy...
Find out more