Nonwovens/​Converting
Groz-Beckert offers Twisted needle for processing of nonwovens
The Twisted needle has been specifically designed with a focus on the performance-optimized needling for the nonwovens industry.

22nd March 2016
Innovation in Textiles
| Albstadt
The mechanical bonding of nonwoven fabrics with the help of needles has evolved into a popular method for manufacturing across a broad variety of products. These not only compete with conventional textile manufacturing processes but also feature new properties that were previously only achievable using other methods.
Groz-Beckert, a leading provider of industrial machine needles, precision parts and fine tools, presents the Twisted needle, which is said to be ideal for intermediate or finish needling process.
Types of finish needling
After pre-needling, a nonwoven is in most cases processed by one or several intermediate or finish needling machines. Finish needling is said to give the nonwoven maximum consolidation and compaction before it is ultimately finished. In this production step it is also possible to influence surface properties and other technical aspects.
The increasing densification of the nonwoven fabric can take place via different machine configurations. The following variants are possible:
One-sided needling with one or two boards from top or bottom
Two-sided needling from top and bottom with one or more boards per side
Double-sided needling (alternating or simultaneous) with two or more boards
In the design of today's production lines, a quattro punch machine is frequently used. This is said to enable not only two-sided needling from top or bottom by means of two needle assemblies positioned side by side, but also two-sided needling, as well as needle bars, which operate on just one side, either only from top or from bottom.
Twisted needle
The Twisted needle is a felting needle that has been specifically designed with a focus on the performance-optimized needling for the nonwovens industry.
The Twisted needle can enable an increase in production and more intensive product densification – especially with manufacturers for whom the needling process represents a bottleneck concerning capacity, the company reports.

Moreover, the Twisted needle is said to be the optimal solution wherever excellent surface quality and high strength are required.
Characteristics and special features
The Twisted felting needle has an equilaterally-shaped triangular working part with a defined twist, thereby ensuring improved breakage/bending properties. This property is required because the twisting in the working part and the resulting increased efficiency mean that higher penetration forces are exerted on the needle during the needling process in comparison to standard felting needles.
A closer look at the Twisted needle compared to a standard felting needle shows that due to the twisted working part, there is a modified barb arrangement. This results in barbs 2 and 3 of the working part no longer being located in the "slipstream" of barb 1. For this reason, all the barbs can capture a larger share of fibres from the needle channel in the nonwoven, and transport them more strongly than with a standard felting needle. The resulting positive effect of improved fibre transport enables greater densification of the nonwoven and an accompanying increase in strength values, according to the manufacturer.
Despite the twisted working part, all barb dimensions on the edges of the needle are identical, guaranteeing process stability during needling. To make efficient use of the twisted effect, at least two barbs should be available at each edge, and the distance from barb to barb should not be too low (preferably needles with regular barb spacing = R). Care should also be taken that during the needling process, all the barbs can work inside the product.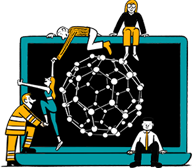 Business intelligence for the fibre, textiles and apparel industries: technologies, innovations, markets, investments, trade policy, sourcing, strategy...
Find out more