20th December 2016, Cary, NC
INDA accepts nominations for WOW Innovation Award
INDA, the Association of the Nonwoven Fabrics Industry, is accepting nominations for the prestigious World of Wipes Innovation Award until 20 February 2017.
The Award recognises and rewards a product or technology innovation within the entire wipes value chain that expands the use of nonwoven fabrics and demonstrates advancements in creativity, novelty of approach, uniqueness, and technical sophistication.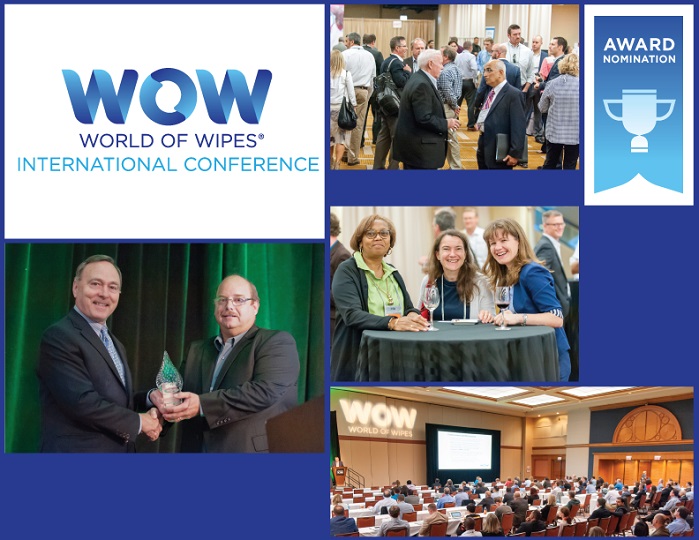 Nominees will be selected from a broad range of industry categories including raw materials, roll goods, machinery, converting, packaging, lotions, active ingredients, binders, additives, and end products. Three finalists will be chosen to present their innovation to the industry at the 11th annual World of Wipes (WOW) International Conference, which will be held from 12-15 June 2017 in Nashville, TN.
Winner announcement
The winner of the Award will be announced on 15 June at the conference before hundreds of industry professionals and media editors. Last year's conference attracted more than 400 registrants to discuss wipes business, gain information from over 25 relevant presentations, and interact during receptions, breaks, and organised dinners, organisers report.
"Everyone who is anyone in the wipes industry will be on hand to see the next generation of technical advancements compete for the World of Wipes Innovation Award," said Dave Rousse, INDA President. "This is an enormous recognition opportunity for new products introduced in the past year. We look forward to seeing another extraordinary slate of nominees for this Award."
Last year's World of Wipes Innovation Award was presented to Tec Laboratories for its Tecnu Bites & Stings medicated itch and pain relief wipes. Prior winners include Clorox: ScrubSingles kitchen pads (2015), Sertun rechargeable sanitizer indicator towels, from ITW Professional Brands (2014), TapeMark, Snapplicator (2013) and Sani Professional Table Turners no-rinse sanitizing wipes (2012).
WOW Conference
The 2017 World of Wipes (WOW) International Conference features premium content in the areas of consumer research, business and market intelligence, packaging, regulatory intelligence, safety and testing, substrates, sustainability, and flushability. The preliminary programme for WOW 2017 will be announced next month.
The extremely popular Dine with an Industry Thought Leader returns to WOW 2017 where participants dine in small groups with a notable industry leader of their choice to discuss prominent industry and business issues. Other networking opportunities include three receptions, world-class tabletop displays, and numerous coffee breaks.
This article is also appears in...