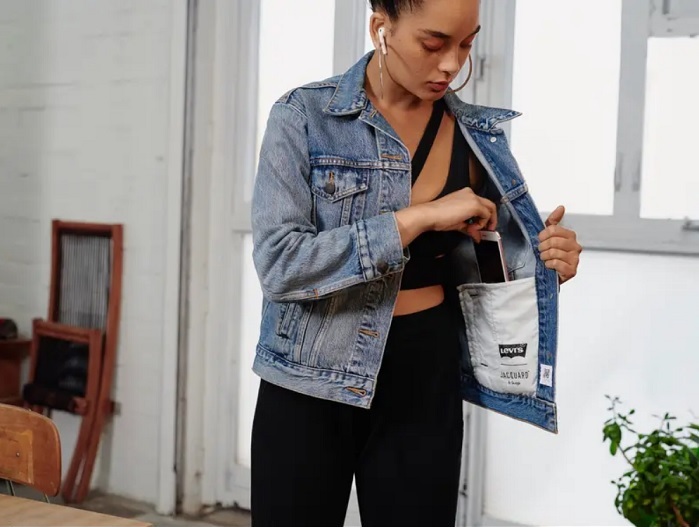 The phone slips into a pocket inside. © Jacquard by Google
The San Francisco-based denim brand Levi's has announced a new Levi's Trucker Jacket with Google's Project Jacquard technology, which turns a portion of the fabric on the sleeve into a touch-sensitive remote control for phones.
This is a second version of their Jacquard smart jacket first introduced in 2017. The iconic jacket merges style with innovative Jacquard technology and allows the wearer to answer calls, play music, and take photos right from the sleeve.
Levi's was the first to launch a product with Jacquard by Google. The new Levi's Trucker Jacket incorporates the latest Jacquard technology with one of the brand's most iconic styles. Building on the Levi's Commuter Trucker Jacket with Jacquard that was designed for cyclists, this next generation version has been designed from the ground up to be helpful in your everyday life.
With Jacquard technology, Levi's Trucker Jacket lets you access digital services right from your cuff, wherever you go. Get updates about your day, take a remote selfie, get notified if you leave your phone or jacket behind, and more, so you can stay focused on what's important.
Iconic looks with modern touch
Fit for every occasion, Levi's Trucker Jacket with Jacquard by Google comes in four styles to choose from. Each jacket is designed with Jacquard technology built-in, so you are in control, and stay connected without looking at your screen.
The snap tag lights up and vibrates to notify you of incoming calls and texts. © Jacquard by Google
The technology allows to use touch gestures, like swiping and tapping, on the left cuff of the jacket to issue commands. The new and improved Jacquard Tag wirelessly connects your Trucker jacket to your smartphone. Jacquard also provides you helpful alerts — like when you've left your phone behind — using lights on the Tag and vibrations in the cuff to get your attention.
Jacquard by Google technology is designed to comply with standard Levi's care instructions. You can treat it as any regular denim jacket, after you remove the Jacquard Tag.
Featured abilities
A single gesture takes a picture with your phone's camera — selfies and group shots are now easier. Includes visual and haptic countdown timers.
You can create your own ability with Google Assistant: request weather or traffic, the next appointment, latest news or simply ask for a joke. Just type your request and assign it to gesture for easy access on the go.
The snap tag lights up and vibrates to notify you of incoming calls and texts. Brush your cuff to respond. You can also control your media on the go. With a single gesture, you can pause the music, skip a song, or hear the title of what's currently playing.
Saint Laurent's connected backpack
Google also teamed up with Saint Laurent to design the first connected luxury backpack that can control music, drop pins on the go, take pictures, and do more with a simple gesture. The new Saint Laurent x Google Cit-E Backpack model is available at the Saint Laurent Rive Droite boutique in Paris.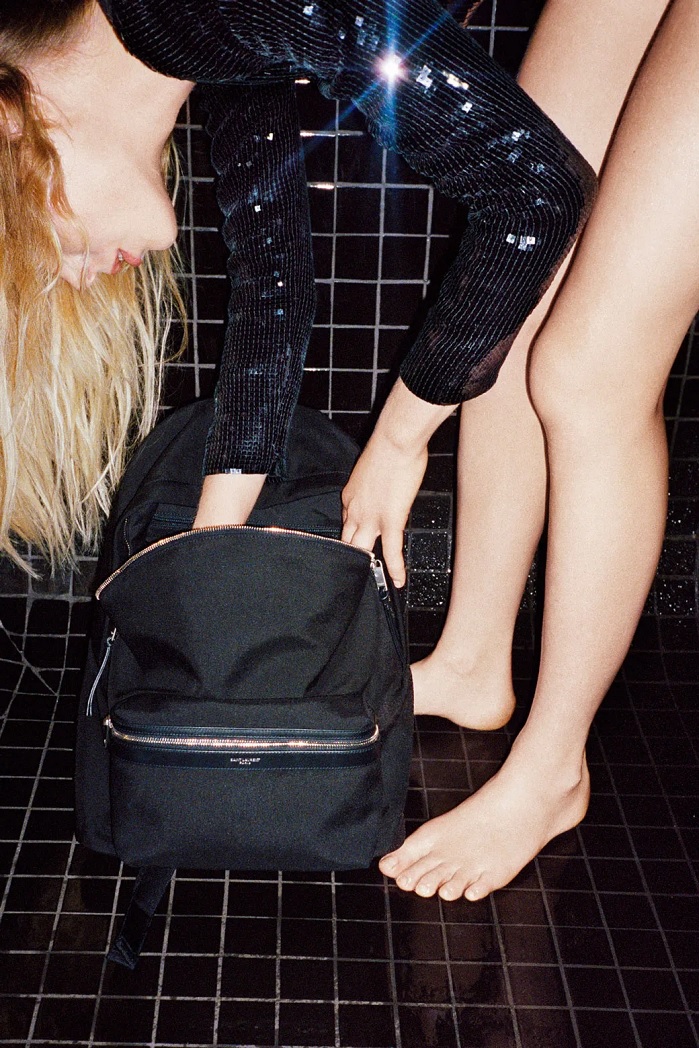 The new Saint Laurent x Google Cit-E Backpack. © Jacquard by Google
The left strap is integrated with Jacquard technology, enabling your backpack to respond to touch gestures. The light indicator glows in different colours to alert you, say, when you've left your phone behind. You are also reminded with a tactile nudge. Designed to be embedded discreetly into the backpack, the Jacquard Tag connects with the Jacquard app to bring your backpack to life.
On the left-hand side strap, you'll find Jacquard technology developed by Google. A built-in Jacquard tag connects to the associated app (available on iOS and Android) and allows users to control the music, take photos and more.
Learn more about Jacquard by Google here
Further reading
This article is also appears in...