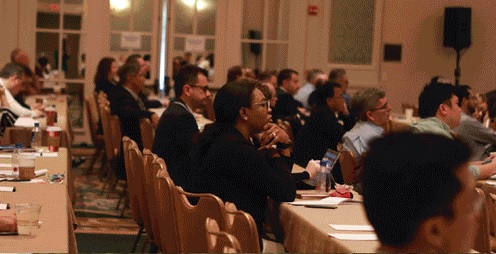 INDA, the Association of the Nonwoven Fabrics Industry, seeks industry nominations for one of its most prestigious awards – the Lifetime Technical Achievement Award – before 12 August 2019. The award honours individuals, whose technical achievements over a career of 20 years or more have meaningfully contributed to the growth of the nonwovens industry.
All nonwoven and engineered fabric industry professionals are strongly encouraged to nominate technical leaders whose career contributed to new products and processes, or the industry as a whole. Nominations are easily submitted online on the INDA website. Nominations will be reviewed by INDA's Technical Advisory Board consisting of technical professionals from member companies.
Last year, the INDA Lifetime Technical Achievement Award was presented to Ralph Moody, PE, Senior Director, R&D at Berry Global, for authorship of eleven patents, design of multiple machine start-ups, and leadership on the Scientific Advisory Board of the Nonwovens Institute at North Carolina State University.
In 2017, the INDA Lifetime Technical Achievement Award was presented to Bryan Haynes, PhD, Senior Technical Director in Global Nonwovens, Kimberly-Clark Corporation, for his authored publications, 43 US Patents, and 13 Trade Secrets during his Kimberly-Clark career and for his leadership role for the front-end innovation portfolio and prototyping capabilities supporting Kimberly-Clark's various businesses.
Prior year winners include educator and Managing Editor for the Journal of Engineered Fibers and Fabrics, Edward (Ed) A. Vaughn, PhD, Professor Emeritus, Clemson University, (known as "Mr Nonwovens of the US").
This year, the award will be presented before 500 industry professionals at the fifth edition of Hygienix – the premier event for absorbent hygiene and personal care markets, from 11-14 November at the Hyatt Regency Hotel, in Houston, TX.
The Hygienix conference will present world-class innovators concerning the latest breakthroughs, challenges, and megatrends reshaping the world of absorbent and personal care hygiene. The event includes tabletop exhibit displays, a diaper and adult underwear workshop, and the presentation of the INDA Lifetime Technical Achievement Award.
This article is also appears in...