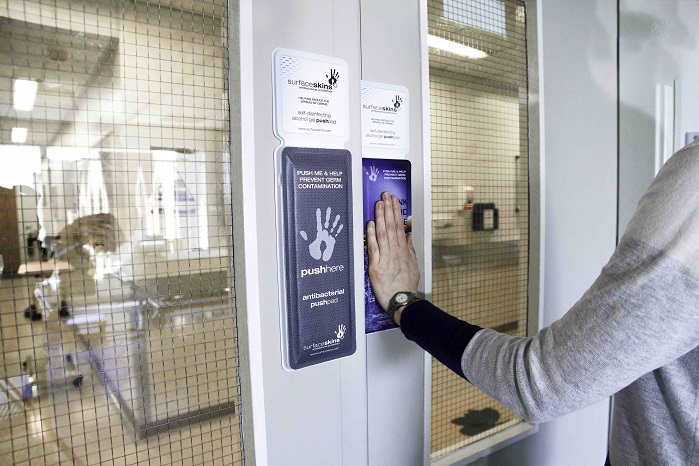 Surfaceskins pad in use. © Surfaceskins/NIRI
A collaboration between Nonwoven Innovation & Research Institute (NIRI) and a team of industrial design consultants Surfaceskins has been selected as a finalist for the Short-Life Product Achievement Award, for best new disposable product utilising engineered fabrics.
Studies show that up to 80% of infections are transmitted by hands. While gel dispensers and hand washing make hands clean, Surfaceskins keep hands clean, when passing through a door. "You are in a hospital, office, restaurant or bar and have just washed your hands, or used an alcohol hand rub. By now touching a door handle or push plate you may become contaminated with germs left by previous users," the company explains.
"Every surface you now touch may also become contaminated. Surfaceskins work in conjunction with gel dispensers and hand washing, a vital infection control measure designed to complement existing hand hygiene practices and protocols, breaking the transmission chain."
In-vitro trial summary. © Surfaceskins/NIRI
Each time the Surfaceskins pad is pressed, the surface self-disinfects, releasing a small quantity of antibacterial gel via the micro-valved top sheet and providing a self-sterilising surface to protect every door user. Independent NHS Laboratory in-vitro trials have proven kill rates of seconds against E.Coli, Salmonella, Norovirus, S.Aureus and E.Faecalis, compared to the many hours taken to achieve a similar germ-kill level by alternative products. Recent trials have also demonstrated that Surfaceskins improves hand hygiene compliance by increasing hand washing and gel usage.
Surfaceskins are suitable for hospitals, SCBU's, HDU's, ICU, elderly wards, food preparation, washroom, toilet, factory, schools, offices and other high-risk traffic areas, across multiple sectors. Launched in 2018, the range comprises: an introductory educational range; new custom Surfaceskins providing a high-visibility communication platform to deliver key messages, branding or third-party advertising; and, new for 2019, Surfaceskins have developed a round pullhandle, using the same self-disinfecting technology as the pushpads.
The patented technology behind Surfaceskins won a raft of awards since launching including: Medilink Innovation in Healthcare Award; Shell LiveWIRE Grand Ideas Award; Venturefest Innovation Showcase Award; Innovation of the Year (Yorkshire Post Excellence in Business Awards) and was a finalist at The Spectator Disruptor of the Year Awards.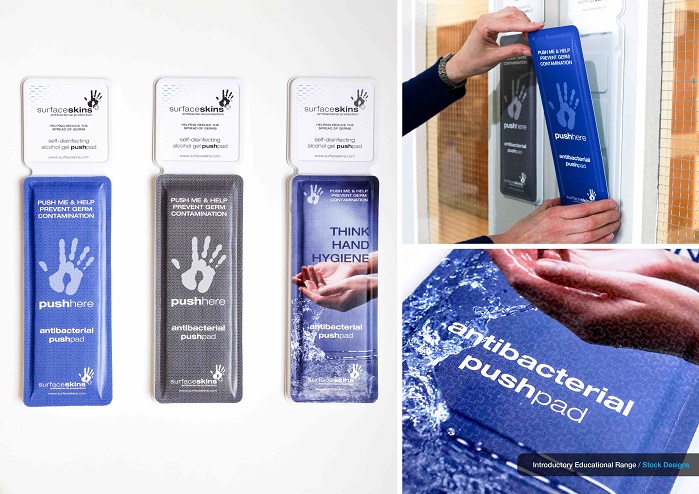 Surfaceskins are suitable for hospitals, SCBU's, HDU's, ICU, elderly wards, food preparation, washroom, toilet, and more. © Surfaceskins/NIRI
This latest nomination, for the IDEA19 Achievement Award, was announced on 1 February and the winners will be revealed on 27 March.
Presented by INDA, the Association of the Nonwoven Fabrics Industry, in partnership with Nonwovens Industry Magazine, the IDEA Achievement Awards occur every three years in conjunction with IDEA – The World's Preeminent Event for Nonwovens & Engineered Fabrics. The 2019 event marks the ninth anniversary of IDEA as a triennial event and the 50th anniversary of the founding of INDA.
Further reading
This article is also appears in...