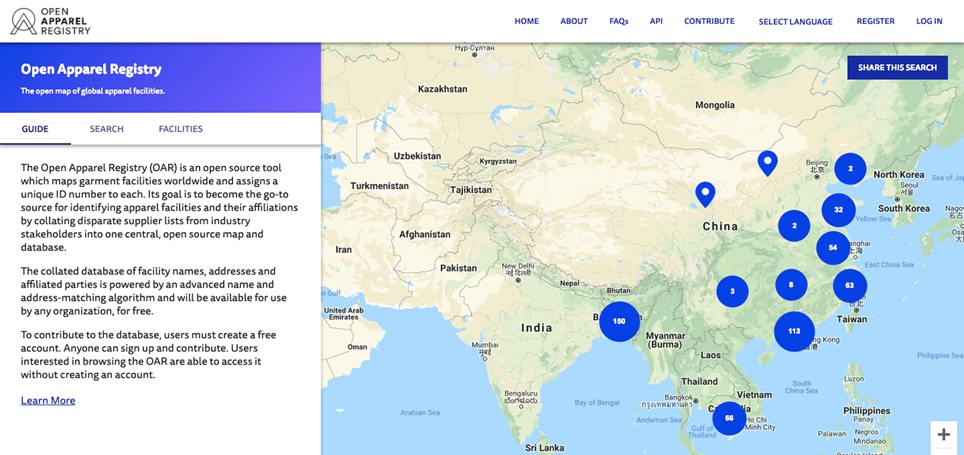 The collated database of facility names, addresses and affiliated parties is powered by an advanced name and address-matching algorithm. © OAR
Following a beta release in 2018 and a series of improvements based on user feedback, the Open Apparel Registry (OAR) has launched. It is an open source tool, mapping garment facilities worldwide and assigning a unique ID number to each. It aims to become the go-to source for identifying all global apparel facilities and their affiliations by collating disparate supplier lists from industry stakeholders into one central, open source map and database.
"As we launch the Open Apparel Registry today, we look forward to seeing all the ways the industry will use the tool for its work," said Project Director Natalie Grillon. "As part of its development, we've conducted an extensive stakeholder consultation exercise, gathering input and feedback from across the industry - from non-profits working on the ground in major sourcing countries and the factories themselves, to major global brands and the industry MSIs."
"Based on this input, we're confident that we've built a tool that will be of practical use throughout the industry, enabling organisations to better understand their supply chains, collaborate on in-factory improvements and act as a source of truth on name and address information for global apparel facilities."
OAR
The collated database of facility names, addresses and affiliated parties is powered by an advanced name and address-matching algorithm and will be available for use by any organisation, for free, to:
Update and standardise facility names and addresses against the database
Understand affiliations of current and prospect facilities to identify opportunities for collaboration
Find potential new suppliers listed with their affiliations
Leverage the OAR ID as a unique and shared ID across software systems and databases
The OAR compiles data from multiple sources including large datasets from multistakeholder initiatives (MSIs), brand and retailer supplier lists, facilities and factory groups, service providers, government databases and more.
The OAR is a neutral, non-profit organisation, with a multistakeholder Board of Directors representing civil society, the open data sector, factory groups, industry MSIs and brands. To further facilitate contribution and cross industry collaboration, several industry MSIs, including Amfori, Fair Factories Clearinghouse, SAC, SEDEX and ZDHC have formed an OAR working group to explore API integration.
Software development
Azavea, the OAR technical provider, has led software development activities leading up to the launch. They are a certified B Corporation and have a two-year grant from C&A Foundation to continue development and maintenance of the OAR. "Azavea is excited to work with C&A Foundation on the Open Apparel Registry," commented Robert Cheetham, President and CEO.
"As a B Corporation, we seek out projects that have the potential for civic, social, and environmental impact, and the OAR project aligns with our mission. Further, our geospatial software experience will enable us to support the OAR's goals of creating a standardized, open source global database and map of apparel facilities. We look forward to supporting a project that improves transparency and information sharing in the global supply chain."
"C&A Foundation is proud to support the launch and continued development of the Open Apparel Registry," said Leslie Johnston, Executive Director at C&A Foundation. "This groundbreaking initiative is the first to share, free of charge, important industry data across brands, retailers, manufacturers, multi-stakeholder initiatives, and civil society. By doing so, the OAR accelerates collaboration within the apparel industry and contributes to a new paradigm of open data, which we believe is critical to making fashion a force for good."
This article is also appears in...