13th January 2020, Frankfurt
OceanSafe raises the bar at Heimtextil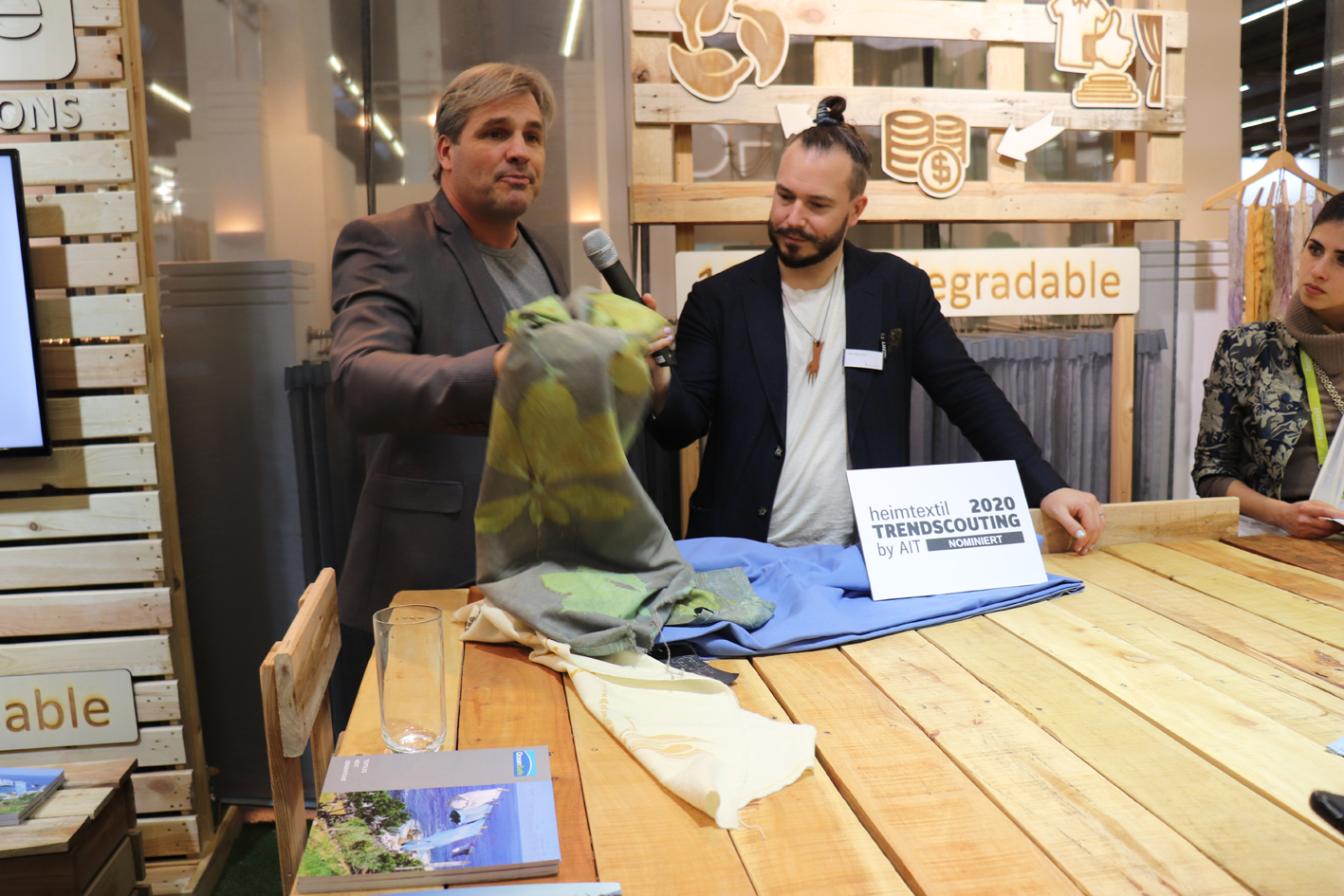 DDF managing director Manuel Schweizer explains the OceanSafe concept to Max Gilgenmann of Kaleidoscope. Image: Adrian Wilson
As Heimtextil celebrated its 50th anniversary in Frankfurt last week, the event's tenth Green Directory was also published, with tours of sustainable forerunners once again conducted by Max Gilgenmann, co-owner of the Berlin agency Kaleidoscope.
Kaleidoscope is a specialist in strategic consultancy and creative directing for international brands in the field of fashion and textiles and in 2020 its Green Tours proved more popular than ever before, revealing a real thirst for knowledge on the latest sustainable processes and products.
This year, one company really stood out in this respect – the long-established German fabric wholesaler DDF (Deco Design Fürus), with its new brand OceanSafe.
OceanSafe has already achieved Cradle to Cradle (C2C) Gold certification for home textiles based on 100% cotton. The fibres, the company points out, come from a region in southern Turkey where organic cotton has been harvested for more than 2,000 years, – once a year and in harmony with nature. The rest of the value creation – spinning, weaving, equipment and sewing – takes place within a radius of 40 kilometres.
Polyester replacement
More intriguingly, a second C2C Gold certificate has been attained for curtain fabric collections based on organic cotton, hemp, linen and a patent-pending 'biodegradable polyester replacement', about which managing director Manuel Schweizer would say very little.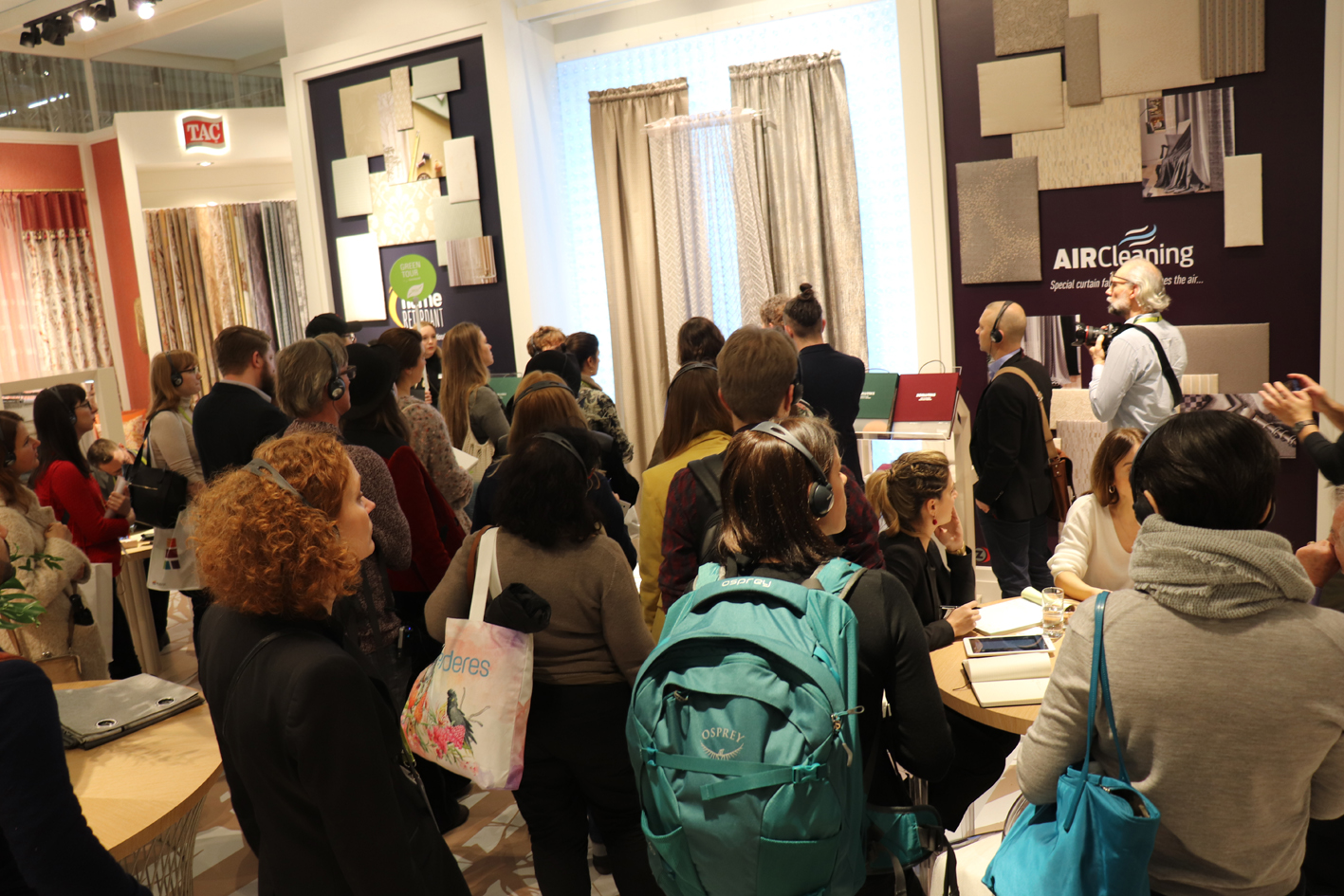 The Heimtextil 2020 Green Tours proved more popular than ever before. Image: Adrian Wilson
"It is based on acids derived from plants and we've been working on the development closely with industry and research institutes for the past seven years," he said.
In terms of the Material Health category within the stringent C2C certification process, this new polymer has received a Platinum rating, meaning it's based on natural nutrients and basically safe enough to eat.
The OceanSafe curtain fabric collections based on it are now being manufactured at a recently-acquired weaving plant in Krefeld, Germany.
"We found organic hemp almost on the doorstep of our branch in Krefeld, which we process exclusively in northern Germany and all the accessories for our collection, such as curtain gliders, buttons, hooks, straps, clasps and labels are also 100% biodegradable," Schweizer said. "Our fabrics are also lightfast, dimensionally stable and at least qualitatively equal, if not better, than comparable conventional products. And if you get the quality right in the first place, you don't need to use additives.
Benchmark
"We want OceanSafe to become the quality benchmark for the sustainable textile industry and fulfil the requirements of C2C Gold as a minimum. As a textile manufacturer, we no longer want to contribute to the increasing use of polyester or to the use of additives in natural fibres, which enter the water cycle during production, washing and disposal and remain there for hundreds of years. Developing non-toxic textiles is essential if we want to achieve a sustainable positive effect for humanity and the environment."
All microfibres washed out from OceanSafe textiles are absolutely harmless for the biological cycle. Image: OceanSafe
All microfibres washed out from OceanSafe textiles are absolutely harmless for the biological cycle, he added.
"After use, our products leave no waste residue, but are taken back, fed into an industrial composter and converted into nutrients for future generations. Our brand represents a new age of textile production – if you don't put any pollutants in, they'll never get out."
This article is also appears in...