Outdoor Retailer (OR), the premier US show for the outdoor industry that descends semi-annually on Salt Lake City, is evolving its priorities to better align with a changing outdoor industry.
The Emerald Expositions show, sponsored by the Outdoor Industry Association (OIA), held its 2017 Winter Market January 10 – 12, attracting an estimated 20,000 visitors and 1,075 exhibitors. Talk in the aisles this season focused on policies, politics, and the show's new schedule.
The show will move to three dates, in January, June, and November next year in order to coordinate with the Grassroots Outdoor Alliance (GOA), an organization of specialty retailers who are considered the heart of the outdoor industry. The GOA Connect show is moving to nearby Sandy, Utah in 2018.
"We need to keep a strong, cohesive industry, recognizing the importance of the smaller retailers," explained OIA executive director Amy Roberts. In addition, sourcing timelines are growing longer, while retailers want quicker, close-to-season deliveries. The show's new schedule is designed to better align with the industry's buying calendar.
Reconnecting with the consumer
The outdoor industry has faced headwinds this year, including unpredictable weather, changing consumer habits, and retail consolidation. Outdoor industry sales in the US fell (1.5%) to USD$18.8bn for the twelve months through October 2016, according to NPD Group. As a result, retail and brand executives are looking for ways to reconnect with the outdoor consumer.
Today's consumers want uniqueness, authenticity, and experiences rather than things, and are willing to pay more for brands they perceive as sharing their values, pointed out Matt Powell, VP and sports industry analyst for NPD.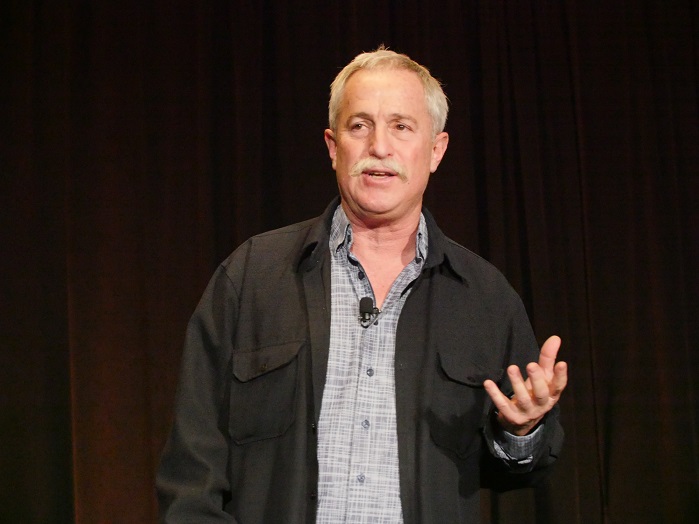 Joel Makower, in his keynote address to the show's opening day breakfast, spoke about the need for companies to align sustainability with innovation. The chairman and executive editor of GreenBiz, Makower encouraged the outdoor industry to "combine head and heart to make our business human."
It was encouraging to see many apparel and ingredient brands doing just that; from the adidas Terrex' partnership with Parley for the Oceans, to Downlite's new waste water recovery system that will recycle and reuse up to 99% of the water used to clean and sanitize its down and feather fills—saving up to 40 million gallons of water annually.
The use of recycled and organic fibres and fabrics is reaching a tipping point, including recycled wool, post-consumer recycled PET, and the use of eco-based synthetic insulation, such as PrimaLoft® Gold Insulation Eco and Gold Insulation Active, seen at a number of brands.
Outdoor lifestyle brand Avalanche chose a new insulation of DuPont Sorona® triexta, a polymer that is 37% bio-based, for its newest line.
Finding authenticity in heritage
"We have to think differently," said Julia Clark Day, NPD's executive director for business development for sports. "Take an old story and reinvent it with passion."
Searching for authenticity, a number of brands tapped into their heritage this season. Polartec® revived its iconic PolarFleece® from 1981 in Unifi REPREVE, creating customizable pullovers on the show floor in a prototype of direct-to-consumer commerce.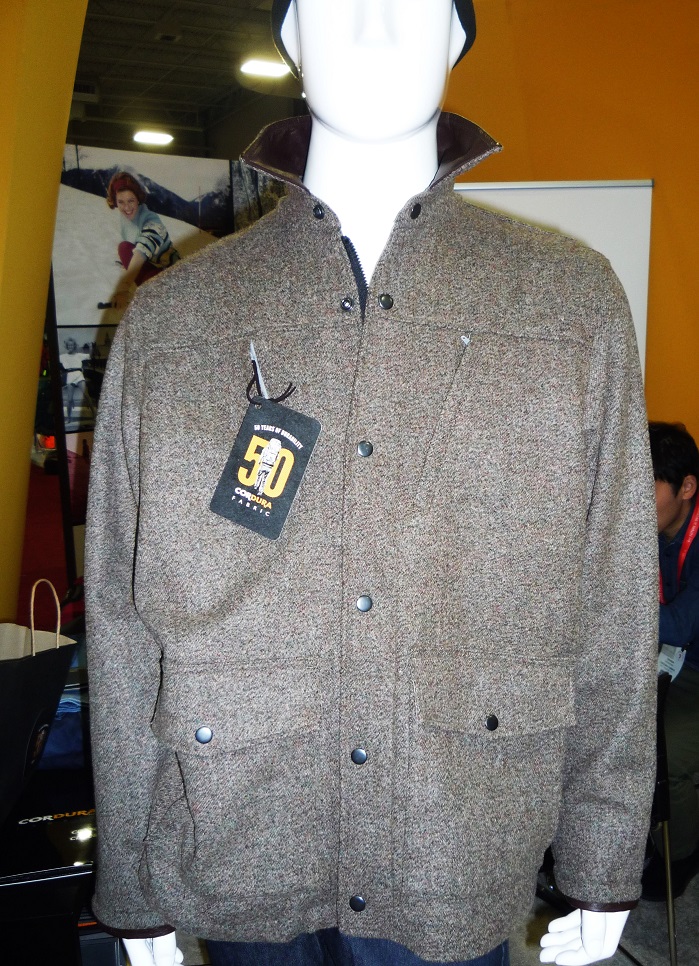 "The original vibe is preserved, but the performance is improved," remarked Fielding Miller, brand communications for Polartec®.
Columbia's Delta Marsh 1983 jacket brought back its original duck-hunting camo pattern, shell flaps, and bellows pockets, updated with Omni-Tech™ waterproof breathable technology.
Heritage combined with innovation was the message at Invista CORDURA® Brand. The high-tenacity fibre added durability to a revival of Woolrich's 1982 Wool-Dura™ hunting fabrics, and updated authentic selvage denims from Cone Mills' historic White Oak looms.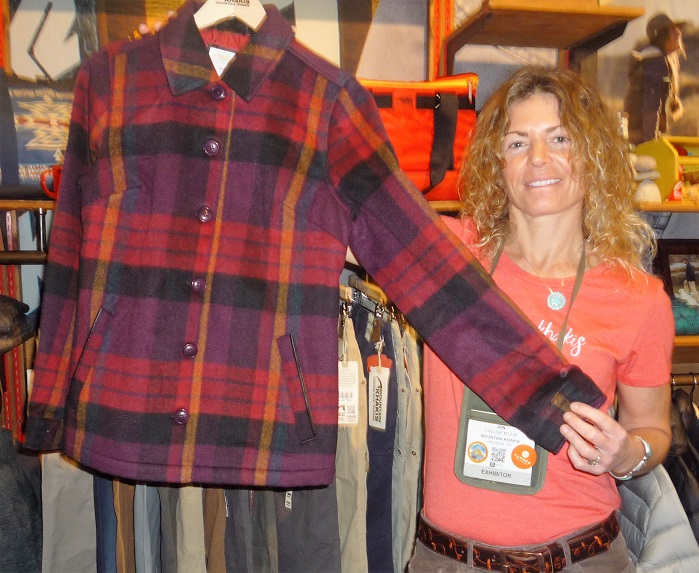 Merino wool has been trending in the base layer category for some time; but the season's retro mood brought a throwback to "wool with constitution," as described by Jen Taylor Muhr, brand manager and director of creative development at Mountain Khakis (MK). Gutsy wool plaids and boiled or brushed wool outerwear pieces were front and centre at brands such as NAU, TOAD & Co, and Fjällräven, many of them using recycled wool.
Old school flannel shirts, anoraks, sweater and Sherpa fleeces, and "shackets" (shirt jackets) in sustainable or performance fibres were key looks at outdoor lifestyle brands. Muhr pointed out that 20% of MK's collection for Winter 2017 used organic or recycled fabrics.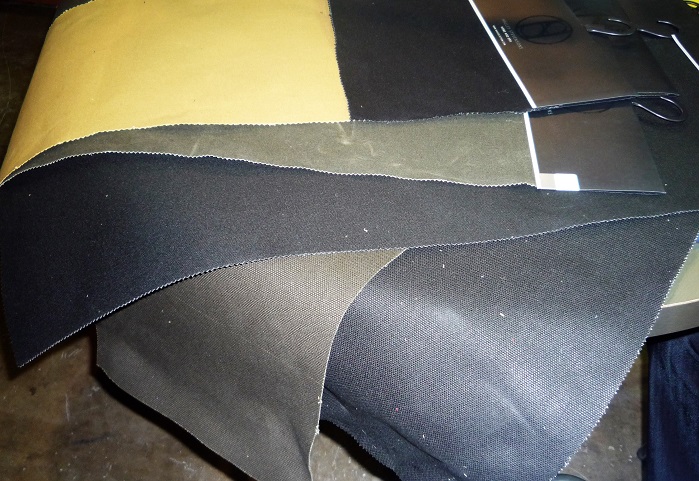 The technique of waxing cotton and other natural fabrics for outerwear is seeing a revival, according to Jimmy Campbell, managing director of waxed fabric specialist Halley Stevensons in Dundee UK. It was used as an alternative to fluorocarbon DWR's at brands such as Fjällräven, which emphasized the renewability of their Greenland Wax fabrics.
The mountains are calling
Innovation continued in textiles and technologies engineered to keep the hard-core outdoor athletes warm and dry, including waterproof breathable membranes and active insulation systems.
Ski brand Flylow introduced the newest waterproof air permeable membrane from eVent® Fabrics, DVexpedition. Three-layer DVexpedition laminates featuring durable, robust face fabrics earn eVent's highest waterproofness rating of a 30-meter water column. Breathability is 10,000 grams per square meter (JIS B1 test method), and air permeability is rated at 0.06 cubic feet per minute.
DValpine, eVent® Fabrics' most versatile membrane, balances waterproofing with more breathability. It's featured this season in K2 Apparel's Freeride Collection, as well as in FA Designs, created by Olympic snowboarder Freddie Ansara.
Pertex® relies on specialty yarns and ultrafine weaving to create light weight, breathable fabrics for outerwear. A recent rebranding initiative clearly delineates the performance attributes of its three brands: Quantum, Shield, and Equilibrium.
With the inclusion of climbing in the 2020 Olympics, and an increase in indoor climbing gyms, several brands focused on mountaineering systems. BLACKYAK combined CORDURA® nylon stretch fabrics with breathable insulations such as PrimaLoft® Gold Active with four-way stretch, and Polartec® Alpha® insulation to maximize flexibility and ventilation.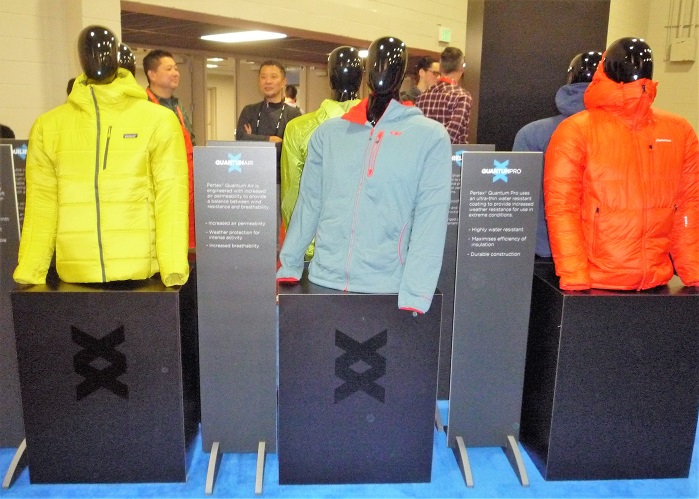 Fjällräven introduced their Bergtagen mountaineering collection using heritage materials, including their G-1000 Eco waxed canvas and three-layer Eco Shell ripstop with fluorocarbon-free DWR. The outerwear was designed to layer over proprietary Woolterry and Woolmesh base layers.
Creative construction
One of the most interesting technologies for outerwear this season involved the manipulation of fabrics to eliminate seams, place performance attributes in specific zones, or create baffles—the chambers holding down or synthetic insulation in place.
Schoeller's iconic Dryskin, a double-woven stretch fabric developed specifically for active outdoor pursuits, was updated via customized weave effects utilising various performance yarns in a single hybrid fabric to create strategic performance zones. Hans Kohn, COO for Schoeller Technologies, explained "Each seam in a garment is a compromise with regard to labour, stretch, and weight."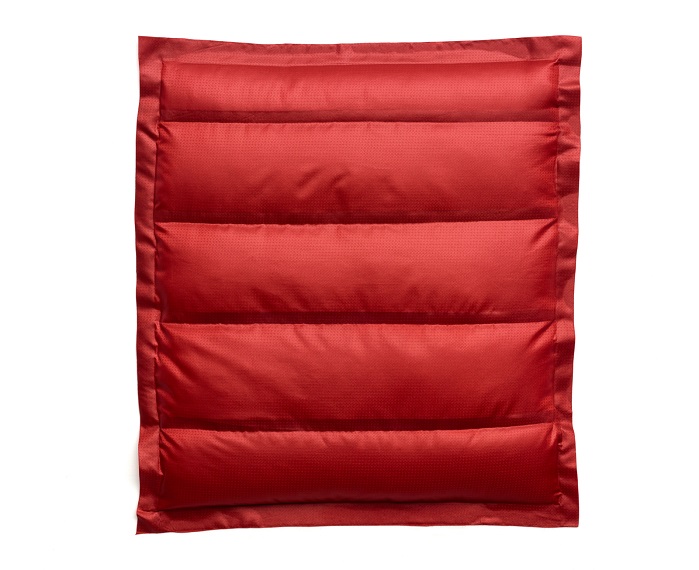 Bemis Associates, whose Sewfree® bonding platform is changing garment design and production, introduced two new technologies ideal for the outdoor industry. The Terra collection includes Sewfree® bonding materials for natural fibre fabrics and heavier fleece; while Nylock Sewfree Adhesives were developed for lightweight, smooth-faced nylon fabrics, enabling the creation of baffles without sewing.
Designed for the outdoor athlete, Under Armour's Exert jacket was built with the brand's breathable 3G active insulation, with ultrasonically quilted baffles to eliminate air leaks. "At Under Armour we believe in the notion of open innovation—there are a lot of great ideas out there," remarked Jordan Wand, VP for outdoor apparel and accessories.
A new baffle design at adidas Terrex utilised variegated heat-sealed chambers which improved wind and water resistance by overlapping and covering stitching lines.
At Patagonia, an origami-type construction eliminated excess seams and cut weight by 30% in the Pinnacle snow jacket, which featured a Gore-Tex Pro membrane with a 100% recycled nylon face.
Active outerwear systems are the summation of fabrics, insulation, and construction designed to work as a whole, emphasized Matthew Betcher, creative director at Allied Feather & Down. "Selling down based on fill power only is prehistoric. We have become product design consultants."