Technology/Machinery
French machinery manufacturers gear up for Techtextil
The French textile machinery manufacturers group, which considers itself as part of the technical textiles industry, is all set to welcome technical textiles and nonwovens producers at Techtextil in Frankfurt from 24-26 May this year. "We understand the unique needs of the technical textiles producers and the importance of providing them tailored solutions to address their specific requirements. Our main objectives are to help them design new marketable products and produ
22nd March 2011
Innovation in Textiles
| Paris
The French textile machinery manufacturers group, which considers itself as part of the technical textiles industry, is all set to welcome technical textiles and nonwovens producers at Techtextil in Frankfurt from 24-26 May this year.
"We understand the unique needs of the technical textiles producers and the importance of providing them tailored solutions to address their specific requirements. Our main objectives are to help them design new marketable products and produce them in a safe and cost efficient way. That's why we encourage our members to attend Techtextil in May in Frankfurt," states Evelyne Cholet, Secretary General of the French Association of Textile Machinery Manufacturers (UCMTF).
UCMTF says that French textile machinery manufacturers are often world leaders in their specialisms and their strategy is to offer tailor made solutions to solve customers' needs and be their long term partners. "This strategy is particularly fitted to the nonwovens and technical textiles sectors in which the machinery manufacturers are really integrated and this is how new markets for the technical textiles can be opened," the Paris based organisation says.
"Thanks to this strategy, France is the 6th machinery exporter, particularly strong in weaving preparation, nonwovens, spinning, and finishing machinery. The total turnover is slightly over 1 billion Euros (1.3 billion US$), nearly all of it being exported all over the world."
"These markets are complex and limited in size. They do not attract the new and large machinery manufacturers from such countries as China. Not to work on technology innovations behind the closed doors of the machinery manufacturers' laboratories but very closely with the customers to understand their needs and offer them solutions is particularly important for the technical textile applications which require real partnerships to design the specific technologies to produce new marketable end products."
Since the last Techtextil in 2009, UCMTF says it has been very active promoting energy savings and fighting to protect intellectual property rights. "The new machines can achieve energy savings through different solutions: fine tuning the machine to fit exactly the energy profile of the production process, finding new low energy processes for individual machines and optimizing the energy consumption of a whole production line. These approaches are not exclusive one from the other, they can be combined. In many real world examples, the energy savings are in the 30-40 % range, same or even more for the water consumption in dyeing and finishing," UCMTF says.
"Protecting our intellectual property rights is also one of our top priorities" states Evelyne Cholet. UCMTF works closely with a global network of professionals. Partners for the future Evelyne Cholet concludes "As a trade organization we can help complementary manufacturers to offer our customers a 'single point of purchase'. More and more, the clients want to get a complete solution, shop for complete lines or even complete plants. We have understood this trend for several years and adapted our offer."
The following is a list of the French textile machinery manufacturers which will exhibit at Techtextil and a summary of their products and services:
NSC fibre to yarn
NSC fibre to yarn promotes innovating spinning lines for processing long staple fibres. Different processes are proposed: the carding, combing, spinning preparation, stretch breaking, crush cutting and spinning lines for hard fibres. These different ways are composed of different machines: cards, converters, pin drafters, blenders, defelters, combers and rubbing, roving and spinning frames based on 5 trademarks (Cognetex, San't Andrea Novara, N. Schlumberger, Seydel, Thibeau) under one banner NSC fibre to yarn.
Long staple fibres include high technical fibres that can be spun with NSC fibre to yarn machines: Long staple natural fibres such as wool, silk, flax, hemp, jute ... and synthetic fibres such as acrylic fibres, high tenacity polyester or PVA, aramid fibres, carbon fibres are appreciated for their high resistance, elongation, good softness and uniformity.
SwissTex France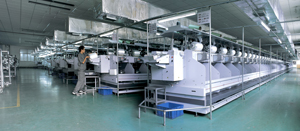 SwissTex France is a process expert in Twisting, Assembling, Cabling, Covering & Winding of yarns made of synthetic, artificial, natural and mineral fibres.
Industrial yarns: UT, UTC and UTW
UT Different products can be twisted on each spindle thanks to fully individual driven positions, from spindle to take-up. The machines fulfil all requirements due to the 733mm and 900mm gauge spindles. A 900mm spindle gauge machine is proposed for twisting heavier yarns, which increases the yarn count range up to 60,000dtex.
Tire Cord: CP06 and CP10
The open pot technology, allows tremendous labour cost reduction. The success of the CP machines shows its complete suitability with the market needs, not only in terms of yarn quality and energy consumption, but also in term of environmental impact of the machines themselves. With the latest technology used to optimize the Human Machine Interface, the CP 06 is equipped with a friendly self-explanatory touch screen allowing the use of most of the characters in the world, such as Chinese ones for example.
M.U.S.T. Monitoring Unit System l
SwissTex France will bring out its complete and comprehensive plant management system, M.U.S.T. is becoming compatible with RFID technology for tag read/write/print tags through hand held computer traceability.
CALEMARD
Calemard is an expert in the designing / manufacturing of in-line and off-line slitting and rewinding machines. Calemard has focused its activities on very technical demanding applications as nonwovens, textile and industrial markets, whenever quality slitting and / or rewinding are difficult to achieve.
The company has a proven expertise in crush, shear and razor slitting systems, and also in sealing/cutting technologies and in rewinding technologies. Originally focused on narrow web slitting, the company has expanded in spooling technology.
DECOUP +
Decoup+ is specialized in the designing and manufacturing of ultrasonic cutting / sealing / splicing solutions, which are applicable at any stage of the textile and nonwoven fabrication and conversion process. The modules are very compact components and easy-to-integrate on existing manufacturing lines.
ROLL CONCEPT
Roll Concept's Alveotubes are used as Idler, transducer, accumulator, guide, contact, nip, dancer, lay on, calender, reel spools, roll cores, …The range includes simple profile but also ready to be installed solutions with a choice of mountings, coatings and coverings, notably anti-adhesive coatings to avoid when the product is hot, to stick to the roll.
LAROCHE
After equipments for the classical textile industries, technical nonwoven products and complete textile waste recycling lines, LAROCHE is now proposing complete turnkey airlay nonwoven lines from several raw material sources to make a huge range of nonwoven products for several applications. During Techtextil 2011, Laroche will show a full range of products made from their latest technologies. After 20 years of experience in Airlay technology Laroche will notably introduce the new "FLEXILOFT+" Airlay machine, a revolutionary low cost Flame Retardant process specially dedicated for natural and recycling and the latest innovations in bast straw and old cloth recycling processes. The new LAROCHE Airlay type "FLEXILOFT +" technology improves weight range, highloft and resiliency capability.
In Cours-La-Ville - France, a 2000 m² demo-room equipped with 3 airlay nonwoven lines is extensively used for process and product development. Customers are welcome to use these facilities to develop their new products. With 2 manufacturing plants and after sales support, LAROCHE serves highly satisfied customers in more than 70 countries.
NSC Nonwoven
NSC nonwoven designs, builds and supplies turnkey nonwoven lines for needlepunching, spunlacing, thermobonding, air-through bonding and chemical bonding. NSC nonwoven is a worldwide, major supplier of Excelle & Axcess cards, crosslappers, drafters, needlelooms, high speed Monomatic® winders and slitters-rewinders.
At the Techtextil, NSC nonwoven is releasing its latest innovations: the "T.T Excelle card" and the ACS system. The T.T Excelle card technology is a revolution in its performance and consistent reliability: it provides the ability to obtain MD/CD strength ratios under 3/1, even at high production speeds, such as 250 m/min. In addition, Bonding Index values are improved. This good news opens new market opportunities to the wipes and ADL industries but also to many more nonwoven industries for all kinds of applications.
Available on new Asselin crosslappers, the ACS drastically boosts the whole nonwoven production line productivity, even with literally no draft (difference of speeds) between the card and crosslappers infeed speed.
ANDRITZ Perfojet
With the neXline spunlace, which includes the Jetlace hydroentanglement system, a dewatering unit, through-air dryer, and twin embossing calender, ANDRITZ can provide a single-source solution with high productivity and very attractive energy efficiency to produce state-of-the-art spunlace fabrics.
In order to customize spunlace fabrics and produce unique webs, ANDRITZ offers a full range of patterning and aperture solutions using calenders or sleeves. ANDRITZ Perfojet will be introducing 3D patterning technology called neXimaging. This innovative patterning approach allows any kind of patterning and/or .aperture at very high speed. The sleeve has been designed to reproduce logos and artwork of your choice in perfect 3D design and with exceptional quality of details.
Today, the trend in the spunlaid industry is moving towards lightweight webs in high-speed production. With the neXline finish, ANDRITZ combines excellent technologies, from bonding to finishing, and meets the demand for reliable, first-class production equipment with significant added value. Our process solutions begin with the twin thermobonding calender and include dosing, application of low add-on, drying, and process control.
A further innovative development by ANDRITZ Perfojet is the spunjet technology for spunlaid nonwovens. This patented process entails hydroentanglement of continuous filaments, thus creating a new generation of nonwovens with superior fabric properties as regards bulk, softness, drape, and tensile strength. ANDRITZ's customers now have the opportunity to combine two first-class bonding technologies in one line. Depending on the requirements of the final product, the process can apply either thermal bonding and/or spunjet technology.
DOLLFUS & MULLER
Dollfus & Muller is a manufacturer of wide width technical textiles made notably of Nomex, Kevlar, Teflon, wool, polyester, such as: endless needle punched felts, used as machinery conveyors, pressure or water absorbent, as bearing monofilament fabrics, used as dryer conveyor belts or filters fluidization fabrics, used as powder conveyors endless cotton fabrics, used as bakery conveyors.
Dynajet has two fire retardant fabric lines : up to 10,20 meters width fabrics, used as scenic decoration products coated fabrics for ink jet printing. The company that celebrates its 200 years old anniversary has a R&D team able to develop products based on precise specifications.
STÄUBLI
Stäubli is one of the leading suppliers of shedding systems for weaving machines, and weaving preparation systems. The textile division of the Stäubli Group also includes Schönherr, known as the supplier of ALPHA 400 carpet weaving systems. Stäubli and Schönherr machinery are well suitable for producing technical fabrics such as geotextiles, carpet backing, tyre cord, fabrics for parachutes, fire protection or weather protection, but also for paper machine clothing and many more. At Techtextile Stäubli will present its UNIVAL 100 single-end Jacquard machine using servo motors instead of mechanical drives, thus supporting the creativity potential in designing new and sophisticated fabrics. The LEANTEC carpet weaving machine is a model from Schönherr's ALPHA 400 Series that is particularly designed for weaving fabrics. Some samples can be seen at the booth. Furthermore the warp tying machine MAGMA will be demonstrated tying technical yarn types.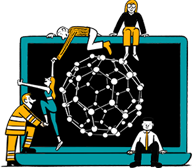 Business intelligence for the fibre, textiles and apparel industries: technologies, innovations, markets, investments, trade policy, sourcing, strategy...
Find out more