21st February 2017, Neumünster
Oerlikon Neumag to showcase latest process solutions at INDEX17
Oerlikon Neumag will be showcasing a broad technology portfolio targeted at the efficient manufacturing of nonwovens at this year's INDEX17, which will take place from 4-7 April in Geneva, Switzerland.
At the trade fair the Oerlikon Neumag experts will be showcasing process solutions for industrial applications such as filtration, roofing, geotextiles and automotive as well as medical and hygiene applications.
Focus on reducing costs
The strength of the nonwovens is hugely important in industrial applications. They need to be extremely tear-resistant and often simultaneously very extensible. The objective is to achieve these properties with the smallest running meter weights and optimum raw material input.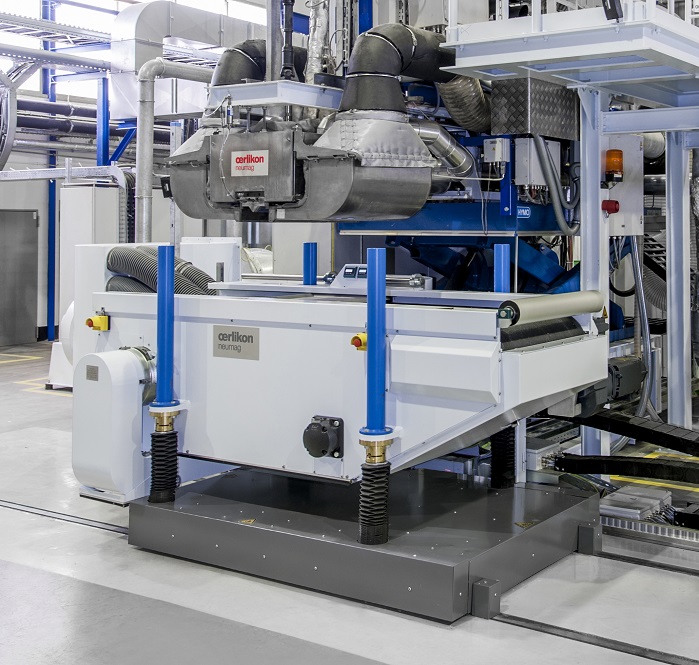 The Oerlikon Neumag spunbond technologies are said to save more than five percent of raw materials, compared to some standard products in Europe, the company reports. Oerlikon Neumag also stands out with regards to energy consumption: the new generation of the Oerlikon Neumag spunbond systems is said to cut energy consumption by virtually 20%.
"By focusing on industrial applications for our spunbond technology, we have built up comprehensive know-how covering the overall process, including the necessary in-line further processing. With this, we are today able to offer our customers' requirements-appropriate production solutions for many such applications," explained Dr Ingo Mählmann, Business Development Nonwoven, Oerlikon Neumag.
Productivity increase and product diversity
For its meltblown technology products, Oerlikon Neumag will be premiering two further innovations at INDEX17. The new forming table for the Oerlikon Neumag meltblown systems is characterised by its integrated multifunctionality and its simultaneously considerably reduced footprint. It can be moved horizontally and vertically under the nozzle and has various storage areas, which can be multiply-segmented and custom-adjusted. This enables extremely high formation flexibility and hence increased product diversity, according to the manufacturer.
The new FAUS system control and operating unit is said to enable the comprehensive automation of meltblown systems and ensure a considerable increase in their productivity and reliability. In its expandable delivery state, FAUS comprises five different modes of operation with a total of eight different programs, which aim to guarantee that future high-end meltblown nonwovens can be manufactured even more efficiently.
Light airlaid nonwovens
In airlaid technology, the Oerlikon Neumag solutions have been further optimised. In addition to the high flexibility of the forming technology that enables the production of simple wipes, wet-wipes and flushable wipes all the way through to particularly high-end tableware, hygiene and medical nonwovens, there is today a special focus on commercially-attractive production speeds and system throughputs.
The Oerlikon Neumag airlaid technology is said to achieve these as a result of its new forming head, with which extremely high requirements-appropriate consistency of the fibre laying can be carried out homogeneously even in the case of extremely thin nonwovens.
This article is also appears in...