28th February 2017, Newcastle, DE
TMI introduces new versions of its digital thickness testers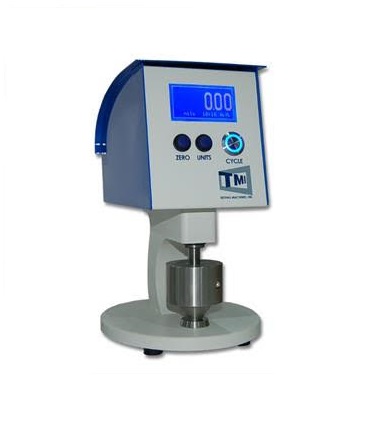 Testing Machines Inc. (TMI), an industrial physics company, has released new versions of its affordable digital micrometer series for accurately testing thickness of very thin materials, such as plastic films, paper, nonwoven, textiles, board and battery separators.
TMI's thickness tester line have long been acknowledged as the industry leading instruments for measuring the thickness or calliper of a variety of sheet-like materials. Almost any material including paper, natural or synthetic fabrics, leathers, metals, plastics and rubber can be measured with precision and ease, according to the manufacturer.
New enhancements
The new enhancements apply to two TMI models, the 49-86 and 49-87, and include advanced diagnostics and reporting functions, including:
Capability of measuring and storing multiple readings, providing a cross machine profile
Ability to save up to 100 readings during a continuous measurement
Test summary screen displays high, low, average and standard deviation for every series
The 49-86 and 49-87 have the following specifications:
Range: Model 49-86: 0-0.050 in. (0-1.27 mm); Model 49-87: 0-0.50 in. (0-12.7 mm)
Resolution (both units): 0.5 micron (0.02 mil)
Accuracy: Model 49-86: 1.0 micron (0.039 mil); Model 49-87: 5.0 micron (.197 mil)
GraphMaster option
"Integrating GraphMaster PC-based software provides data collection, plotting and analysis with export capabilities for our 49-85, 49-86 and 49-87 series of Digital Micrometers. GraphMaster can profile a series of measurements creating a real-time plot of thickness versus interval, or distance," the company explains.
Testing Machines
Testing Machines (TMI) was founded in 1931 and is headquartered in New Castle, DE, USA.TMI manufactures and markets materials testing instruments for measuring physical and analytical properties of plastics, barrier films, paper, pulp, foil, ink, coatings, nonwoven and corrugated industries. TMI has a network of sales offices and agents throughout the US and globally in over 50 countries.
This article is also appears in...