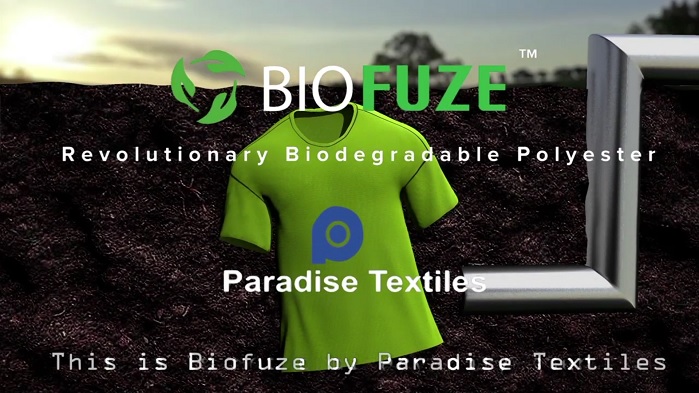 Biofuze is produced using a unique patent process yarn. © Paradise Textiles
First introduced at Intertextile Shanghai Apparel Fabrics, Paradise Textiles, the textiles arm of Alpine Creations, a leader in textile and apparel biodegradable manufacturing, has announced Biofuze, its new range of man-made fibres that exhibit enhanced biodegradability at their end of life.
"We believe environmental sustainability is everyone's responsibility," said Paradise Textiles co-founder Ashok Mahtani. "With the increasing demand for fast fashion, leading brands recognise that they must act immediately to reduce their footprint on the environment. Our responsibility does not simply end once our products have been purchased, but instead continues till the same products reach their inevitable end of life. Together, we can create a greener future."
Ordinary polyester takes many hundreds of years to naturally biodegrade, which has contributed in making the textile industry the second largest polluting industry in the world. Millions of tons of textile waste are dumped into landfills across the world every single year. While recycling is the ideal solution, less than 10% of waste is recyclable.
Biofuze is produced using a unique patent process yarn, the manufacturer explains. This process is Oeko-Tex certified, GRS compliant and can be made traceable to ensure 100% transparency.
Biofuze based garments will be identical to regular garments through their life cycle and can even be recycled like any other polyester garments. They will never exhibit any amount of biodegradation during use, the company continues. Once they are exposed to naturally occurring microbes found in specific environments, such as landfills or large bodies of water, they begin to exhibit accelerated biodegradation. The only by-products left behind are CO2, water and two clean energy fuels – Methane and Biomass.
In test results conducted at Eden Research Laboratory in the USA, a sample of Biofuze fabric that was treated to exhibit anti-microbial properties and washed 25 times to simulate the average garment's life cycle biodegraded over 83.1% in simulated landfill conditions in just 338 days.
The fabric also showed impressive results in marine conditions, biodegrading over 16.2% in simulated marine conditions in just under 206 days.
This article is also appears in...