Industry Talk
PCA Vision Design competition
Providing signposts to design careers in the professional clothing industry.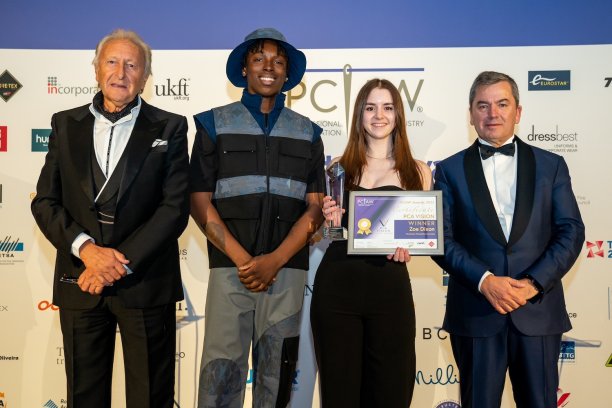 25th January 2023
Innovation in Textiles
| London
Janet Prescott reports
The mutual influence of high-grade workwear, ingenious problem solving and performance fabrics on fashion was seen in the latest student design competition PCA VISION, part of the annual Awards ceremony at the Professional Clothing Industry Association's PCIAW two-day Summit in London in the autumn.
The competition has become international, with undergraduates and MA students entering from various universities and colleges in the UK, Europe and the USA, following various textile courses involving both fashion design and technology.
Entrants were encouraged to consider the merits of fibres, fabrics and methods in terms of the textile industry's sustainability WRAP 2030 goals, adopted by many areas in clothing and textiles designed to accelerate the UK fashion and textiles industry towards a circular economy.
The voluntary agreement builds on the learning and success of the Sustainable Clothing Action Plan (SCAP 2030) and aims to engage UK organisations in collaborative climate action.
Entrants were invited to produce designs devised for an imaginary individual in the future, in a specific occupation. The design challenge required detailed research and understanding of fabrics to suit the subject, whether tailoring, PPE or multipurpose outdoor wear.
From futuristic refuse workers, to dressing the crew of potential supersonic aircraft, to technically advanced tradespeople using high tech aids, to scientists, fish farmers and versatile executives, contestants carried out detailed research to show a grasp of the essential requirements for their subjects' specific end uses.
Dozens of entries were narrowed down to eight finalists who worked, to produce designs reviewed by a panel of independent expert judges. Sponsors Meryl Fabrics and Klopman International provided the fabrics and the finalists themselves produced finished garments.
This year the designers hailed from various universities and colleges; from the UK's Manchester Fashion institute at Manchester Metropolitan University came Zoe Dixon, Georgia Randles, Lucy Osborne; North Carolina State University Daniel Weispfenning; University of Lisbon Sabrina Nunes; London College of Fashion Suet Yng Sharon Ng; from University of the West of England Bristol Rebekah Bradley, Lucy O'Connell.
Zoe Dixon of Manchester Metropolitan University won first prize. Her subject, working as a water quality scientist, an important future job in a world short of water, experiencing several different environments requiring a variety of fabrics and details, considering factors like water resistance and insulation. "I wanted my design to be as circular as possible, being already aware of fabrics created by recycling and reusing plastics found in the ocean,"Zoe said.
Georgia Randles 2nd prize-winner's modern plumber had investigated practical ways to manage a sometimes-hostile work environment, using specific tools carried in a variety of scenarios. Nylon fabrics, renewables, special belts etc and reflective colours. Protection from extremes of temperature and conditions being major requirements.
Daniel Weispfennig North of Carolina University took 3rd Prize designing for a fisheries worker. Commercial fishing and aquaculture industry suffers high rates of injury from falls overboard, cuts and punctures from machinery and even fish. Daniel chose safety designs such as multifold pocket heads, waterproof and knife-proof trousers, technical fabrics in multiple colours like nautical preferences fluorescent orange and green.
Fabric choices were crucial; some sought out deadstock, pre-consumer waste materials, recycled yarns looking at production methods and fabrics exploring new processes using less water, T shirts in single jersey in recycled cotton; polo shirts in sustainable and biodegradable yarns; microfibre suede-palm gloves for increased durability's d unique advantages an example given that Meryl performance fabrics do not release microplastics, and involve no water consumption, through hydrogen technology.
The need for designing interchangeable male and female attire was noted. Fashion played a significant part in the designs. Collages with streetwear and workwear garments prompted similarities between modern sportswear leisurewear and workwear.
Contestants were keen to make their subjects look 'cool and easy' in their work clothing. The three main winners and runners-up were presented with their awards by Harold Tillman, seasoned menswear personality, ex-head of Jaeger and a generous present-day supporter of the London College of Fashion, where he studied tailoring.
Winner Zoe Dixon summed up: "I am definitely more interested in working within the field of protective and professional clothing now, there is so much regarding this area of design that I hadn't even considered before."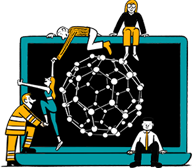 Business intelligence for the fibre, textiles and apparel industries: technologies, innovations, markets, investments, trade policy, sourcing, strategy...
Find out more