For many years the biannual A+A tradeshow in Düsseldorf, Germany has been playing an important role in setting the trends for work wear and safety clothing. In 2009 the fair once again proved its prospective character by emphasizing the latest tendencies for the sector.
Product development in the fabric and garment manufacturing industries are being strongly affected by increasing wearing comfort, high durability and the best possible protection at work, as well as by fashionable looks and a commitment to sustainability.
Since 1954 safety, security and health at work has been highlighted in Düsseldorf by the biannual A+A trade show. It presents various aspects of safety at work and showcases the latest product developments in personal protective equipment. In 2009 the 28th A+A took place from 3rd until 6th of November when 1541 exhibitors from 62 countries gathered in the heart of North-Rhine Westphalia and presented their products to almost 60,000 experts.
Improved comfort at work
As personal protection at work still is a growing market in Europe the novelties at A+A were plenty and very much focused on increasing comfort in work wear and protective clothing, although the attitude of convenience varies widely and can be achieved in different ways.
One solution is offered by elastic fibers of which the elastolefin Dow XLA from Dow Fiber Solutions is the most important. Due to its high temperature and chemical resistance the elastic fiber has become very popular in the textile rental industry in the last 2 years as it passes alkaline washing and heat processes at 170° C without loss of elasticity or tenacity.
Furthermore, it provides a perfect fit, a nice hand and high wearing performance. Dow XLA is available in many different blends although the work wear business prefers a 3 to 5 percent-mixture with polycotton. In Düsseldorf however, new blends with cotton and with cotton-rich (63/34/3 Co/PES/EOL) were presented for the first time.
They are primarily designed for work wear trousers and jackets in the health care sector, the building industry, the handicraft and industrial art sectors. Accordingly, fabrics are manufactured in a 215 and 270 gsm weight.. Furthermore, in the near future Dow XLA will improve the comfort in safety clothing, too. Aramide-blends with industrial laundering performance can be expected shortly.
Another generation of elastane fibers is the Lycra branded T400 which is based on elastomultiester (EME). This type of elastane is found more rarely in work wear fabrics as its durability to industrial laundering is much poorer in comparison to olefin-based fibers. Thus, there are some weavers who stick to T400, emphasizing in particular its cool hand and perfect moisture management in polycotton blends.
Moisture management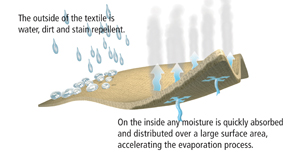 Moisture management was also an outstanding topic in protective clothing, at A+A. To provide better wearer comfort for those who work in hot ambient temperatures, in the foundry, metalworking and the welding industry, flameproof aramid fibers are blended with viscose FR.
The absorptive viscose fiber is mainly processed on the inside where it can remove sweat from the body and keep the skin largely dry. The textile industry takes advantage of the fiber´s absorptive attitude not only in woven fabrics but in aluminized multilayer systems as well, where a flame-resistant rayon fleece is laminated with high performance aluminized, heat resistant film. Just like in wovens the cellulosic fiber provides a dryer climate at extreme physical working conditions.
Viscose fibers will become more important for classical work wear. One of the most famous viscose fibre mills, Austria based Lenzing, will extend its activities in this area via its Tencel fibre. In-house analysis has proven that polyester-Tencel-blends provide much better moisture adsorption compared to standard polycotton fabrics.
Best results were achieved by an 80/20 PES-CV blend which is predicted to be well received in the textile rental sector. A higher polyester ratio in workwear garment stands for high durability and abrasion resistance. It also helps to decrease the processing time and temperature in drying units.
On the other hand the cellulose fiber provides reduced bacterial growth and high skin-sensory performance why its future according to the manufacturer lies in almost every type of professional clothing.
Maximum wear fastness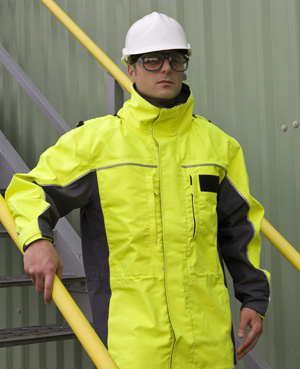 Durability of fabrics has also turned out to be another important matter for work wear. Polyamide 6.6 (PA 6.6) proved to increase the wear resistance of fabrics which makes the fibre an important blending partner for viscose, Probanized cotton or natural cotton. All blends from 20 to 50 percent PA 6.6 show an extraordinary fastness to Martinadale testing and outlast 300,000 abrasion cycles without noteworthy loss of tenacity, breaking length and weight.
Another way to extend the life-cycle of textiles lies in preventing bacterial colonization of natural and man-made fibres. In order to stop bacterial growth, fibre degradation and the buildup of odours, fabrics for work wear and even for protective clothing receive a final antimicrobial finish. It will for instance protect garbage collectors' high visibility clothing from bad odours and bacteria, thus assuring better health conditions for the employees.
Harmless work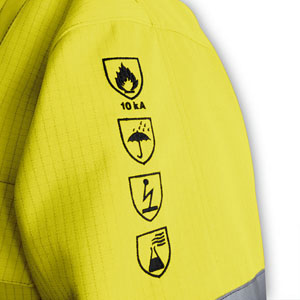 'Le dernier-cri' at the A+A show definitely was multi-risk protection. Almost every exhibitor presented all-in-one solutions suitable for all purpose-fabrics and garments.
So, besides its well-known inherent flame-resistant properties the aramid fibre Nomex quite recently received additional high visibility properties. As scientists managed a permanent penetration of the fluorescent yellow dyestuff into the fibre new application areas now appear for Nomex.
By adding extra antistatic properties, rail workers, workers in the petrol or chemical industry or in airports will now experience better protection at work.
Aramids were also interlaced with polytetrafluorethylene-fibers (PTFE) for the first time ever by Toray Textiles from Mansfield, UK. The double layer fabric is composed of an extremely plain PTFE-outside, which prevents adhesion of molten aluminum or steel on its surface and an antistatic, permanent flame-resistant inside which adds up a high performance against fire and heat. The novelty appears to be interesting for the textile rental industry as its fastness against industrial laundering is to be expected be almost 50 washing cycles.
Some manufacturers presented all-in-one protective clothing which combines antistatic, antiflame and high visibility properties, provides protection against the thermal hazards of an electric arc, keeps bad weather off, insulates against cool environments and prevents from splashes of liquid chemicals.
Its CE-label is accordingly detailed: DIN EN 61482-1-2, 7kA/0,5 sec., DIN EN ISO 11611 class 2, DIN EN ISO 11612, DIN EN 1149-1/3, DIN EN 13034, type 6, DIN EN 471, DIN EN 343, DIN EN 14058. Anyhow, in practical use it has to be proved if multi-risk protective wear is reasonable. Experts are afraid that it might make people imagine that they are safe and take risks.
Denim gets back to work
Denim was always used for work wear but was forgotten for some time. Now it is back. Almost every weaving mill presented a collection of denim fabrics with extra qualities such as stretch properties, wash-out effects, tone-in-tone dyeing and fastness against industrial laundering. The fashionable cloth is designed especially for work wear that attracts younger workers. By adding high visibility fabric and photoluminescent bands, its application range can be further extended and young people can find new ways of dressing properly at work.
Sabine Anton-Katzenbach
Our correspondent, textile finishing specialist Cert-eng. Sabine Anton-Katzenbach provides technical consultancy services for the textile and apparel industries through her company, Büro für Textiltechnische Beratung. She is also an accredited journalist and her clients include companies from the chemical, fibre, textile and apparel industries, textile service companies, marketing agencies and publishers.