30th November 2015, Poland
Poland's Feerum unveils new textile to be used in grain storage silos
Polish manufacturer Feerum S.A. has unveiled a massive grain storage silo whose interior was fitted with an innovative textile to prevent grain from sticking to its walls. This new generation of steel-textile silos is fitted with an internal textile bag which can store up to 500 tonnes of various materials. The high-resistance textile was produced in cooperation with the Wrocław University of Technology.
Company representatives say that Feerum specialises in producing drying-storage facilities intended for a wide range of agricultural products, such as cereals, legumes, oilseeds, corn, and feed. The firm is responsible for all stages of projects, ranging from design to construction works on the facilities.
"We offer complex solutions to our customers, starting with analysing their needs through drafting specific individualised technological solutions and producing relevant equipment, and then constructing and launching facilities which we provide with after-sales maintenance and servicing," said Liliana Kirow, the company's export manager.
The know-how for the project was first developed by the Wrocław University of Technology which holds the patent. After Feerum obtained the licence to use it and secured co-funding from the European Union to develop the project, it built six silos, including the prototype unit which has a height of a dozen metres and a diametre of eight metres. The prototype was fitted with an internal textile bag, and, after it was filled with corn kernels, it is currently being tested.
Textiles enhance silos' capacities, safety
Feerum says that the use of textiles can significantly enhance companies' grain storage capacities, in addition to ensuring that the process is safer and silos are not damaged when their operators attempt to remove their contents. According to company representatives, the main risk related to storing grain, cereal, corn kernel and other bulk materials is that they press against the silos' thin walls, and, as a result, once a silo is filled with several dozen tonnes of grain, there is a high risk that the construction will become dented, or even damaged.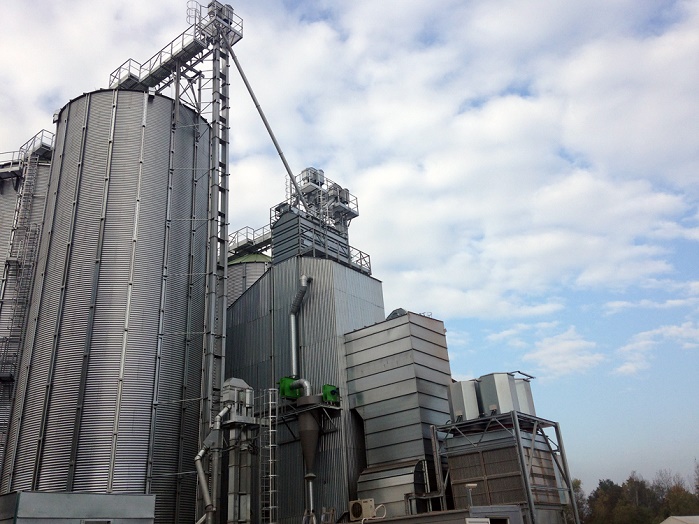 "We have added a special textile bag to the silo's standard construction which is permanently inserted into the steel tank. This allows to safely store cereals. Regular steel tanks are not suitable to store bulk materials which are hard to pour inside or outside a tank, mostly because, once the lower side of the tank's content is poured, there is a risk that the upper side, which is already dense, could fall from a significant height and damage the tank," Kirow said. "Using a textile material eliminates the numerous risks and dangers related to this process, because it neutralises the inner resistance which appears when a silo is normally emptied. The bulk material doesn't stick to the textile. Also, such a silo doesn't need to be strengthened with additional steel components which would certainly increase its price."
Company representatives say that Feerum has been focused on introducing innovative solutions to the Polish market, with particular emphasis on developing low-cost solutions. The project to develop light steel-textile storage silos is one of the firm's flagship projects under development.
Since May 2013, the Polish manufacturer has been listed on the Warsaw Stock Exchange (WSE) which facilitated its efforts to acquire the necessary funds for its further investments and research and development activities. Over the past years, the company has been increasing its market presence in the Polish market which currently generates over 80% of its revenues. This said, the firm remains active in a number of foreign markets. These include Belarus, Lithuania and Ukraine. In addition to this, its silos can also be found in Germany, Romania and Mongolia.
The company's improved financial results have allowed it to intensify its R&D activities and implement new technological solutions. According to the latest available data, in the first three quarters of 2015, Feerum posted revenues of about PLN 94.4 million (€22.7 million), a robust 86.8% increase from some PLN 50.5 million (€12.1 million) reported in the same period a year earlier. From January to September 2015, the firm generated a net profit of more than PLN 9.2 million (€2.2 million), up 83.4% from PLN 5 million (€1.2 million) posted in the same period in 2014.
Meanwhile, with its latest innovative project, the company is eyeing increased sales in the forthcoming years. According to estimates included in its quarterly report for the July-September 2015 period, its current contracts for the years 2015-2016 comprise 43 deals worth a total of PLN 31.6 (€7.6 million), with the potential client portfolio for these two years representing an additional PLN 200 million (€48.1 million), the report states.
Feerum is based in Chojnów, in Poland's south-western region of Lower Silesia, about 400 km from the country's capital Warsaw.
This article is also appears in...