Research/​Development/​Education
PolyU develops unique electrostatically charged nanofibre
The novel filter is said to demonstrate better performance in terms of breathability, filtration efficiency and shelf life.
27th March 2019
Innovation in Textiles
| Hong Kong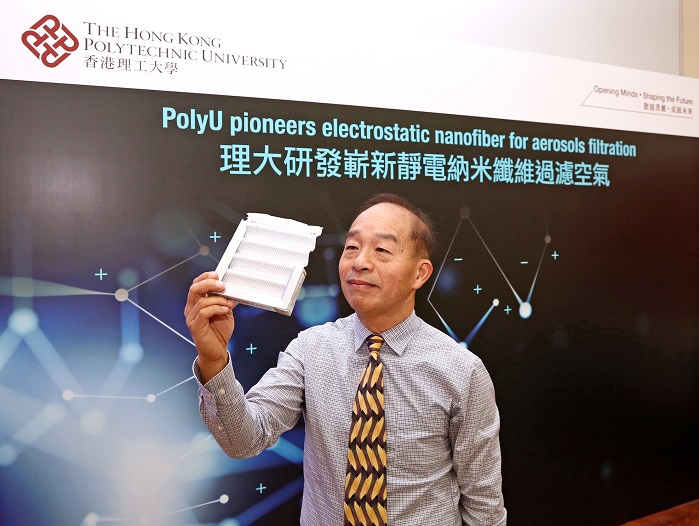 Ir. Professor Wallace Leung Woon-Fong, Chair Professor of Innovative Products and Technologies. © PolyU
The Department of Mechanical Engineering of The Hong Kong Polytechnic University (PolyU) has developed an electrostatically charged nanofibre filter with multiple separator layers, which can capture pollutant particles that are below 100 nm in diameter – covering the most common airborne nano-particles and viruses.
Nano-aerosols of 100 nm and below in diameter exist everywhere in urban environments, and by virtue of their small sizes, can be easily inhaled into human bodies. Most airborne viruses, from influenza to epidemic viruses like Swine Flu or SARS, are also in the size range of 100 nm. It remains a challenging mission for scientists to develop user-friendly air filter or mask for effective capture of nano-particles and to protect people from harmful airborne contaminants and viruses that may affect health.
The team led by Ir. Professor Wallace Leung Woon-Fong, Chair Professor of Innovative Products and Technologies, used and tested polyvinylidene fluoride (PVDF), a semi-crystalline thermoplastic commonly used as insulation on electrical wires, to fabricate nanofibre filters. Applying innovative technology in Corona Discharge, the team imparted electrostatic charges onto PVDF nanofibre, to induce electrical interaction with aerosols in close distance and capture the aerosols efficiently.
Comparing with other filters made with charged microfibres or uncharged fibres on the market, PolyU's filter has much enhanced filtration efficiency, yet without increasing pressure drop over time, the researchers report. The PVDF nanofibre has proved to be stably charged, with charging effect staying for almost three months. In prior literatures on charging other nanofibres, the imparted charges usually dissipate within a day.
Charged PVDF nanofibre filter
In filtration tests for aerosols of various sizes conducted by the PolyU team, the charged PVDF nanofibre filter demonstrated pressure drop of only 5 Pa (Pascal / unit of pressure) and a filtration efficiency of about 54% for the 100 nm particle, compared to 17% of non-charged PVDF nanofibre filter. There was also a 2.7 fold increase in "quality factor" — the ratio of filtration efficiency over pressure drop, or the benefit-to-cost ratio.
Mask fabricated with PolyU's novel electrostatically charged PVDF nanofibre filter, and prototype of the composite filtration device containing the novel filter. © PolyU
Professor Leung said as viruses usually carry negative electrostatic charges, they can be captured very effectively by the positively charged PVDF nanofibres: "The filter or face mask applying our innovation would therefore be an ideal defence against virus during an outbreak."
Novel multiple electrostatic separator layers
To further strengthen the electrostatic capture performance of the filter, the research team developed the configuration of multiple electrostatic separator layers — distributing the same weight of PVDF nanofibres in a single-layer filter into several filter layers with each layer insulated by a separator, in order to reduce the electrostatic interference among fibres of adjacent layers and increase the filter efficiency by electrostatic force.
Filtration tests showed that filtration efficiency of the filters with charged multiple electrostatic separator layers (tests on two, three and four-layer) were 39% to 45% higher than the charged filter without the separator. Quality factor of the filters with charged multiple electrostatic separator layers were 2 to 3.5 times higher than the one without the separator.
Potential applications
PolyU's innovation can be widely applied in air filtration, from industrial to personal and household applications. The electret PVDF nanofibre filter can be used in Western Blot, an analytical technique widely used to detect or extract proteins. The innovation can also be applied to effective release of protein-based drugs. Drugs made in powder form, for example asthma drug, can be captured electrostatically by the charged PVDF nanofibre mat for more effective release and inhalation by users.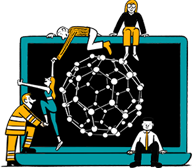 Business intelligence for the fibre, textiles and apparel industries: technologies, innovations, markets, investments, trade policy, sourcing, strategy...
Find out more