24th November 2011, Prato
Pontetortos Dryfast Adaptive offers dynamic comfort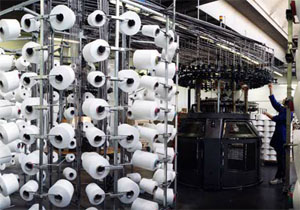 Italian vertical fabrics producer Pontetorto has introduced a new range of functional weft knitted fabrics which work with the skin's natural process of moisture evaporation to offer dynamic comfort.
The Dryfast Adaptive range is on show at Performance Days, the functional fabrics road show which is being held this week in Munich, Germany and in Annecy, France.
Known for its high performance fleece fabrics, Pontetorto designed Dryfast Adaptive observing that the body controls its temperature by regulating moisture evaporation through the skin; moisture evaporation provides both cooling and thermal comfort depending on conditions.
The latest addition to an innovative product range, Dryfast Adaptive is a next-to-skin fabric that is said to react dynamically to changes in body temperature, adjusting to provide the ideal comfort level whatever the conditions.
Dryfast Adaptive is based on an innovative hydro functional polymer developed by the Swiss company HeiQ. At low temperatures, the Adaptive polymer absorbs and stores moisture in a film surrounding each fibre and at high temperatures, the wicking process increases and the polymer changes its structure by releasing the previously stored moisture.
According to Pontetorto, in warm conditions, the dynamic evaporation system helps cool the skin and provides enhanced wearer comfort and in cool conditions, wicking and evaporation are dynamically reduced, keeping the body dry and comfortably warm.
The Prato based company says that tests have demonstrated that the humidity evaporation rate of a 100% polyester Dryfast Adaptive fabric is up to 3 times faster than an untreated 100% polyester fabric at 35°C. In addition the Adaptive polymer is said to be secured to the surface of the textile providing a lasting effect.
Pontetorto claims that Dryfast Adaptive controls fabric dryness (through dynamic moisture wicking), its cooling potential (through dynamic moisture evaporation) and ultimately its thermal buffering (dynamic comfort). Dryfast Adaptive is also bluesign certified.
Founded in 1952, Pontetorto is a recognized leader in the international fashion industry where it has earned high visibility and standing. This, the company says has been achieved through a strategy that combines traditional and forward fabrics, the result of constant investment in R&D and focus on novelty, considered essential for continuing growth.
"In 1984, at a time when product diversification was not yet regarded as a viable company strategy, Pontetorto was the first mill in Europe to develop a range of Pile fleece fabrics for activewear," the company says on its website, adding:
"Tecnopile, the Pontetorto registered trademark for activewear fabrics, helped establish the company's reputation worldwide, and was the result of ongoing testing and development of advanced materials and processes."
This article is also appears in...