18th November 2019, Badinières
Porcher presents future of quiet and clean mobility solutions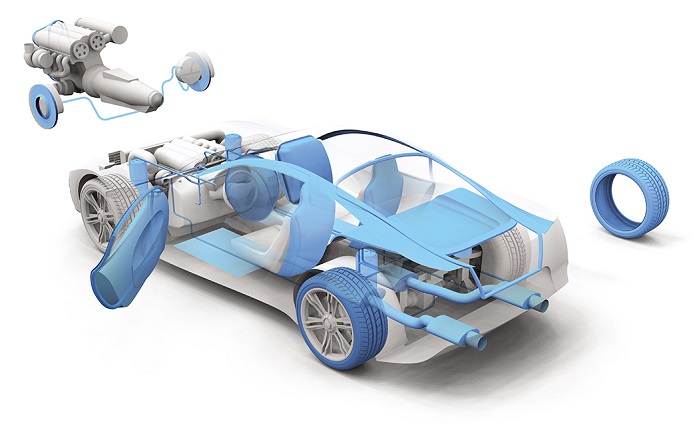 With manufacturing sites in Europe, Asia and the Americas, Porcher's automotive business offers a competitive global supply chain to its clients and partners. © Porcher Industries
The 5th Edition of the Annual Automotive Exhaust Systems Summit, which will be held in Dusseldorf from 28-29 November, will see Porcher Industries showcase its complete range of high-performance thermal and acoustical insulation products.
With a key strategic thrust targeting quiet and clean mobility by developing new insulation applications, Porcher Industries' range of textiles is designed to meet the demands and requirements of the automotive, aerospace and other transport sectors by delivering unsurpassed levels of thermal and acoustical management.
On display the group will showcase its Techmat, SilcoSoft and ThermoShield materials – all highly functional nonwoven textiles that can be found in key areas of both the hot and cold ends of vehicle exhaust systems.
Functional nonwoven textiles
Produced from 100% non-respirable fibres, these binder-free nonwovens are safe to handle and can be tailored to provide application specific thermal insulation and heat shields at temperatures ranging from 650˚C to 1150˚C.
Porcher Industries is able to deliver its Techmat, SilcoSoft and ThermoShield materials in a wide range of formats from roll goods, flat or formed shapes through to sub-assemblies and finished parts that combine metallic layers with their insulation materials.
Porcher Industries' thermal and acoustical insulation solutions will also be on show in Dusseldorf: technical textiles that blend chemistry and fibre processing technology to produce a powerful range of non-woven and glass mat thermoplastics (GMT) materials that can be tailored to a customer's specific acoustical and thermal insulation requirements.
High-performance insulations
In addition, Andreas Stoeferle, Technical Support Engineer, EMEA, Porcher Industries, will present a detailed view of the group's expertise in high-performance insulations, their global reach, products and delivery formats on the opening day of the conference.
"As one of the leading manufacturers of specialist technical textiles within the automotive sector, we have responded to demand and placed significant development time and resource into developing our range of thermal and acoustical material solutions for automotive and aerospace," commented Pierre-Yves Quéfélec, Global Aerospace & Automotive BU Head.
The Porcher Industries' presentation will take place on 28 November.
This article is also appears in...