Composites
Porsche uses full natural fibre bodywork for Nürburgring 24h race
Porsche Motorsports partners with technology leader Bcomp and Four Motors racing team to run full natural fibre bodywork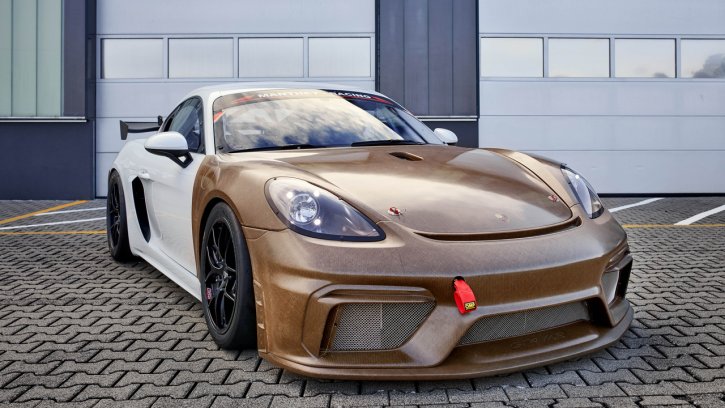 28th September 2020
Innovation in Textiles
| Fribourg, Switzerland
With sustainability ever higher on the agenda, Porsche Motorsport has launched Cayman 718 GT4 CS MR featuring a full natural fibre bodywork kit developed with Swiss composites company Bcomp. The car will premiere at the legendary Nürburgring 24h race from 26-27 September and will be run by Porsche customer racing team Four Motors.
Thanks to Bcomp's powerRibs technology, the natural fibre parts cannot only match the performance of traditional 'monolithic' carbon fibres, but also offer additional key benefits, such as sustainability with 75% lower CO2 footprint and viable end of life options, cost reduction with up to 30% lower material cost and safety in the form of ductile crash behaviour without sharp shattering, Bcomp reports.
Sustainability in motorsport
As industry and governments continue the fight against climate change, Bcomp says motorsport is playing a crucial role as a test bed for sustainable technologies. The motorsport industry enables products to be brought to market and tested in extremely short time frames and then, once proven, these technologies can be applied to high volume vertical markets including automotive, aerospace, and marine.
This is not the first time Porsche has led the way on sustainability, the company says. In 2019 Porsche Motorsport launched the Porsche Cayman 718 GT4 CS with natural fibre doors and rear wing. It was the first case of replacing carbon fibres with natural fibres in serial production for motorsports and resulted in Porsche being shortlisted for a JEC Innovation Award together with Bcomp and the Fraunhofer WKI.
In fact, German Federal Minister for Food and Agriculture, Julia Klöckner, later used the same door as a showcase at the press conference presenting Germany's new bio-economy strategy. Since then, the parts have raced successfully in numerous racing series around the globe. Now Porsche Motorsport and Bcomp are progressing the collaboration by launching a full natural fibre body kit, the result of which is the Cayman 718 GT4 CS MR.
"It has been a fascinating journey since we started our collaboration with Porsche 3 years ago, resulting in the first natural fibre bodywork in serial production – the Porsche 718 Cayman GT4 Club-sport with our sustainable lightweighting solution in the rear wing and doors. Today we present the next step together, expanding the technology to the full composite body kit. We are humbled and proud to collaborate with Porsche and its reputable partners, reaching an important milestone to-wards a widespread use of sustainable performance materials in tomorrow's mobility," says Christian Fischer, CEO, Bcomp.
From raw material to high performance parts
Plain natural fibres cannot match the performance of carbon fibres Bcomp says. However, the award-winning powerRibs technology is a game changer, it explains. Inspired by the veins on the back of leaves, it creates a 3D grid on one side of a thin-walled shell element, which maximises stiffness at minimal weight.
The benefits of Bcomp's sustainable technologies compared to carbon fibres are clear, Bcomp adds:
Performance - equivalent stiffness to weight
Sustainability - up to 75% lower CO2 footprint for a composite part using natural fibres versus carbon fibres. At end of life, parts can be used for thermal energy recovery without residual waste, rather than ending up in landfills
Safety: ductile crash behaviour without sharp shattering, reducing the risk for punctures
Cost reduction: up to 30% lower material cost for the natural fibre fabric
Porsche Motorsports and Bcomp have worked closely together on the development of the natural fibre body kit, from Bcomp's reverse engineering the carbon fibre parts into equivalent natural fibre parts, through iterations and manufacturing. It uses the same manufacturing technology and even the same moulds as the carbon fibre parts – with an important difference. Consumables such as bleeders and breathers can be eliminated, further reducing the environmental footprint and costs, the company says.
Live at the Nürburgring 24h race
"This project shows in an impressive way that natural fibres can easily replace carbon fibre in many motorsport applications thanks to the powerRibs. The 24h race at the Nürburgring is the toughest GT race in the world and the perfect opportunity to put our sustainable lightweighting solutions through the decisive endurance test, we could not imagine a better place for it and we are very proud to take this step with Porsche and Four Motors," says Bcomp's Motorsports Manager Johann Wacht.
The Cayman 718 GT4 CS MR will be raced by German Porsche customer racing team Four Motors, and the first race will be the legendary 24H Race at the Nürburgring. The team is known for their strong commitment to sustainability, and a central goal is to support the development of technologies that reduce the CO2 footprint and that can be applied in road cars as well, thus significantly impacting the CO2 footprint of mobility.
"We have been using bio-fibre components in our racing cars for years and have always been determined to promote the use of these high-performance materials," says team manager Thomas von Löwis. "Now Porsche and Bcomp have developed a perfect sustainable product just in time for the 24h race. We look forward to demonstrating the reliability and endurance of the Manthey Racing natural fibre bodywork kit with the GT4".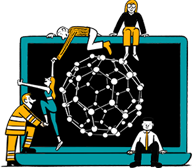 Business intelligence for the fibre, textiles and apparel industries: technologies, innovations, markets, investments, trade policy, sourcing, strategy...
Find out more