Industry Talk
Aiming high – and aiming safely
The history of fall protection at work is not as long as it might seem.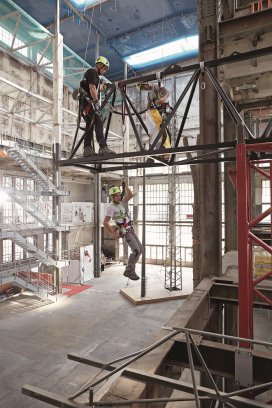 17th August 2017
Innovation in Textiles
| Düsseldorf
The complete range of innovations in fall protection on the PPE market can soon be viewed at A+A, the leading trade fair and convention on occupational health and safety, which takes place from 17-20 October in Düsseldorf.
Transmission poles, bridge pylons, industrial stacks, giant trees, rescue operations in the mountains – it may well seem that the higher a person has to climb, the more they need to be protected from falling. Yet there is no need to aim quite so high. Even a fall from a relatively low height can lead to severe injuries or death. The same applies to depths. "Anywhere a person might need to enter and where they are then completely enclosed," said Klaus Bornack, President of Düsseldorf's A+A and Board member of IVPS, the German Association of Manufacturers of Personal Protective Equipment.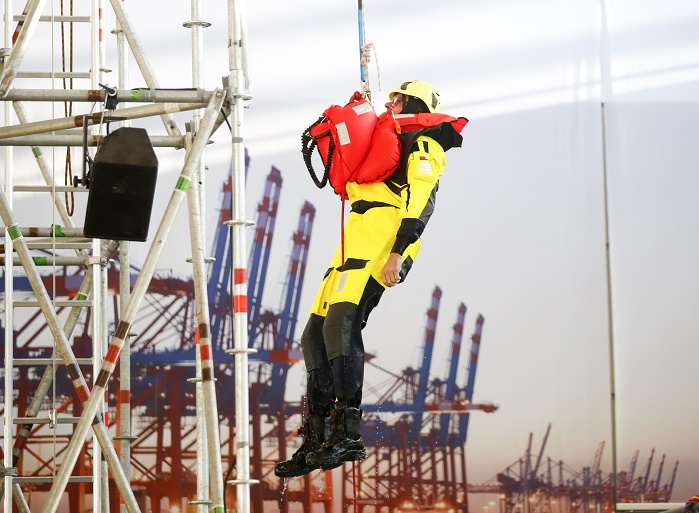 "Take a brewery, for instance, where barrels need to be cleaned at regular intervals. Sadly, it keeps happening that an employee faints while performing such work. This may be because they're short of oxygen, or it may be because of toxic gases descending to the bottom of the barrel. Anyone rescuing them and letting themselves down into the barrel would then also faint." This makes it essential to use rescue equipment with proper fall protection where a person can be suspended in an upright position if they faint.
Life-saving products
In Germany alone, says Bornack, manufacturers are selling about EUR 1.8 billion worth of personal protection equipment. Alongside protective gloves, footwear and clothing, about 25% of the revenue comes from life-saving products, such as respiratory protection, fire protection and safety ropes as important equipment to keep down accident figures.
Such products are based on technical standards and the accident prevention regulations set up by Germany's accident liability insurance associations, thus warranting compliance with minimum safety requirements.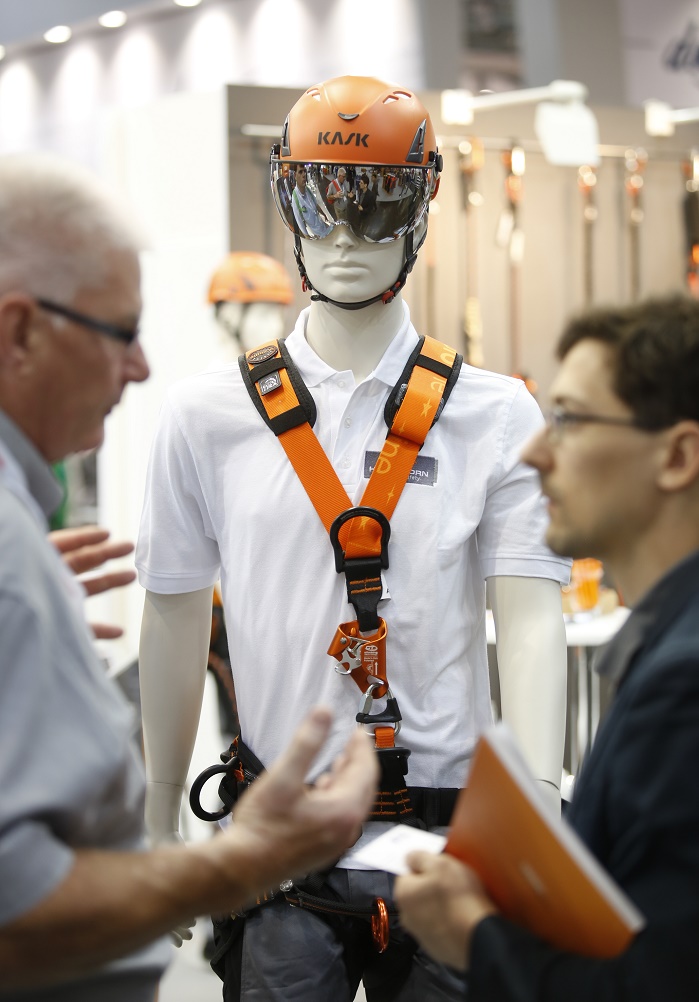 Moreover, thanks to EC directives, the regulations are applicable across borders, throughout Europe, and an important new element will be the upgrading of the former PPE directive 89/686/EEC to the level of an EC regulation from 2019.
Indispensable: training and seminars
Under the law, it is basically the job of each company's health and safety officer to ensure compliance with minimum standards. They therefore need to receive training as multipliers, so that they can be contacted about any questions that might arise and provide information and the necessary details about fall protection.
A health and safety officer can demonstrate how to wear a belt or harness correctly, and they are also familiar with issues such as load safety. Furthermore, they are trained in the regular checking of PPE for operational reliability. Training in the checking and practical use of PPE is provided by companies such as Bornack (which has three training centres, including a large high-altitude facility in Marbach on the river Neckar), DWS Pohl, Edelrid, MAS and ABS Safety – all of them exhibitors at A+A 2017.
From an alpine world to a working environment
The history of fall protection at work is not as long as it might seem. The German Industrial Rope Access Trade Association (FISAT) explains: "Germany experienced an increase in public awareness about rope access work in 1995, with the shrouding of the Reichstag in Berlin: to realise the design of the artist couple Christo and Jeanne-Claude, over a hundred rope access workers had to be employed. At the time, such work was still not generally permitted, but after long negotiations with the employers' liability insurance association of the construction trade, a special licence was eventually issued for the art project."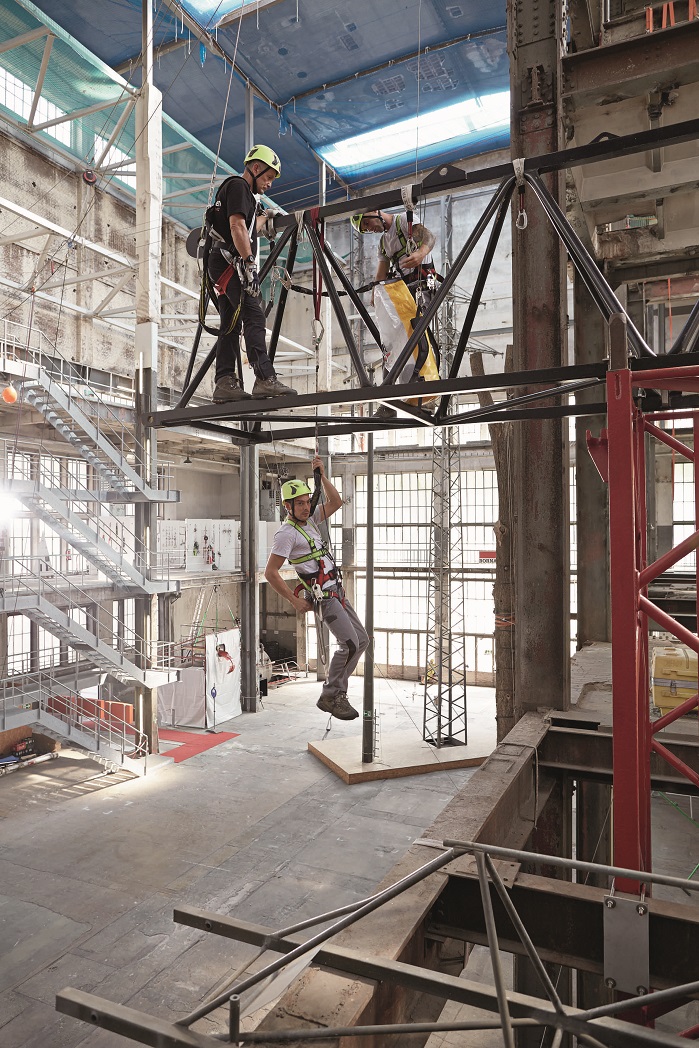 Over the last ten to 15 years this has led beyond some of the typical applications for harnessed access, resulting in a major development towards a special user group now known as rope access workers or industrial climbers.
Special developments for different industries
Fall protection generally covers individual PPE with ropes and harnesses and collective protection such as scaffolding and a safety net. Quite often, however, it is not possible to set up collective protection, making it indispensable to use customised safety ropes and to apply a professional approach to the issue.
A number of global high-tech companies have become established as safety rope specialists, including the A+A exhibitors 3M, MSA and Honeywell. However, the trade fair features not only these major corporations, but also numerous medium-sized, often family-run specialist companies, such as Edelrid, Bornack, Ikar, Mittelmann, MAS and Zarges (a company that is also famous for its ladders). Edelrid, for example, is particularly represented at wind farms and in arboriculture: "It's a strong and growing market," says Hirschfelder, "as there is an increasing interest in safety on trees."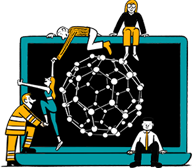 Business intelligence for the fibre, textiles and apparel industries: technologies, innovations, markets, investments, trade policy, sourcing, strategy...
Find out more