Hendrik van Delden. © Adrian Wilson
This year's Techtextil show, along with its sister show Texprocess, was the biggest to date, with a record 1,818 exhibitors and 47,000 visitors from 116 countries descending on Frankfurt.
At a press conference during the show, Euratex, the European textiles and clothing organisation, presented its latest statistics on the industry and Hendrik van Delden of Gherzi added some figures on the global market trends and export opportunities for European technical textile producers.
Gherzi's figures go a long way to explaining support for this year's Techtextil.
The world market for technical textiles, excluding both raw materials and converted final products, was worth EUR 159 billion in 2018, van Delden said.
Of this figure, technical textiles accounted for 69%, or EUR 110 billion of sales, nonwovens for 24% (EUR 38 billion) and yarns for articles such as sewing threads, medical sutures, ropes and cords etc., for 7% (EUR 11 billion).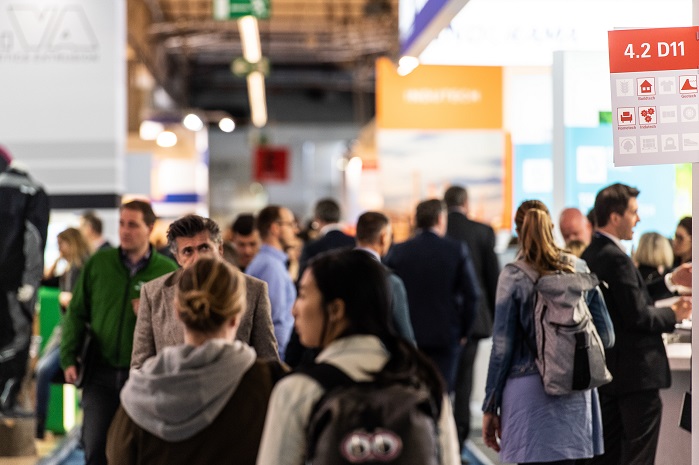 This year's Techtextil show, along with Texprocess, was the biggest to date. © Messe Frankfurt Exhibition GmbH / Pietro Sutera
In terms of tonnage, the total amount was 37 million tons, with 21 tons of it textiles, 14 tons nonwovens and 2 tons yarns.
Home market
EU technical textile producers profit from a strong home market with a value of EUR 27 billion (17%), followed by the USA at EUR 26 billion (16%) and China, at an estimated EUR 21 billion (14%).
The markets have continued to grow at the expected CAGR of 5%, due essentially, however, to nonwovens growth above expectations, and especially in China.
The EU exports of technical textiles constitute an undisputed success story, having increased by EUR 455 million per annum between 2014 and 2018, with a value of EUR 9.1 billion in 2014 climbing to EUR 11 billion in 2018.
Gherzi's figures were updated from a 2014 report on the opportunities in four of the major markets – Brazil, Japan, South Korea and the USA, who between them account for 27% of the overall technical textile market, with a combined value of EUR 35.5 billion in 2018.
USA
Despite a difficult-to-penetrate market, and strong competition from China, the EU increased the value of its exports to the USA from just under EUR 1.6 billion in 2014 to EUR 2.3 billion in 2018.
However, EU exports to the US are now being impacted by strong investment activities in the US from nonwoven producers from the EU and elsewhere overseas, including Ahlstrom, Autoneum, Fibertex, Freudenberg, Jacob Holm, Mogul, Norafin, Pantex, Porcher, Sandler, Shalag, Spuntech and Suominen – and even the first Chinese company to build a plant in North Carolina, Uniquetex.
In addition, the US pulled out of the TPP (Trans-Pacific Partnership) trade agreement negotiations in 2018 and also put the T-TIP (Transatlantic Trade and Investment Partnership) negotiations with the EU on hold.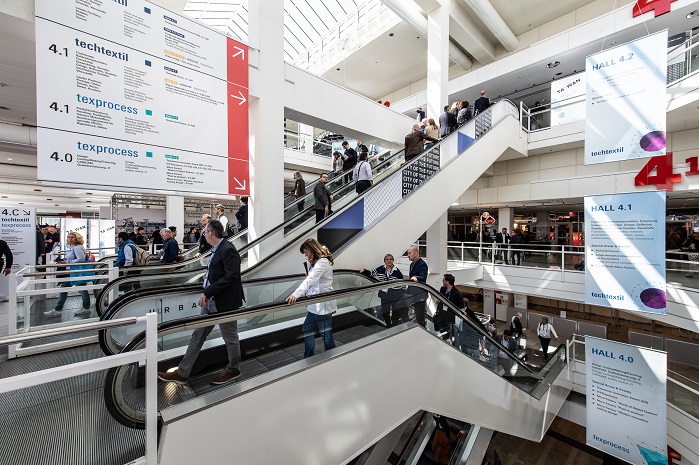 This year's Techtextil show welcomed 1,818 exhibitors and 47,000 visitors. © Messe Frankfurt Exhibition GmbH / Pietro Sutera
Promisingly, since early 2019, bilateral trade negotiations between the US and the EU have been taken up again. The talks aim to open up markets and reduce tariffs for 'industrial goods', under which technical textiles fall.
The scope of negotiations held by US trade representatives and the EU commission also covers 'regulatory cooperation' and aims at creating a common norming platform which would greatly favour EU technical textiles, since many ISO norms today are often not accepted in the USA.
Brazil
Imports of EU technical textiles into Brazil have meanwhile yet to recover to 2010 levels, and have grown minimally from EUR 161 million in 2014 to just EUR 164 million in 2019. Back in 2010 the figure was EUR 239 million.
Brazil, which has high tariff barriers, constitutes the principal economy in the Mercosur region and negotiations for an EU-Mercosur trade agreement went on for many years before being postponed and resumed again.
The current negotiations cover issues that would also reduce trade barriers for EU technical textiles being exported to Brazil.
Brazilian industrialists are generally in favour of a free trade agreement with the EU and have shown strong support for tariff elimination, but Brazilian politicians seems sceptical about opening up the market to EU producers.
South Korea
EU exports of technical textiles have grown by EUR 34 million between 2014 and 2018, from EUR 158 million to EUR 192 million, with scope for higher growth.
The EU South Korea Free Trade Agreement entered into force already in 2011 and is eliminating duties for industrial goods including technical textiles in a progressive, step by step manner.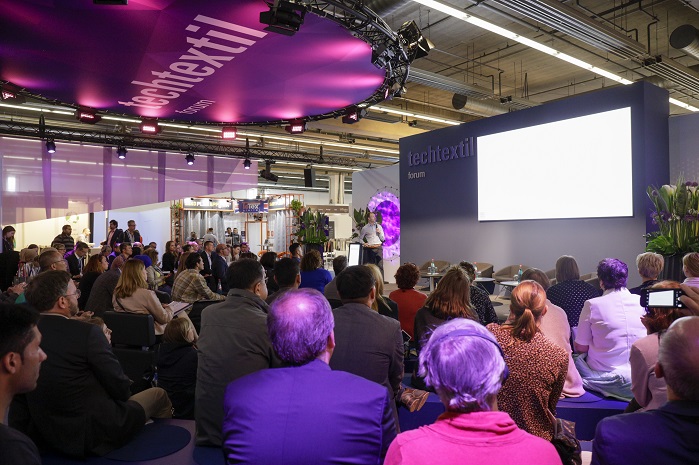 Techtextil Forum. © Messe Frankfurt Exhibition GmbH / Thomas Fedra
Increasingly this elimination of trade barriers and a better knowledge of the South Korean market should be positive for Europe's technical textile exporters.
Japan
Finally, EU exporters to Japan are achieving only slow growth in what is a difficult market, with sales up by EUR 40 million from 2014, to a figure of EUR 317 million in 2018.
However, the EU and Japan's Economic Partnership Agreement entered into force this February and has reduced tariffs to zero, leading to an acceptance of both EU rules of origin for textile goods alongside a bilateral acceptance of ISO Norms which makes the outlook very positive.
In conclusion, van Delden said that technical textiles is a high growth market where EU producers are showing strong extra-EU export performance. Trade negotiations are supporting continued growth.