3rd October 2017, Ann Arbor, MI
Kraig Biocraft Laboratories opens new production centre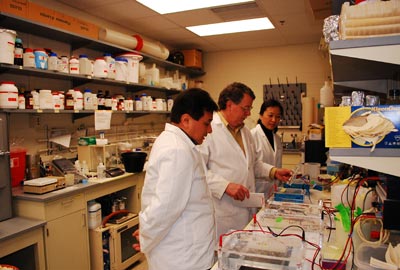 Kraig Biocraft Laboratories, a developer of spider silk based fibres, is opening its new research and production headquarters in Michigan. This facility will unite the company's ongoing recombinant spider silk production operations with its accelerating research into the creation of ever more powerful spider silk protein technologies, the company explains.
Over the next 30 days, it will be relocating its current production operations, from Indiana into its new larger facility, and will transfer key production staff, to ensure continuity of operations. According to the manufacturer, this new facility offers better environmental control, roughly three times the production space, significantly reduces overhead costs, and, for the first time in the company's history, will allow the its research and production teams to work side by side producing spider silk based products and creating innovative solutions.
"Launching this new larger factory unifies our production and research teams' efforts. Having our teams working hand in hand will make us more agile and open up opportunities to move technologies more quickly from the drawing board to tested and validated designs," said COO Jon Rice.
"In addition to streamlining developmental timelines and enhancing our ability to tailor fibres, we expect to reduce R&D costs, as we generate new spider silk technologies by fully integrating design, creation, testing, and scale up, under a single roof. Our plan is to have this facility be the global central hub for spider silk technology and the centre of our international operations."
The company's domestic operations complement its ongoing work establishing international production centres. Company management is currently considering three overseas locations for production. Management is scheduled for meeting with senior central government officials in Hanoi, Vietnam in early October and is in ongoing discussions with another country silk producing country, which has expressed interest in working with the company to scale its spider silk technology.
This article is also appears in...