Industry Talk
Polyguard sets new standard for antimicrobial and antiviral protection in textiles
Antimicrobial additive incorporated into fibres and filaments, uses proprietary approach to product application, delivering performance for the life of treated fabric.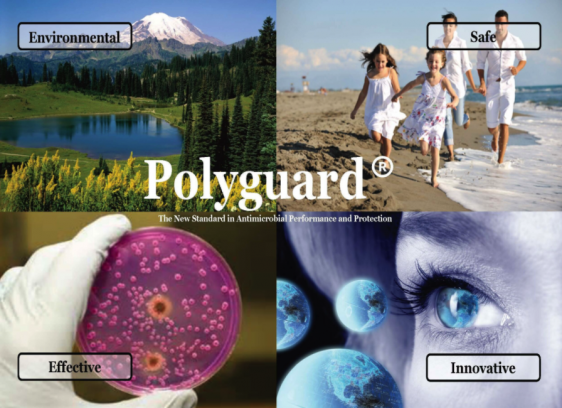 19th October 2020
Innovation in Textiles
| Montville, NJ, USA
Since the onset of the COVID-19 pandemic, textile manufacturers around the world have been racing to incorporate technologies that combat the virus and provide consumers with protection that reduces the potential exposure related to the use of their products. Textiles used in the manufacture of personal protection equipment, medical apparel and equipment, performance sportswear and hospitality related service products are just a few examples.
In July 2020, after a 15-year effort, Poly-Technical Solutions Ltd. (PTS), of Montville, New Jersey, was granted a Non-Conditional Product registration for the use of its Polyguard textile-based antimicrobial treatment by the United States Environmental Protection Agency (U.S. EPA), an independent executive agency of the United States federal government tasked with environmental protection matters.
Antiviral testing
Since then, and given recent developments, the company has focused on antiviral testing. In July 2020 Bioscience Laboratories, Inc., completed its evaluation of the virucidal properties of a fabric material (T-Shirt) treated with NSPW, an antimicrobial materials preservative incorporated into plastics and textiles to suppress the growth of bacteria, when challenged with Coronavirus.
The results indicated that the fabric was found to be 99.15% effective against Coronavirus strain OC43 (a surrogate of COVID-19) within the first 24 hours. It is important to note that the test sample (T-Shirt) utilized in the testing was produced in 2012, PTS says. As a result of this testing, PTS has begun additional studies to validate previous results using COVID-19 and expects to complete these studies by late November 2020.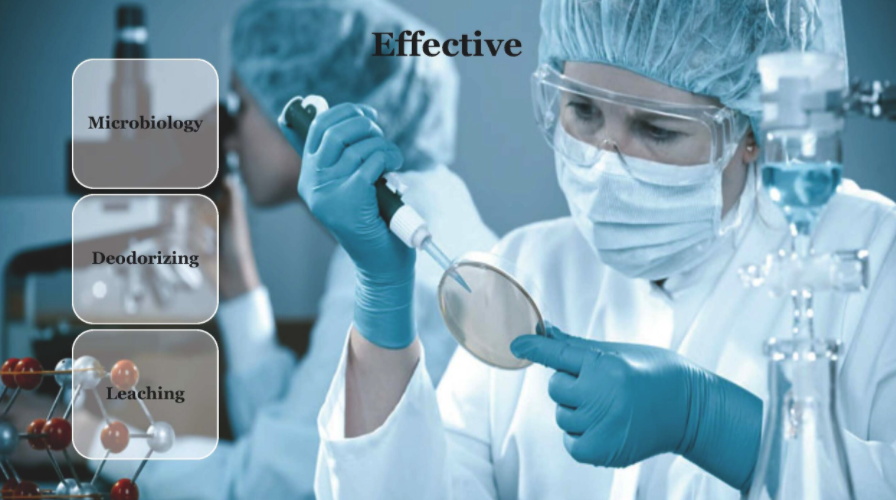 Proprietary new approach
Polyguard is an antimicrobial additive engineered for incorporation into fibres and filaments utilizing a proprietary new approach to product application which delivers performance for the life of the treated fabric. It represents an economical and environmentally responsible alternative to conventional leaching or migratory type organic agents as well as more recent ionic exchange-based technologies.
"In multiple studies conducted at several independent laboratories, Polyguard has proven to be extremely effective in providing antimicrobial and antiviral protection," says Wayne Krause, President, Poly-Technical Solutions. "However, the most unique characteristic of the technology is it's 'Reduce Risk Exposure Profile'; non-leaching mode of action; low concentration of active ingredient; chemical and physical stability; low acute toxicity; and sustainability."
PTS explains Polyguard's unique characteristics and performance in testing, in detail as follows:
1.Non-leaching mode of action - in preparing for EPA registration, PTS conducted three major Leaching studies. In all three studies, no leaching was observed above the method of detection limit. Methods include ICP-MS, ICP-OES and NAA.
2.Low concentration of active ingredient- loading is limited to 30 ppm in the final treated article., the lowest loading of any currently EPA or FDA registered technology.
3.Chemical and physical stability- studies conducted by Georgia Technical College validate previous leaching studies and further supports stability as a result of dissolution studies.
4.Low acute toxicity - toxicological results obtained for Acute Oral Toxicity Up and Down Procedure in Rats, OPPTS 870.1100 which showed no observable effects with acute oral LD50 at > 5,000 mg/Kg. Acute Dermal Toxicity Study in Rats, OPPTS 870.1200 with reported acute dermal LD50 at >5,000 mg/Kg. Acute Inhalation Toxicity Study in Rats, OPPTS 870.1300 which showed a dose > 2.07 mg/L with 100% survival. Dermal Sensitization Study in Guinea Pigs, OPPTS 870.2600 indicated NSPW-L30SS is not considered to be a contact sensitizer; the physical non-migration of NSPW-L30SS is based on the Specific Gravity of the product which is 1.1182 and demonstrated as insoluble in water at 10 ppb at 25 ml/hr. flow rate and 10 ppb at 12.5 mi/hr. flow rate by Water Solubility: Column Elution Method, OPPTS 830.7840;
5.Sustainability- Polyguard is recyclable and reusable during the production process. The use of Polyguard during production process has no adverse effect in water treatment and retention systems.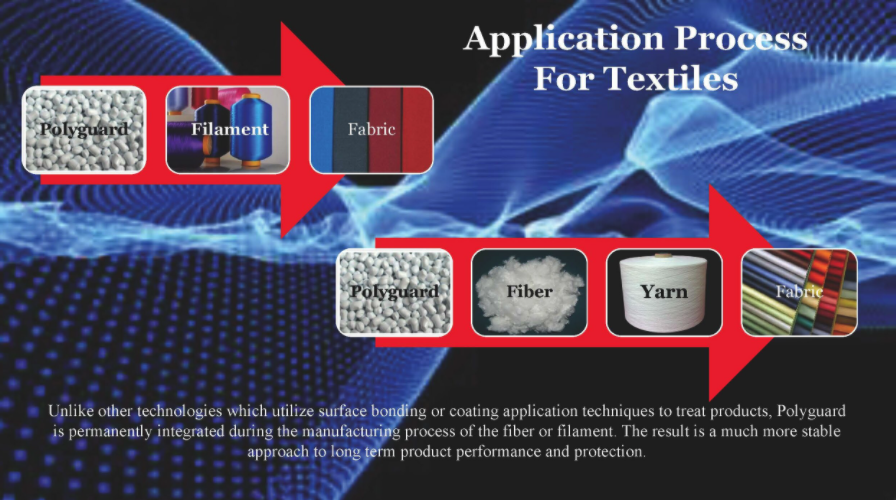 Poly-Technical Solutions
Providing background to Polyguard and the company's journey to date, Executive Vice President, Jerry Gaskins comments: "In April 2012, after six years of research and development, Poly-Technical Solutions Ltd. was formed in Hong Kong. The company was established to commercialize a patented new concept in antimicrobial protection engineered for use in textile-based products and applications."
"In July 2015, the company was granted a Conditional EPA Product Registration for Polyguard and began additional testing and studies required to support an Unconditional Registration while pursuing two major pending business opportunities. In July 2017, before PTS could finalize the pending opportunities and complete the additional testing, an Appeal filed in July 2015 was heard in the Nineth District Court. The Appeal challenged the EPA's decision to grant the Conditional Registration on the basis that the agency did not provide adequate support to its claim that granting the registration was 'in the interest of the public'. The court ruled accordingly and ordered that the registration be Vacated, and PTS lost the registration and any potential business opportunities given the circumstances," Mr Gaskins explains.
"For the next three years, PTS conducted numerous additional studies focused not on reinstating the original Conditional Registration, but on an Unconditional Registration. As a result, in May 2020, the EPA granted PTS an Unconditional EPA Product Registration for Polyguard NSPW Master batch. Since then, the company has successfully tested textiles containing Polyguard NSPW Master Batch against Coronavirus and is actively pursuing EPA registration for Polyguard as an Antiviral additive for textile use. Additionally, the company recently formed Polyguard Group, LLC to support operations in the U.S. as a result of the pandemic and changing textile industry."
"Polyguard started with what the industry called us 'two men in a truck'. Well those two men just received the first non-conditional nano silver, Non-Leaching EPA registration in textiles ever, after 11 years of blood sweat and tears," Jerry adds passionately. "We took all our energy, mentality, financial means, and worked effortlessly for every day of those 11 years, and never gave up in our efforts to achieve this goal. I think the world needs to see that there is still the ability to start with entrepreneurial technology and become successful," Jerry concludes.
Further information
Polyguard Group LLC
Montville, New Jersey 07045, USA
Tel: +1-973-723-6482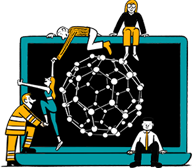 Business intelligence for the fibre, textiles and apparel industries: technologies, innovations, markets, investments, trade policy, sourcing, strategy...
Find out more