22nd January 2015, Frankfurt
Reading the fine print
Despite its many production advantages and the substantial savings to be made in water, energy and raw materials, digital printing still has a hill to climb before seriously challenging the established rotary and flat screen processes for textiles.
Nevertheless, it's gaining ground all the time.
This was the key message of Dr John Provost, an acknowledged expert in the field, in his opening presentation at the 2nd WTIN Digital Printing Conference which was held alongside the Heimtextil home textiles show.
Heimtextil 2015 took place from January 14-17 and showcased some 2,759 exhibitors from 68 countries – up from 2,714 in 2014 – attracting over 68,000 visitors to Frankfurt.
There was an enlarged area dedicated to digital print technology at the show, featuring all of the major players in the field, including Hewlett-Packard, Reggiani, POD Equipamenta, Durst, Kornit, Xeikon International, Digital Graphics and Zimmer.
A new exhibitor this year was Epson Europe.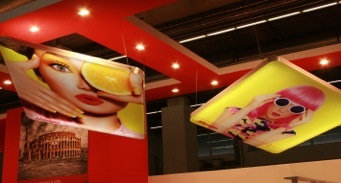 "As a global event for the latest developments in home and contract textiles, Heimtextil provides the best opportunity to showcase our latest inkjet printers and inks," said its product manager Richard Barrow. "With Epson inkjet technology it's easy and affordable to produce bespoke, high quality interior decor products on-demand and in small quantities. Our dye sublimation technology can also open up new decor opportunities on a variety of surfaces such as glass, metal and plastic."
Digital textile printing has three advantages, according to Heimtextil director Ulrike Wechsung.
"The technology requires fewer resources and enables faster production cycles," she said, "and textile designers can also experiment more creatively and flexibly with high-quality forms and models. In addition, purchasers of home and household textiles have the possibility to respond more quickly and more individually to today's consumer requirements."
The high visibility of digital print technology and fabrics at the show, however, belies their so-far lowly status in the overall scheme of things.
The world production of printed textiles amounted to around 31 billion square metres in 2014, Provost said, and of this production, around 65% were rotary screen printed fabrics and 25% flat screen. With a variety of other different processes carried out, digital printing had just an estimated 2-3% share of the overall market, amounting to around 600 million square metres, but excluding the contribution of China.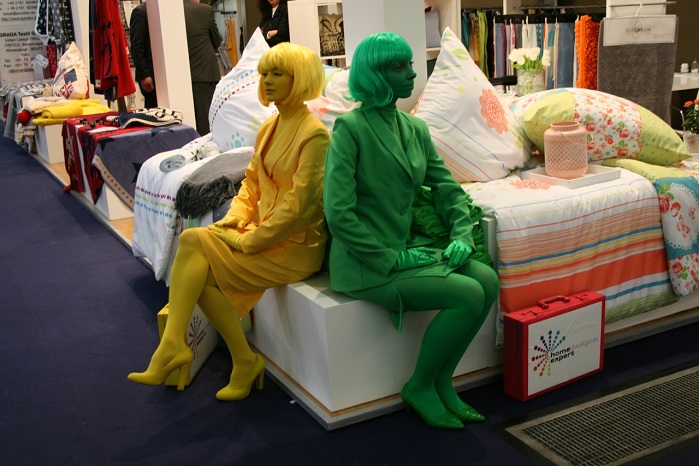 "China currently accounts for around thirty per cent of all printed fabrics, but it's hard to put an accurate figure on what's being produced," he said. "But there are three major digital printers in China, and around thirty others, so overall production including China must now be approaching a billion square metres."
The digital printing of home textiles though, is still comparatively small, with the major markets so far being apparel and signage/graphics.
Now, with the introduction of single pass machines, digital printing is capable of operating at speeds faster than rotary printers. MS in Italy has already introduced a single pass machine and Stork has announced it will also launch one at the ITMA in Milan later this year.
However, to be cost competitive with rotary printing in home textile areas like bed sets – each involving on average printing ten square metres of fabrics – production levels would have to get up to millions of metres.
"It can be done, as has been demonstrated with the latest Kyocera print heads and the MS single pass machine," Provost said, "but it wouldn't be a cheap exercise and the cost of print heads and consumables would also have to be considered. The environmental benefits are never really costed in, so would have to be looked at as a bonus."
Significantly, digital printing is now moving from Europe to Turkey, Brazil, India and China and it is in these countries that such large scale operations are likely to be established.
Indeed, one Chinese manufacturer is already employing some 14 digital print machines with a potential capacity of around ten million square metres of fabrics annually.