8th March 2018, New York City
Reebok launches new Fast Flexweave running shoe
On March 5th, star athletes, professional trainers, and fitness enthusiasts joined Reebok to celebrate the launch of their Fast Flexweave running shoe which features Flexweave, the latest cutting-edge technology developed by Reebok's Innovation Collective, a division dedicated to the "pursuit of progression through innovation and partnerships."
The event, held at Industria Studios in New York City, was an opportunity for guests to wear-test the product during a high intensity training session lead by several top Reebok brand ambassadors including Atlanta Falcons running-back Devonta Freeman and speed specialist Luis Badillo Jr. who is featured in Reebok's Fastest Feet promotional video. After the workout, guests were treated to a live performance by the rappers Rae Sremmurd.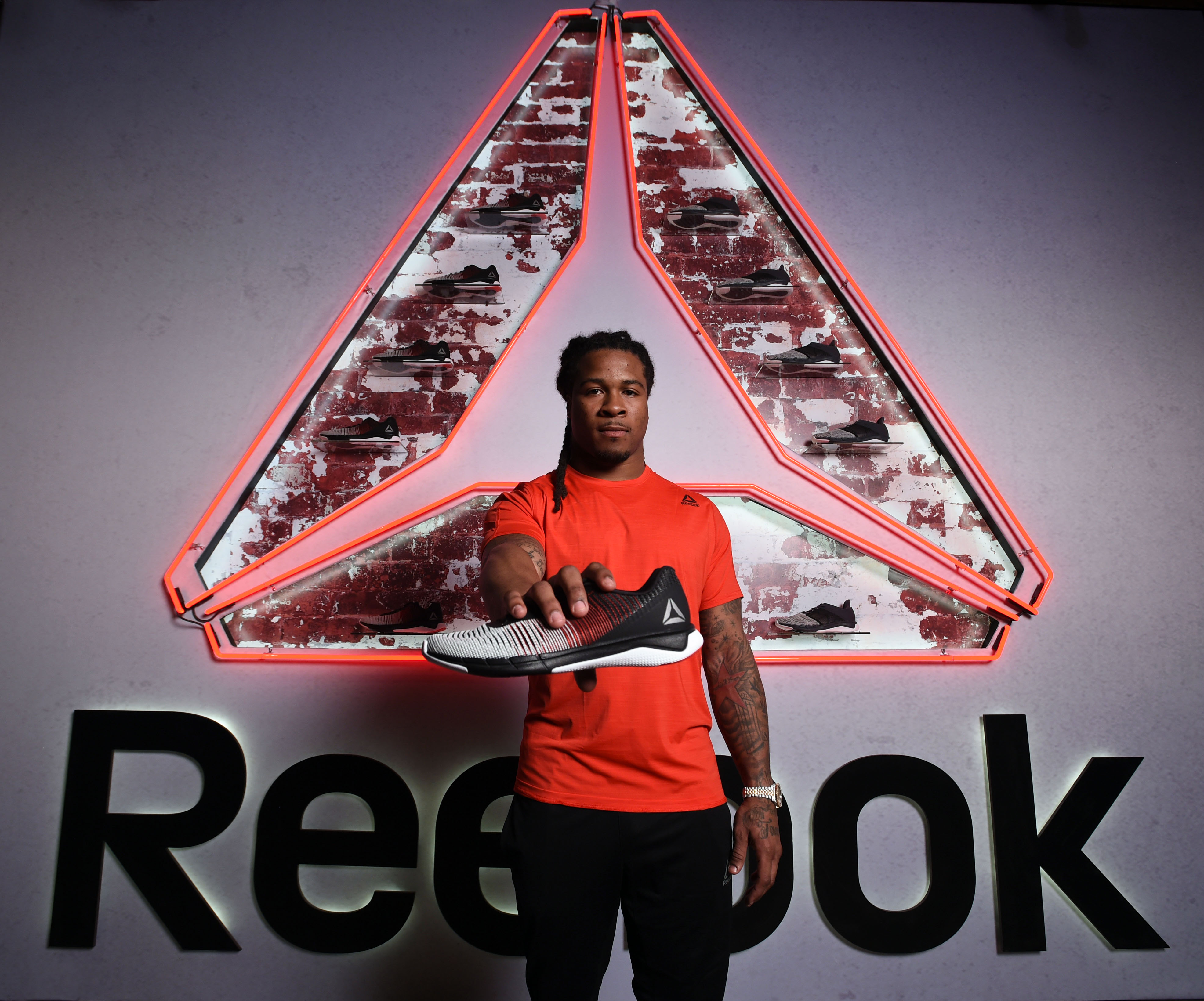 Designed and engineered to deliver comfort, durability, and speed the magic in the Flexweave material lies within the proprietary construction itself or what Scott Daley, VP of Footwear calls, "The Power of 8." Flexweave is a combination of 8 different yarns woven into a unique figure 8 twist and represents a breakthrough in upper technology for Reebok. To drive the point home, images of figure 8's were boldly displayed throughout the venue.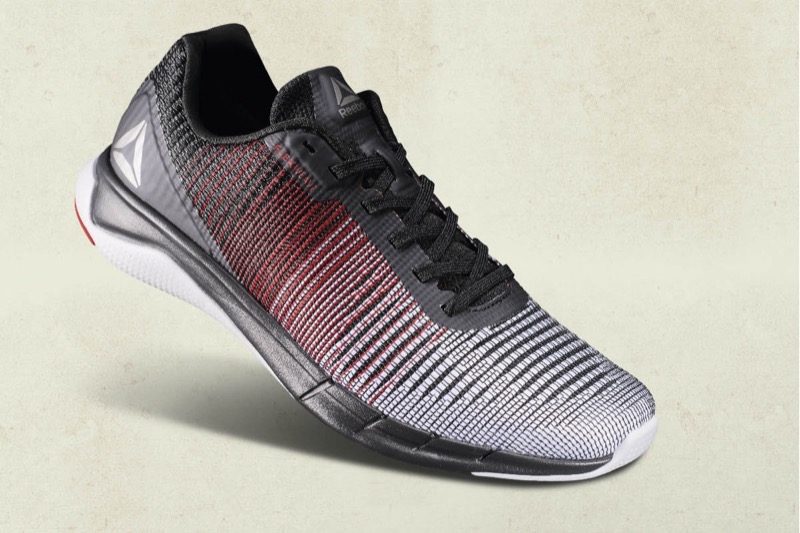 While knit shoes have permeated the industry in the past few years, the challenge with knit is that there is no inherent support. With Flexweave, Reebok is able to strategically engineer different performance benefits in specific areas of the foot such as enhanced stability, breathability or flexibility in a single surface material while maintaining the comfort aspects knit provides. Zones are delineated by subtle pattern changes, which presents infinite design possibilities as the Flexweave platform continues to grow. Fibres can also be combined in different ways depending on a product's intended use.
Daley explains, "When we're looking for more support and stability we use a very thin, light-weight TPE fibre and when we need materials that are softer, we may choose something like a chenille yarn. In the future, we think we can build-in additional elements such as stretch by using spandex to create more flexible aspects or utilize fibres such as Kevlar to increase durability, which can be beneficial for our Cross-Fit and outdoor obstacle race shoes."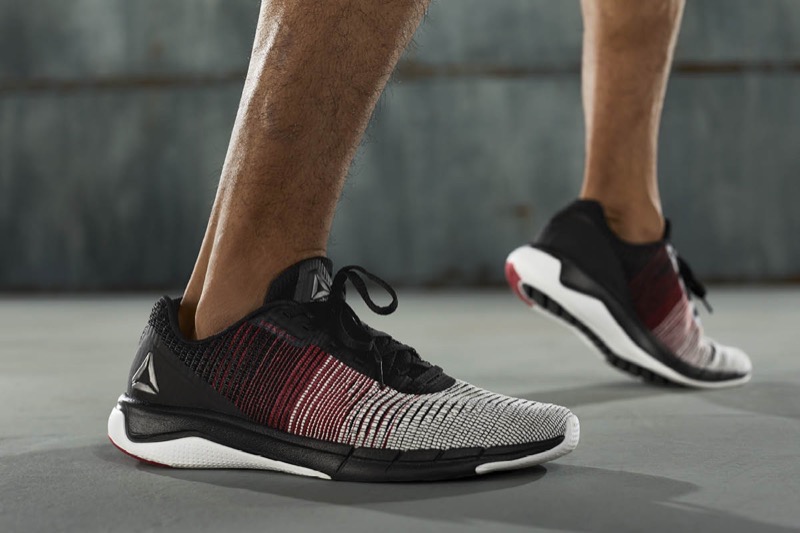 The ability to manipulate the weave, further allows Reebok to make a fully customized shoe based on whatever precise aspects the wearer may require; a concept they intend to explore with their star athlete partners. Over time, Reebok expects to evolve and expand their product offering not only in running but also across all fitness activities in which their customers participate.
Reebok's commitment to creative exploration and innovation was highlighted by collaborations with three prominent global design firms whose unique propositions for Flexweave were featured at the event. Each company showcased the versatility of the material by creating products filtered through their own distinct design perspective and area of expertise. One example was their partnership with Saville Row tailors Huntsman, who crafted a refined, bespoke suit from Flexweave for Brandon Cooks, a star wide receiver for the New England Patriots.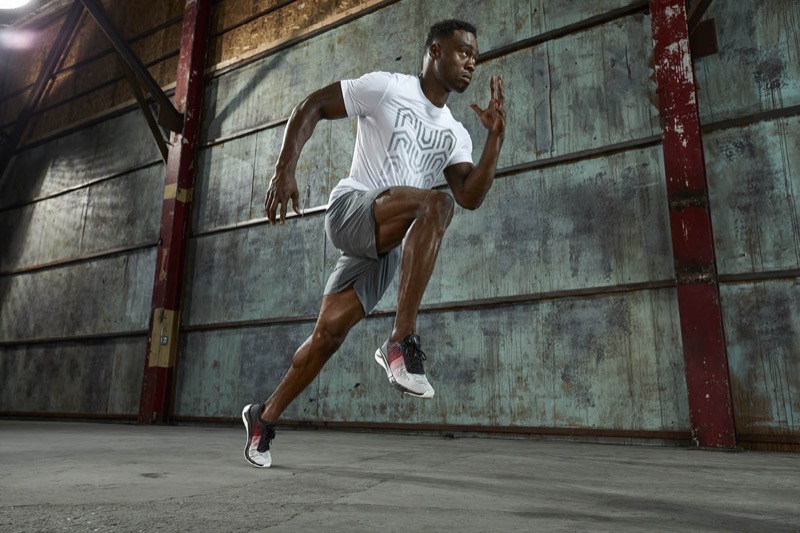 When Reebok was introduced to the US market back in 1979, the first three products they released were running shoes. Ever since, the company has shown their loyalty to the sport by continuing to deliver technological advances and authenticity to their customers. As Daley told me, "we start with running because that's where you get validated" so, as a life-long runner myself who, out of blissful ignorance or laziness, has worn the same full-cushion running shoes regardless of the fitness activity in which I was participating, I was quite eager to put the Fast Flexweave to the test.
Having given our sizes in advance, a pair of Fast Flexweave shoes were waiting for us in dedicated lockers personalized with our names; a playful complement to the evening's main event. Reebok also generously provided the necessary workout gear to wear during the training session. As soon as I put the shoes on I was impressed that they fit true to size. Recent shopping trips have proven to me that this is no small achievement. The Fast Flexweave shoes were immediately comfortable and remained so even after the vigorous workout; no breaking-in period seems to be needed.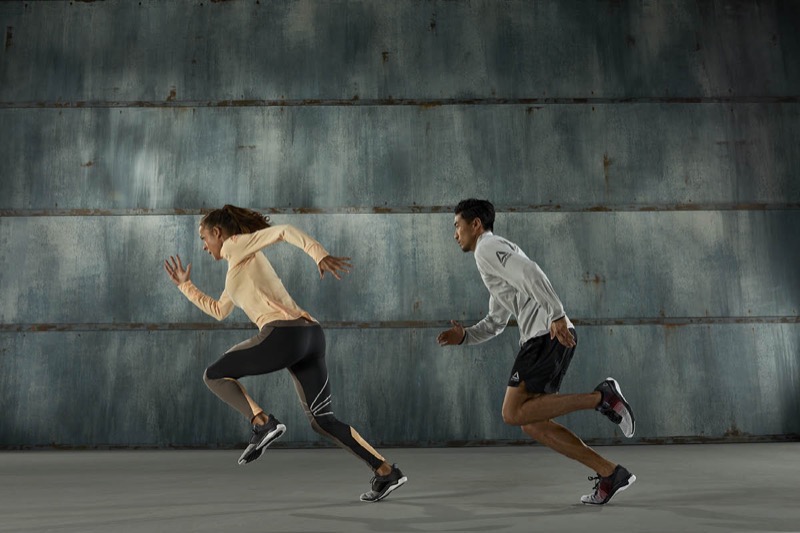 Rotating through a series of drills designed to focus on strength, agility, and speed which included short sprints, jumping rope, ladder work in a sand pit, and weaving in an out of hurdle blocks, the Fast Flexweave running shoe definitely felt light and fast. The Flexweave material was surprisingly supportive without being restrictive, easily facilitating the demands of high-power moves. Wearing shoes that both liberated and enhanced my mobility without sacrificing comfort or stability gave me confidence that I could engage in a more diverse workout without risk of injury.
Aesthetically, the subtle coloration and patterning of the shoe looks modern and sophisticated providing an easy transition from sport to street. Fully energized and with my legs reduced to noodles, I happily wore mine all the way home.
Daley concurs. "The really cool thing is that they look great but when you deliver an innovation, if you want it to be accepted and sustainable long term, it has to actually perform from a functional standpoint and we're very confident that the Fast Flexweave achieves that. But today, consumers don't say I only want to wear this for this function-they want it all in one package-so you'll see us insert our shoes into the culture beyond the functional aspects. Tonight is a great example of that. We're going to talk about what the Fast Flexweave does from a fitness perspective and then wrap-up the evening with a terrific performance from Rae Sremmurd. And that's life. That's what people do these days."
The Reebok Fast Flexweave is now available in introductory colourways for $100 on Reebok.com.
Reebok's Innovation Collective
This article is also appears in...