Fibres/​Yarns/​Fabrics
Reebok partners with designers for Flexweave prototype
Reebok partners with Joe Doucet x Partners, Modla and Odd Matter, using Reebok Flexweave to create imaginative fitness prototypes.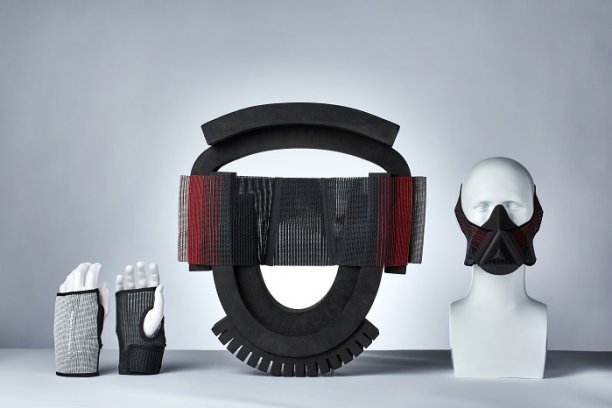 10th January 2018
Innovation in Textiles
| Boston, MA
Reebok has partnered with some of the most creative and innovative minds in the world to create a custom collection of fitness prototypes showcasing the power of Flexweave, the brand's latest footwear innovation launching in Spring 2018.
"Flexweave is going to a major part of the Reebok DNA moving forward. With this creative and imaginative project, we've achieved exactly what we set out to do; demonstrate through collaborations in other fields what Flexweave can truly achieve when put to the ultimate test," said James Woolard, Global Marketing Director, Reebok Running.
"The Reebok Innovation Collection champions the pursuit of partnerships and innovations that will continue propelling the brand forward in spaces like fitness, fashion and footwear. Flexweave represents a huge step forward in footwear upper technology and brings with it a wave of anticipation and excitement for what the future holds for this brand."
Flexweave
In partnership with Joe Doucet x Partners (USA), Modla (ENG) and Odd Matter (AN), the global fitness brand explored the potential of Flexweave. Flexweave boasts an open figure-8 construction that interlocks unlimited strands of fibres to create a single surface construction that is as strong as it is light. All designers worked with the version of the textile that will appear in the first-generation of Reebok Flexweave footwear, launching in 2018, made from chenille yarn.
Each designer was briefed to explore Flexweave's limitless potential to create a unique product linking form and function, creating an aesthetic product utilizing the benefits of Flexweave whilst serving a fitness purpose.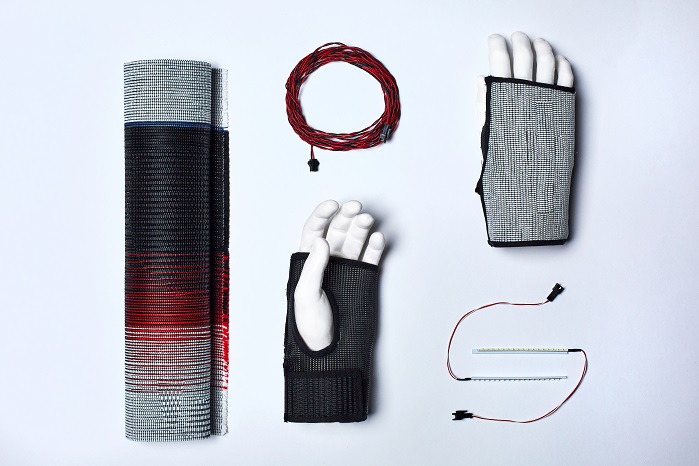 Reebok Flexweave prototype collection includes a pair of cutting-edge running gloves (Joe Doucet x Partners), a 3D printed altitude training mask (Modla) and a collection of light-weight, active sitting chairs (Odd Matter). Flexweave was developed by the Reebok Innovation Collective; a division championing the open-sourced pursuit of progression via innovation and partnerships that aims to push the boundaries of invention.
Running gloves
As a designer, entrepreneur, inventor and creative director, Joe Doucet is one of the most sought-after creative talents in America. Doucet designed a pair of Reebok Flexweave running gloves, form-fitting to the wearers hand, absorbing sweat as they run and lightweight for maximum comfort. The prototype was designed with the vision of being GPS-enabled, guiding the wearer through their run with flashing LED lights to indicate when to turn left or right.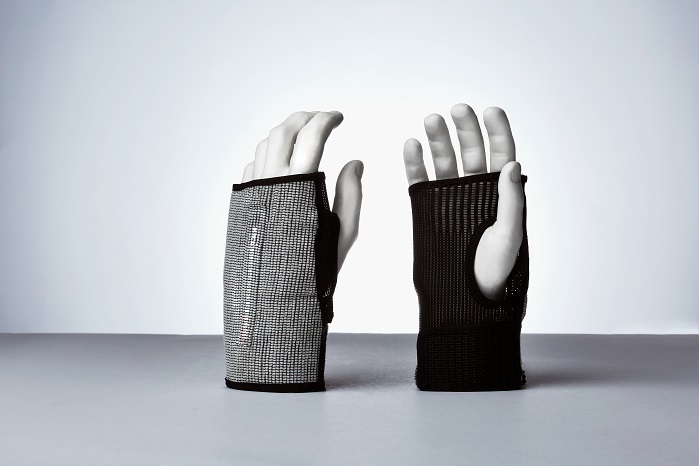 "My inspiration was to capture the unique qualities of the Flexweave technology through something advantageous to an active lifestyle. The strength, flexibility and multi surface durability of Flexweave led me to the idea of a smart running glove with a sleek, stylish silhouette. With the form crafted by Flexweave, the next stage of development would be GPS integration paving the way to a new frontier in wearable technology," said Mr Doucet.
Active sitting chairs
Odd Matter design studio created a furniture series of active sitting chairs; made through a combination of Reebok Flexweave and malleable EVA foam. "The Inspiration for the chair came from the Flexweave material itself. Whilst experimenting and playing with the fabric we were very intrigued by its behavior, structure and strength under tension. From there we wanted to create an object that played with that tension, a bit like the string of a bow, something in which the tension and strength is palpable," said Els Woldhek, Odd Matter.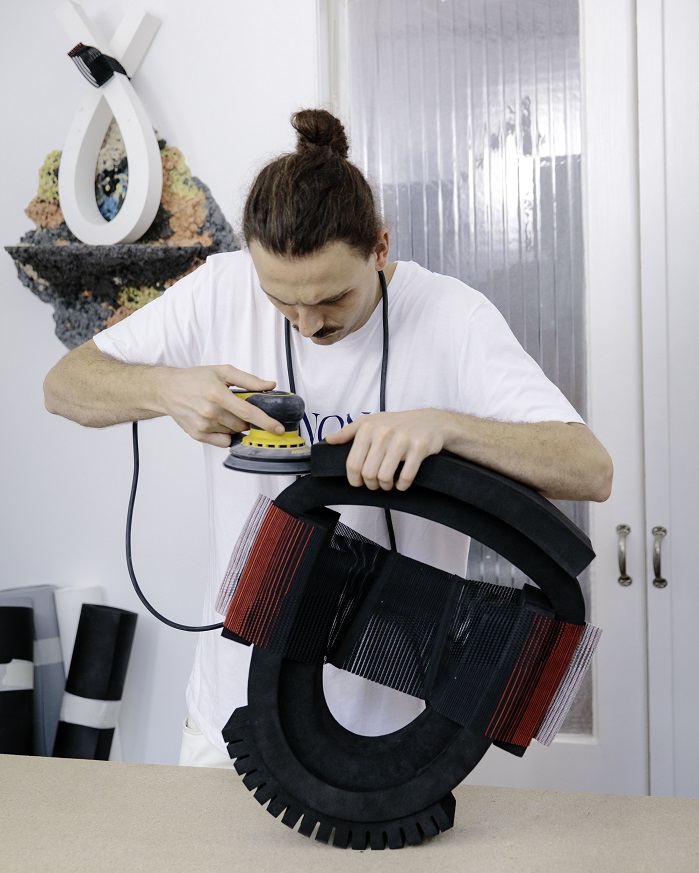 "Working with the Flexweave was very interesting, for instance when cutting it in different directions you straight away notice the differences between the fibres and the technical properties of the Flexweave. This in turn has made us really curious about everything else that is possible with the technology."
Altitude training mask
Co-founded by Jon Fidler and Richard Goddard, Modla is an artistic design house specialising in technological innovation. The pair created an entirely new Reebok Flexweave altitude training mask; 3D printing the valve technology across the nose and mouth, coupled with a Flexweave facial strap to comfortably wrap around the wearer's face during intense training.
"I do a lot of high intensity training so I'm interested in how such equipment works, functions and can help improve performance. But we also saw the potential in the aesthetic of the Flexweave material, to create something which would blend with the mask and align with the contours of the wearer's face," said Mr Fidler.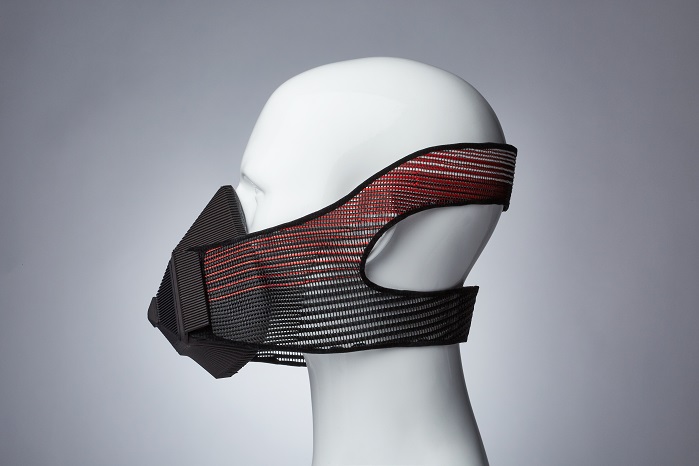 "As it happens, the Flexweave material provided even more benefit than just the aesthetic and was amazing to work with. It's strong and durable, so perfect for a product that will get a lot of wear and tear; while also incredibly lightweight, making it breathable on the face for athletes when training."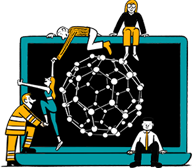 Business intelligence for the fibre, textiles and apparel industries: technologies, innovations, markets, investments, trade policy, sourcing, strategy...
Find out more