Composites
$37 million carbon fibre research centre for Australian university
A new research facility for carbon fibre innovation is to be established at Deakin University's Geelong Campus at Waurn Ponds, Victoria, Australia. The carbon fibre pilot plant will be part of the research facilities to be built at the Campus from a $37 million grant to Deakin University announced on Friday 21 May by Kevin Rudd, the country's Prime Minister. Speaking at the Geelong Technology Precinct at Deakin's Geelong Campus at Waurn Ponds, the Prime Minist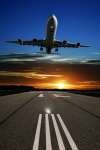 28th May 2010
Innovation in Textiles
| Warun Ponds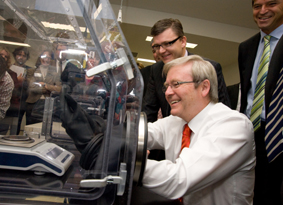 A new research facility for carbon fibre innovation is to be established at Deakin University's Geelong Campus at Waurn Ponds, Victoria, Australia. The carbon fibre pilot plant will be part of the research facilities to be built at the Campus from a $37 million grant to Deakin University announced on Friday 21 May by Kevin Rudd, the country's Prime Minister.
Speaking at the Geelong Technology Precinct at Deakin's Geelong Campus at Waurn Ponds, the Prime Minister explained that the grant is from the Australian Government's Education Investment Fund (EIF). The carbon fibre pilot plant will be part of an Australian Future Fibres Research and Innovation Centre (AFFRIC). The centre is a collaboration between Deakin University, CSIRO and the Victorian Centre for Advanced Materials Manufacturing (VCAMM).
"Carbon fibre, an exceptionally strong and light material, is likely to become the defining material for 21st century manufacturing. The total cost of establishing the Centre will be just over $100 million. This includes capital works and equipment to accommodate up to 300 additional staff and students, including 85 CSIRO staff, at Deakin's Geelong Campus at Waurn Ponds," Deakin University said.
AFFRIC is also expected to generate $160 million and create 491 indirect jobs in the Geelong region during the construction phase. The Centre's research will focus on a range of innovative materials including nanomaterials, smart fibrous materials, green natural fibres and carbon fibre. The research will have applications for the aerospace, automotive and textiles industries.
Deakin University's Vice-Chancellor, Professor Sally Walker, welcomed the Federal Government funding.
"I am delighted to welcome the Prime Minister to our Geelong Campus at Waurn Ponds today. I thank him for his Government's extraordinary support for the establishment of the Australian Future Fibres Research and Innovation Centre," Professor Walker said. Professor Walker paid tribute to local members, Darren Cheeseman and Richard Marles for their support for the funding bid. She also thanked Senator Kim Carr, Minister for Innovation, Industry, Science and Research, for his support.
"This is a very exciting endeavour that will place Geelong and, indeed, Australia, as an international hub for fibre science and materials research," Professor Walker said.
"By bringing together Australia's foremost fibre and manufacturing scientists, using sophisticated equipment and strong commercial partnerships, the Centre will be recognised as an international leader in new materials industries.
"At Deakin we pride ourselves on conducting research that makes a difference and on developing effective partnerships; the establishment of this Centre exemplifies our commitment to both of these goals."
About the Australian Future Fibres Research and Innovation Centre
AFFRIC will build on the world class expertise of the partner organisations. Deakin's Centre for Material and Fibre Innovation has an international reputation in advanced composites and fibre research with extensive partnerships with the aerospace and automotive sectors. CSIRO brings expertise and equipment in commercially critical areas such as 3D weaving and surface finishing.
Co-locating CSIRO's textile and fibre capabilities at Deakin's Geelong Technology Precinct at Waurn Ponds will increase the research capacity of both organisations to service the textile and fibre industry. It will provide access to industrial and pilot-scale facilities to translate research into end-user applications. VCAMM will manage the new carbon fibre research facility.
"Exceptionally strong and light, carbon fibre is a defining material for 21st century manufacturing. Nonetheless, research to extend its properties, functionality and production is undeveloped. The Carbon Fibre Research Facility will be capable of producing commercial quantities of aerospace quality carbon fibre," said Deakin, adding:
"By leveraging the combined expertise and equipment of the partners, the facility will offer an institutionally-based, industrial-scale carbon fibre capability with no equivalent anywhere in the world.
The research facility will make the region attractive for carbon fibre commercial production and manufacturing products such as airplane fuselage and blades for wind turbines. It is anticipated that, within five years, the facility will generate more than $1 million per year in research income from industry."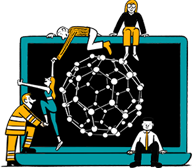 Business intelligence for the fibre, textiles and apparel industries: technologies, innovations, markets, investments, trade policy, sourcing, strategy...
Find out more