Research/​Development/​Education
Fashion student grows leather-like material
Through a fermentation process that uses water, sugar, green tea, and kombucha Quijano is able to produce a leather-like material.

27th November 2017
Innovation in Textiles
| Lynchburg, VA
Liberty University senior fashion design student Luis Quijano has successfully merged fashion with microbiology and mechanical engineering to bring to life an idea of growing your own clothes.
Through a fermentation process that uses water, sugar, green tea, and kombucha (a type of fermented tea created by using a symbiotic colony of bacteria and yeast), Quijano is able to produce a leather-like material that he said can be crafted into clothing and is a much more sustainable product than animal skin and other modern-day fabric.
"Before I started this, I just didn't realise how much pollution that (manufacturing) fabric can produce and that an alternative could exist that could eliminate all of that waste," he said. "And the fact that you could grow your own clothes just sounded so abstract."
Sustainable source of material
Quijano said he initially heard about the idea through watching a TED talk from fashion designer Suzanne Lee. Inspired by the prospect of creating a sustainable source of material out of ordinary ingredients, Quijano decided to try the process out for himself, and has since attracted the attention of industry professionals and impressed many of his professors.
"Luis is just so self-motivated to learn as much as he possibly can," said Department of Family & Consumer Sciences (FACS) Associate Chair Matalie Howard. "This is all very cutting edge. He just dove headfirst into studying the topic and realized that if he can make this project go further, that it could really change society."
Quijano started his project last November, when he would mix all of the ingredients together in his dorm room and set the containers on the floor for a couple of weeks to cultivate. Now, in partnership with Liberty's Department of Biology & Chemistry, Quijano uses incubators in Liberty's Center for Natural Sciences to grow the material.
Fermentation process
The fermentation process takes about two to three weeks, after which a solid layer of material about an inch-thick forms on top of the mixture. When dried, this layer becomes the leather-like material that is able to be sewn together to make clothing.
Since he started experimenting with the material, Quijano has found ways to improve and alter the growing process to achieve the best results. He has found ways to merge two different layers of material with flowers in between them to create floral patterns and is now testing new variations of his process that would make his material thicker and waterproof.
Quijano said he was able to greatly improve his growing process over the summer when he studied and worked alongside professors and scholars at the Queensland University of Technology in Australia, made possible through a grant from the Liberty's Provost Research Initiative. Quijano was one of the five inaugural recipients of the Provost's Award for Research Excellence, a new award gifted to five students a year to fund their research projects.
Creating complete outfit
While in Australia from June to August, Quijano experimented with alternative forms of sugar — from rice to potato starch — to find out what created the most durable, wearable product. For now, Quijano is trying to find a way to grow the material needed to create a complete outfit that he can display in the FACS department's annual spring fashion show in April.
"My end goal with this textile is to really develop it to a commercial standard," said Quijano. "I want to do more textile research, and while I'm doing that, continue to refine my fashion skills, so they work together. I don't know if I'll use this same sort of material and process in the future, but because of all this, I will try a lot harder to incorporate sustainable aspects into my designs."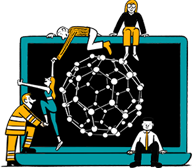 Business intelligence for the fibre, textiles and apparel industries: technologies, innovations, markets, investments, trade policy, sourcing, strategy...
Find out more