Research/​Development/​Education
ISUs new Chair focuses on functional apparel design
When U.S. combat soldiers go into battle, they're now better protected because of some of Cheryl Farr's work. That's because Farr, Iowa State University's new Noma Scott Lloyd Chair in Textiles and Clothing was part of the federally funded design team that developed the QuadGard limb armour, which provides soldiers extremity protection against fragments from improvised explosive devices. The project was one of several Farr has worked on involving military functiona
7th December 2010
Innovation in Textiles
| Ames, Iowa
When U.S. combat soldiers go into battle, they're now better protected because of some of Cheryl Farr's work. That's because Farr, Iowa State University's new Noma Scott Lloyd Chair in Textiles and Clothing was part of the federally funded design team that developed the QuadGard limb armour, which provides soldiers extremity protection against fragments from improvised explosive devices.
The project was one of several Farr has worked on involving military functional apparel and emergency protective gear, much of it through Oklahoma State University's Institute for Protective Apparel Research and Technology. Upon returning this autumn to Iowa State, where she earned both her master's and doctoral textiles and clothing degrees, she has aspirations to bring federally funded functional design research to ISU too.
"That's why Cheryl is here as the Lloyd Chair," said Robert Bosselman, professor and chair of Iowa State's Department of Apparel, Educational Studies, and Hospitality Management. "She'll be a facilitator and mentor to new and junior faculty in the area of functional design technology, and we're excited about her plans to build a product development and testing lab. She has a proven record in securing federal grants and projects."
Plans for a product development and testing lab
Farr plans to convert a room in ISU's LeBaron Hall into a product development and testing lab. The lab will house a modern environmental chamber and other up-to-date functional design research equipment.
"The emphasis is on product development research with an emphasis on functional apparel design," she said. "And so the idea is to put in some of the pieces of equipment, get them up and running and help facilitate getting started on some of the grantsmanship that needs to happen."
Among her other past research projects, Farr worked on a cooling vest for emergency personnel within a hazmat suit to reduce the body's core temperature. The vest has also been adapted for use by military helicopter pilots.
"We ultimately came up with a battery-powered pack that was less than 10 pounds and the cooling vest," Farr said. "And the company that developed the cooling vest received a grant and fine-tuned it. The vest part is finished. It's been tested and works better than other commercially available vests. It's now just a matter of getting the cooling pack to the right size and through all the approval processes."
Because of Farr's involvement in the cooling vest, she and the other members of the design team were contacted in 2005 by a company that provides combat protective gear for U.S. military personnel. They inquired about whether the researchers could design additional arm and limb protective gear for soldiers.
"This is one of those bizarre worlds that once you get inside of it [the protective apparel business], opportunities start to open up," Farr said. "And while everybody knows everybody else, everybody's competing with everybody else. And it's generally in response to specific calls for particular types of protective apparel for the military to solve some problem."
Farr says the arm and leg armour project responded to data from the Bethesda Naval Hospital of amputation and loss-of-life limb wounds suffered by American soldiers during the early stages of the U.S. War on Terrorism in Afghanistan. She reports that the research team was able to produce and patent QuadGard over several years.
"In this case, the 'quad' in the name stands for four, where you use the existing ballistic vest and add protection to the shoulder, upper arm and lower arm, and then from the leg down to below the top of the combat boot," Farr said.
Her latest project has been testing RYNOSKIN, ultra-lightweight, body-forming insect protection suits. The goal was to provide the maker with effectiveness data. Farr hopes similar testing and functional design projects will be coming to Iowa State in the near future.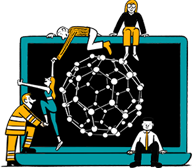 Business intelligence for the fibre, textiles and apparel industries: technologies, innovations, markets, investments, trade policy, sourcing, strategy...
Find out more