Research/​Development/​Education
Japanese university researcher gets materials science award for work on hydrogels
Professor has been recognised for his original work on the mechanical properties of extremely tough double network gels.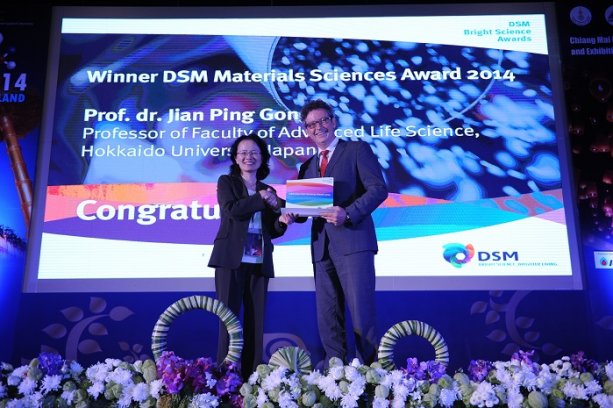 11th July 2014
Innovation in Textiles
| Heerlen
Prof Jian Ping Gong, Professor of the Faculty of Advanced Life Science, Hokkaido University in Japan, has been awarded the DSM Materials Sciences Award 2014 for her exceptional contributions to the advancement of double network hydrogels and materials sciences at the IUPAC World Polymer Congress 2014 on 8 July.
The DSM Materials Sciences Award is part of DSM's Bright Science Awards Program, and is presented in cooperation with IUPAC, the International Union of Pure and Applied Chemistry.
DSM, a global science based company, bestows the Materials Sciences award every two years in recognition of outstanding scientific work by an established scientist that has significantly contributed to the advancement of the materials sciences field.
Original research
Professor Gong's work on the mechanical properties of extremely tough double network gels is some of the most original materials sciences research that has taken place over the past years, and has generated significant interest and recognition in the international scientific community.
Her innovative work on the friction of hydrogels – which was driven by artificial cartilage applications – belongs to the best work ever done in the field, the international judging committee concluded.
Dr Marcel Wubbolts, Chief Technology Officer of DSM, commented: "It is the work of innovative scientists like Jian Ping Gong that enables trailblazing advances in science. Professor Gong's work is key in addressing global health and wellness challenges in a world with an aging population and rising global healthcare costs."
Hydrogel
Hydrogel is a network of polymer chains that are hydrophilic that are highly absorbent – they can contain over 90% water. Hydrogels also possess a degree of flexibility similar to natural tissue, due to their significant water content.
The material is currently used as scaffolds in tissue engineering. Environmentally sensitive hydrogels, also known as 'smart gels' have the ability to sense changes of pH and temperature, and release their load as result of this change.
Hydrogels are also used in disposable diapers, sanitary napkins, dressings for healing of burn or other hard-to-heal wounds. Wound gels are well designed for helping to create or maintain a moist environment.
Science career
Aside from the DSM Materials Sciences Award, Prof Gong has received various other prestigious scientific accolades, including the Chemical Society of Japan's Award for Creative Work in 2011.
Professor Gong holds 41 patents or patent applications, and has published 291 papers, with in total more than 6500 citations and an h-index of 39. She also serves on the editorial and advisory boards of Biointerphases, Asia Materials, Soft Matter,Macromolecules, and Polymer.
Professor commented: "I am very honoured to receive this award. It is good to see that companies like DSM are continuing to invest in science, and recognise the importance of pioneering research in materials science that leads to sustainable products or applications that enhance people's quality of life."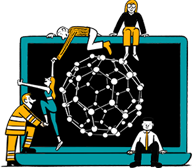 Business intelligence for the fibre, textiles and apparel industries: technologies, innovations, markets, investments, trade policy, sourcing, strategy...
Find out more