17th March 2017, Ann Arbor, MI
Kraig Biocraft Laboratories completes site survey with Vietnamese officials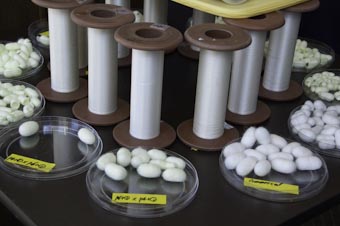 Kraig Biocraft Laboratories, a leading developer of spider silk based fibres, has announced that the company's management just completed a site survey trip in Quang Nam province, Vietnam, with Vietnamese officials.
The company leadership worked with local officials to identify potential locations for the company's silk production operations. Properties identified include a greenfield site and existing facilities that should meet both short term and long term requirements for space and production.
The company is now working with Vietnamese officials to pursue approvals for investment and for the introduction of its hybrid silkworm.
Future plans
"After touring the province and reviewing numerous potential sites, I believe we've found excellent locations to begin production in Vietnam," said COO Jon Rice.
"We are still working to secure necessary approvals and no final decisions have been made. However, the region's existing infrastructure and expertise are cause to believe that we should be able to follow the same operation ramp up as our Indiana facility. We would like to, again, thank our Vietnamese host for their hospitality and look forward to future meetings and discussions."
The company launched production at its new Indiana production facility with the hatching of more than 40,000 silkworms in October last year.
Kraig Biocraft Laboratories
Kraig Biocraft Laboratories, a fully reporting biotechnology company, is a leading developer of genetically engineered spider silk based fibre technologies.
The company says its genetic engineering research has succeeded in developing a practical and cost-effective technology for producing recombinant spider silk based fibres on an industrial scale. Kraig Biocraft Laboratories is moving rapidly to commercialize its spider silk technology, which it believes will have a significant impact on the global textiles industry.
At the same time, the company is continuing to work in cooperation with leading laboratories to create new stronger and more flexible spider silk based fibres with potentially broad applications for consumers and industry in the multi-billion-dollar marketplace for textiles and performance polymers.
Further reading
Kraig Biocraft Laboratories plans large scale production in Vietnam
This article is also appears in...