4th December 2017, Ann Arbor, MI
Kraig Biocraft Laboratories expands its team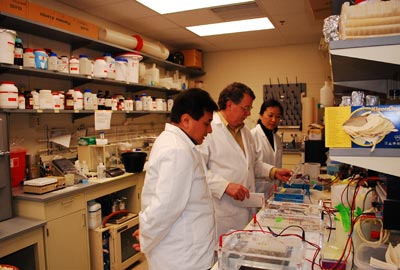 Kraig Biocraft Laboratories, a leading developer of spider silk based fibres, has expanded research operations at its new Michigan facility with the appointment of a new lead molecular biologist.
In this role he will play a key part in developing the next generation of recombinant silk fibres and protein constructions as well as overseeing all aspects of our research laboratory. Over the next 60 days the company plans to hire additional research staff to support this role as the company rapidly ramps up development of new and stronger transgenics and polymers.
"After reviewing and screening numerous candidates for this crucial role, I am confident that we've found an ideal match," said Jon Rice, COO. "With excellent technical skills and a great cultural fit, he is already well on the way to making significant contributions to the team and our technology. We expect great things from him over the coming quarter and I look forward to sharing those results with all of the Kraig Labs shareholders."
Kraig Biocraft Laboratories, a fully reporting biotechnology company is a leading developer of genetically engineered spider silk based fibre technologies.
The company says its genetic engineering research has succeeded in developing a practical and cost-effective technology for producing recombinant spider silk based fibres on an industrial scale. Kraig Biocraft Laboratories is moving rapidly to commercialise its spider silk technology, which it believes will have a significant impact on the global textiles industry.
At the same time, the company are continuing to work in cooperation with leading laboratories to create new stronger and more flexible spider silk based fibres with potentially broad applications for consumers and industry in the multi-billion-dollar marketplace for textiles and performance polymers.
This article is also appears in...