An FET-100 Series multifunctional laboratory melt spinning system has been supplied to the University of Massachusetts (UMass) by Leeds-based Fibre Extrusion Technology (FET).
The installation was configured with a bicomponent FET-100 extrusion module, which is capable of processing a wide range of polymers, coupled to a FET-101 Multifilament drawing and winding system capable of processing a range of multifilament yarns.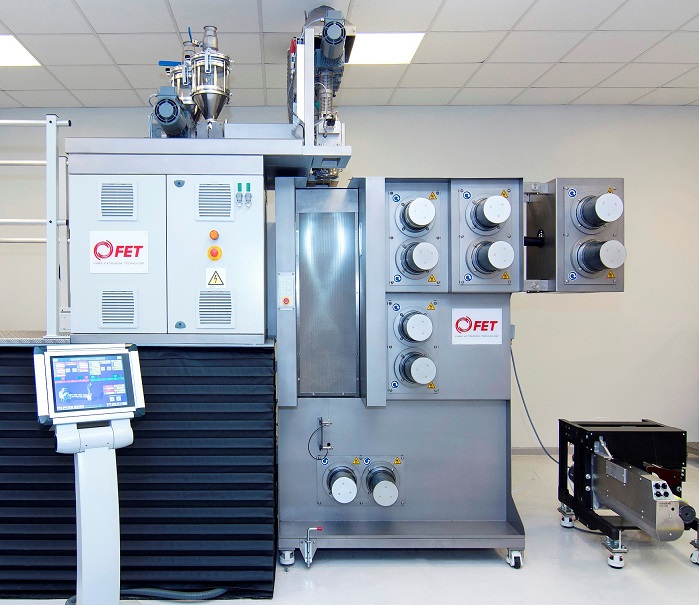 This will bring to UMass Lowell the capability to fabricate shaped fibres which will provide a step change in functionality compared to traditional fibres and fabrics. The total market for traditional engineered textiles is forecast to reach $84 billion in 2020 and new engineered textiles developed at UMass Lowell could address over 10% of the available market.
UMass is a five-campus public university system, recognised as a model of excellence for public universities.
Researchers at UMass Lowell, including Stephen Johnston and Javier Vera-Sorroche, are exploring properties such as high temperature, high strength, flame retardance, high conductivity, and super omniphobicity.
The inherent flexibility and versatility of the system will allow future adaptations, such as FET-102 Nonwoven or FET-103 Monofilament, depending on future research requirements. This system design appeals to many end-users, not only allowing for upgrade in process capability but also for staged investment.
"This installation reflects the collaborative policy FET holds with its clients – in this case UMass Lowell and its Plastics Engineering Department, an internationally recognized leader in plastics engineering education," said FET Managing Director Richard Slack. "Since its launch in 2015, the FET-100 Series has exceeded all our expectations. In 2016 alone, we took orders for eight systems in varying configurations."
Established in 1998, FET is a leading supplier of laboratory and pilot melt spinning systems for high performance textile materials. It has numerous installations in the USA and supplies equipment to over 30 other countries.
This article is also appears in...