Research/​Development/​Education
Nanomaterial-based fabric coating for future textiles
CHILL FACTOR: NEW FABRIC INNOVATION COULD REVOLUTIONISE CLOTHING INDUSTRY
24th April 2020
Innovation in Textiles
| Clayton, Victoria, Australia
© Monash University.
Researchers at Monash University in Australia have created a new fabric using nanoparticles that they say could potentially replace current clothing textiles. Features include improved thermal comfort, reducing body temperature by 4.5°C, shielding harmful UV rays, and improving washing durability.
Population growth and improved living standards require solutions for textiles with new functions to meet changing needs," the researchers say. "Imagine having clothing that can keep us cooler on those sweltering hot days and has the ability to prevent UV radiation from damaging our skin."
The researchers have developed a nanomaterial-based coating for fabric that could potentially replace conventional clothing material and pioneer the future of textile development across the world.
Based in the Australian Research Council (ARC) Hub for Computational Particle Technology, and Monash University's Department of Chemical Engineering, the research team created thin nanoparticle films using cesium-doped tungsten oxide (CsxWO3) capable of shielding near-infrared rays.
When applied or integrated into cotton fibres, the CsxWO3 nanoparticles were found to be thermally efficient, reducing body temperature by 4.5°C, achieving a high range of UV protection, and preventing harmful dermatological diseases, Monash says. The fabric was also able to maintain colour quality and durability across numerous wash cycles.
Researchers say there is potential for these nanoparticles to be used in other textiles, such as household curtains or outdoor tents and shelters, to insulate homes and reduce UV exposure when outdoors.
Findings from this study were published recently in the journals Applied Surface Science and the International Journal of Chemical Engineering and Applications
"The main functions of the traditional textiles were to keep the human body warm and dry in cold climates, and to protect it from the heat and sun in hot climates," Ms Peng, a PhD candidate and lead author of this project, said.
"Continuous growth in the world's population and improvements in living standards have required textiles with new functions to meet these changing needs.
"This study highlights the great potential CsxWO3 nanoparticles have in decreasing thermal transfer from the clothing item to the skin, while maximising comfort on hot days."
Researchers analysed the colour characteristics, the shielding capacity of near-infrared rays and surface temperature under solar radiation of the coated cotton fabrics.
In addition, colour fastness to washing was employed to evaluate the adhesive strength of CsxWO3 nanosheets on the cotton fabric. The nanosheets didn't negatively influence the colour or longevity of the cotton fabric.
"Our research provides an extremely promising step for the creation of affordable and long-lasting UV-repellent textiles that can withstand some of the harshest weather and protect the body from cancer-causing rays," Ms Peng said.
The research team will conduct further studies using CsxWO3 nanoparticles this year to further advance the development of new, protective clothing fabric.
The research team comprises: Associate Professor Xuchuan Jiang and Professor Aibing Yu (Monash University), Dr Bin Su (Huazhong University of Science and Technology, former ARC DECRA Fellow with Monash University)), and others including Ms Linghui Peng (PhD candidate, Monash University).
For more information on the ARC Research Hub for Computational Particle Technology, please visit https://www.monash.edu/comparticletech.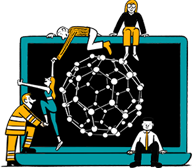 Business intelligence for the fibre, textiles and apparel industries: technologies, innovations, markets, investments, trade policy, sourcing, strategy...
Find out more