Nonwovens/​Converting
Texas Tech unveils new $1.5 million nonwovens laboratory
The Institute of Environmental and Human Health (TIEHH) at Texas Tech University has introduced a new, state-of-the-art fabric laboratory to help researchers continue creating products that can protect both military and civilian populations. Â The 4,000-square-foot facility, named the Nonwovens and Advanced Materials Laboratory, was unveiled yesterday. The new lab's air conditioning and humidification system, contoured needlezone needlepunching technology an

7th April 2009
Innovation in Textiles
| Lubbock, Texas
The Institute of Environmental and Human Health (TIEHH) at Texas Tech University has introduced a new, state-of-the-art fabric laboratory to help researchers continue creating products that can protect both military and civilian populations.
The 4,000-square-foot facility, named the Nonwovens and Advanced Materials Laboratory, was unveiled yesterday. The new lab's air conditioning and humidification system, contoured needlezone needlepunching technology and thermal bonding capability will allow for faster, more focused research into nonwoven technologies.
Funding for the lab's $1.5 million cost included $125,000 from Lubbock Economic Development Alliance and nearly $1 million from the U.S. Department of Defense (DoD) for the machinery. Overall, nonwoven research at Texas Tech has received $2.5 million in DoD funding.
"The opening of this unique manufacturing and research facility is another big step forward for The Institute of Environmental and Human Health and for Texas Tech," said Kent Hance, Chancellor of Texas Tech University System. "I want to acknowledge the efforts of Congressman Neugebauer and the Lubbock Economic Development Alliance for their understanding of the benefits of this facility and their assistance in funding it."
Texas Tech University is now the only academic facility in the U.S. to have contoured needlezone nonwoven technology, said Ron Kendall, director of TIEHH.
"We are exclusive in the way we're set up here with the unique needlepunch nonwoven technology and access to cotton," Kendall said. "This technology has been used successfully to develop products such as our nonwoven decontamination wipes, Fibertect. The need for decontamination wipes, such as the kind we've created here at TIEHH, were a top priority for the Department of Defense. Years ago, we began the research, developed a product and met a top national security issue. Now we're going to continue that research with this laboratory."
Seshadri Ramkumar, Associate Professor, and Lab Manager and Fibertect creator, said the new nonwoven facility will help TIEHH to continue top-quality research into protective fabrics and other nonwoven materials. Fibertect is a platform technology, and different fibres, including natural fibres such as cotton, can be used depending on applications and requirements, Ramkumar said.
"One of the main focuses of this lab will be used to develop new products from cotton and wool, such as thermal and acoustic insulation pads, and automotive and defence textiles," Ramkumar said. "Our aim is to find value-added applications for products made of cotton grown on the High Plains. Surely, this nonwoven laboratory will help."
In December, Lawrence Livermore National Laboratory performed an evaluation of several decontamination products including Fibertect. The wipe tested features an activated carbon core sandwiched between an absorbent polyester layer on one side and absorbent cellulose on the other. After testing with mustard gas and other toxic chemicals, the results showed that the Texas Tech-created dry fabric out-performed 30 different decontamination products, including materials currently used in military decontamination kits.
Research in natural fibres has been supported by the Food and Fibers Research Grant program of the Texas Department of Agriculture, Texas State Support Program of Cotton Incorporated, The Cotton Foundation, The CH Foundation of Lubbock, Plains Cotton Growers Inc. and the USDA through the International Cotton Research Center at Texas Tech.
The Institute of Environmental and Human Health develops environmental and health sciences research and education at Texas Tech and Texas Tech University Health Sciences Center. The institute's goal is to position Texas Tech as an internationally recognized force in the integration of environmental impact assessment of toxic chemicals with human health consequences, framed in the context of science-based risk assessment to support sound environmental policy and law.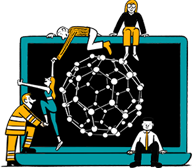 Business intelligence for the fibre, textiles and apparel industries: technologies, innovations, markets, investments, trade policy, sourcing, strategy...
Find out more