Research/​Development/​Education
Textiles treated with hyperbranched polyethyleneimine derivatives for odor control properties
Applicant(s): Â Â Â Â  MILLIKEN & CO [US] Inventor(s): Â Â Â Â Â Â  FANG XINGGAO [US]; CHAN MARIE S [US]; MEREDITH MICHAEL BRETT [US]; SHUKLA PIYUSH [US]; HONG MICHAEL [US] Abstract of CA 2665630Â  (A1) The present disclosure is directed to synthetic textiles treated with h-P EI derivatives, such derivatives possessing the general structure shown belo w: (R)x- h-PEI - (A)y where R is a non-hyperbranched hydrocarbon group, said hydrocarbon group having at least one linear portion, said li
14th July 2009
Innovation in Textiles
|
Applicant(s): MILLIKEN & CO [US]
Inventor(s): FANG XINGGAO [US]; CHAN MARIE S [US]; MEREDITH MICHAEL BRETT [US]; SHUKLA PIYUSH [US]; HONG MICHAEL [US]
Abstract of CA 2665630 (A1)
The present disclosure is directed to synthetic textiles treated with h-P EI derivatives, such derivatives possessing the general structure shown belo w: (R)x- h-PEI - (A)y where R is a non-hyperbranched hydrocarbon group, said hydrocarbon group having at least one linear portion, said linear portion h aving between 5 and 30 carbon atoms; where x is a number from 1 to 10,000; w here h-PEI is a hyperbranched polyethyleneimine; where A is an organic compo und having from 1 to 4 carbon atoms; where y is a number from 0 to 500; and wherein R is present in an amount of between about 0.1% and about 80% by wei ght of the h-PEI derivative. The chemical treatment imparts durable odor con trol, softness, wrinkle resistance, and moisture wicking to substrates treat ed therewith.
To view the full patent, click the link below.
Textiles treated with hyperbranched polyethyleneimine derivatives for odor control properties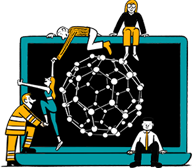 Business intelligence for the fibre, textiles and apparel industries: technologies, innovations, markets, investments, trade policy, sourcing, strategy...
Find out more