1st August 2017, Schwarzenbach/Saale
Sandler among 'Bavaria's Best 50'
Sandler AG, from Schwarzenbach/Saale, Germany, has been once again voted one of "Bavaria's Best 50". The Bavarian Ministry of Economic Affairs awards this distinction to the fastest-growing, privately owned medium-sized companies.
Ilse Aigner, Bavarian State Minister of Economic Affairs and Media, Energy and Technology and Deputy Minister-President of Bavaria, presented this award to President & CEO Dr Christian Heinrich Sandler and his wife Bärbl Sandler, Head of Chief Human Resources Officer.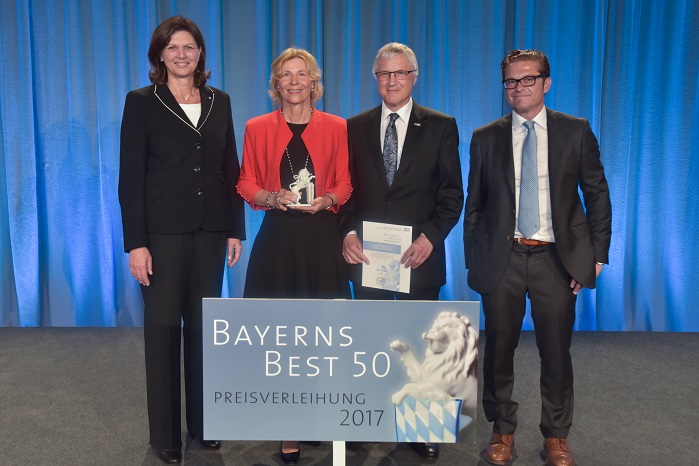 The Ministry of Economic Affairs' award for medium-sized companies "Bavaria's Best 50" is conferred on companies, who managed to increase their revenues and number of employees above average within the past five years, and additionally report good earnings at the date set. This award also focuses on the company's economic and social importance.
Great honour
"It was a great honour for me and my wife to accept this prize. My thanks to all my staff for their hard work, diligence, commitment and loyalty to the company", said Dr Christian Heinrich Sandler.
Within the past five years the number of employees increased by 35% and revenues rose as well. Today, Sandler ranks among the 20 largest nonwoven producers worldwide and is one of Europe's market leaders in this sector. Together with clients and partners, Sandler develops nonwovens for various applications in the markets construction, engineering, filtration, home textiles, hygiene, transportation and wipes.
Appreciation for innovativeness
The award expresses an appreciation for innovativeness, entrepreneurial creativity and future-proof business models of Bavarian medium-sized companies. Aigner:
"Our growth, prosperity and high level of employment are due to numerous excellent companies in the state. The award "Bavaria's Best 50" honours their achievements. Among them are numerous hidden champions, so-called "secret world market leaders" in their respective branches," commented Ilse Aigner.
"Such a company is Sandler AG, which belongs to the international market leaders in nonwovens production. This award is intended to present these role models to the public and to be further motivation to continue pursuing the company´s objectives together with the employees."
This article is also appears in...