13th October 2017, Manchester
Smart textiles focus
Smart textiles have been very much in the news this past month on Innovation in Textiles. In Why smart textiles are struggling to become commercialised our US correspondent Debra Cobb reported from the Smart Fabrics Program and E-Textiles Workshop at the IFAI EXPO in New Orleans, which ran from 26-29 September, and took a hard look at smart fabric development and commercialisation. The Smart Fabrics Track included lectures, roundtable discussions, and exhibits that examined both the challenges and opportunities for the development and commercialization of smart fabrics.
Also in the USA, researchers from the City College of New York, led by the chemical engineer and Fulbright Scholar Teresa J. Bandosz, have developed smart textiles that are said to be able to rapidly detect and neutralise nerve gas. In Smart fabric to neutralise nerve gas we hear how the fabric consists of a cotton support modified with Cu-BTC MOF/oxidised graphitic carbon nitride composites. The latter were developed in the lab previously and tested as nerve agent detoxification media and colorimetric detectors.
Smart helmets to prevent hearing injuries
On the other side of the Antlantic, tiny microphones almost invisible to the naked eye are being knitted into the fabric covering army helmets to reduce the risk of soldiers developing hearing injuries, thanks to new research by Nottingham Trent University.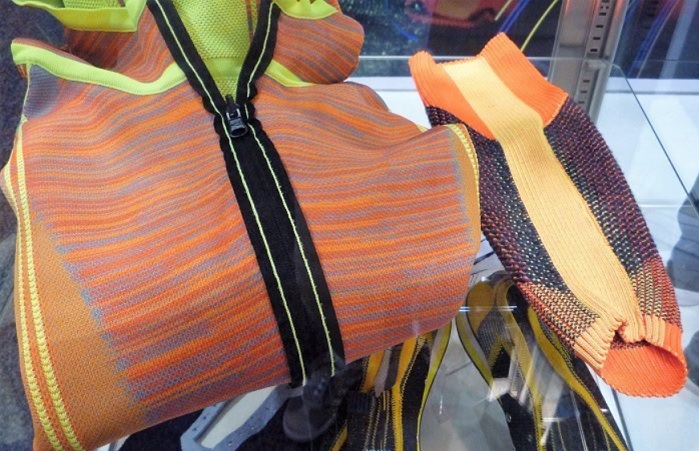 In Smart helmets to prevent hearing injuries, we heard how a project led by the Advanced Textiles Research Group (ATRG) of the School of Art & Design at Nottingham Trent University, will develop technology to measure and record the levels of noise which soldiers experience in the field to prevent hearing damage. Professor Tilak Dias and research fellow Dr Theodore Hughes-Riley are using microelectromechanical system microphones (MEMS) which measure the level of noise someone is exposed to over a length of time.
New textile keeps hospital door handles germ free
Also in the UK, a spin out company from the University of Leeds has developed a self-disinfecting device known as Surface skins that is said to reduce bacteria levels by more than 90%, following seven years of research and development. New textile keeps hospital door handles germ free tells us that by incorporating the specially-engineered textile in a device designed to be used on hospital doors instead of the traditional aluminium door plate, that part of the door that people push to open it – scientists aim to bolster hand hygiene.
Cooling vest for firefighters
Staying on the smart textiles theme, Teijin has developed a cooling vest that is designed to protect firefighters with unprecedented heat-resistance, flame-retardance and body-heat reduction, including through the use of small electric fans. The company will unveil the cooling vest during A+A 2017, the leading international trade forum for work-related safety and health, which will take place at Messe Dusseldorf in Germany from 17-20 October.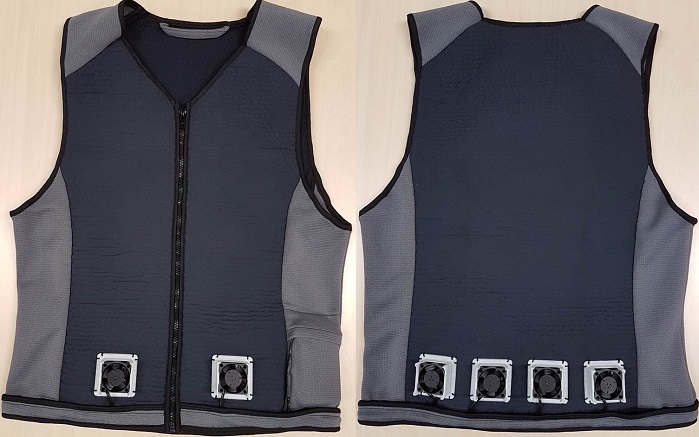 The cooling vest is said to effectively reduce body temperature and heart rate through sweat absorption, quick drying and moisture permeability. The electric fans pull in outside air for up to eight hours.
Finnish smart clothing picks new career path
In Finnish smart clothing picks new career path, we hear how the Smart Clothing 2.0 project led by VTT Technical Research Centre of Finland will create business opportunities for Finnish smart clothing and services. Research institutes and companies are working together to develop completely new products for the international markets. Smart Clothing 2.0 will identify distinct end user needs and the latest technological potential. This will help to develop new product and service concepts, working in close collaboration with the business participants.
To read similar news articles, please visit our Smart Textiles & Nanotechnology pages regularly or sign up for our FREE site membership and set your Daily News Alerts preferences.
This article is also appears in...