Smart Textiles
Carbon nanotubes in heated woven fabrics
Bayer MaterialScience has announced that thanks to a combination of two new dispersion technologies, aqueous suspensions of its Baytubes carbon nanotubes (CNTs) can now be produced which contain single tubes which show high electrical and thermal conductivity. According to the company, multifilament yarns coated with such CNT dispersions can be woven to efficient fabric heaters which have already performed well in preventing the water in water storage tanks of Ja

24th February 2010
Innovation in Textiles
| Leverkusen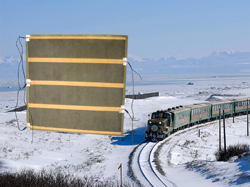 Bayer MaterialScience has announced that thanks to a combination of two new dispersion technologies, aqueous suspensions of its Baytubes carbon nanotubes (CNTs) can now be produced which contain single tubes which show high electrical and thermal conductivity.
According to the company, multifilament yarns coated with such CNT dispersions can be woven to efficient fabric heaters which have already performed well in preventing the water in water storage tanks of Japan's JR Hokkaido 'Ryuhyo-Norokko' train from freezing.
Bayer MaterialScience says that the aqueous suspensions of carbon nanotubes (CNTs) containing individual tubes offer interesting perspectives for a number of new applications which depend on a high electrical or thermal conductivity, respectively. In particular, this applies to multifilament yarns coated with such CNT dispersions and an interesting development using multifilament yarns is a new fabric heater made by weaving CNTEC conductive yarns from Kuraray Living Co., Ltd.
The fabric is said to generate heat homogeneously all over the surface because of its outstanding conductivity and is said to be the first commercial use of Baytubes CNTs from Bayer MaterialScience in the Japanese market.
Bayer MaterialScience says the fabric heater is lightweight, thin and compact and shows a long-lasting bending resistance. The company says it can be used for instance for car seats, household electrical appliances, for heating of clothes and as an anti-freezing material.
Tests carried out on the Ryuhyo-Norokko, a train running through Japan's cold north island, where the temperature drops to around -20 °C in wintertime, are said to have prevented water in the tanks from freezing.
Normally the train uses only potbelly stoves for heating. According to JR Hokkaido Railway Company the fabric heater performed well in preventing the water from freezing and a seat heating application using the fabric is still on trial on another JR Hokkaido train line. It is anticipated that the aqueous dispersions might also be suitable for the compounding of various kinds of materials, Bayer MaterialScience says.
In the course of their production CNTs usually form large and stable agglomerates where the tubes are tightly entangled to each other. Dispersing such agglomerates into individual tubes which show a maximum of electrical and thermal conductivity has so far been a challenge, says Bayer MaterialScience.
Thanks to a new dispersion technology using a zwitterionic surfactant developed and patented by Prof. Dr. Bunshi Fugetsu from Hokkaido University it is now possible to produce stable aqueous suspensions containing CNTs at a mono-dispersed (tubular) level in industrial quantities, the company says.
To achieve this, a unique method for non-destructive dispersion of CNT agglomerates into individual tubes developed by the Inoac Technical Center Co., Ltd. is applied as well. The products are said to show a stable and homogeneous conductivity and a durability that easily covers the service life that is required for industrial products. Through a combination of both technologies it is possible to disentangle the agglomerates of Baytubes in an efficient and stable way.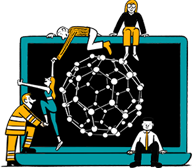 Business intelligence for the fibre, textiles and apparel industries: technologies, innovations, markets, investments, trade policy, sourcing, strategy...
Find out more