Smart Textiles
Exmovere to launch baby monitoring biosensor sleepwear
Exmovere Holdings, Inc., a US based biomedical engineering company, has announced plans to release vital signs monitoring sleepwear for babies. The company says it is in the advanced stages of taking washable, conductive fabric-based biosensor pyjamas called Exmobaby to market. In December last year Exmovere acquired exclusive worldwide rights and license to manufacture and sell baby garments using biosensor textiles developed by Sensatex, Inc. Sensatex, is a li

6th September 2010
Innovation in Textiles
| McLean, VA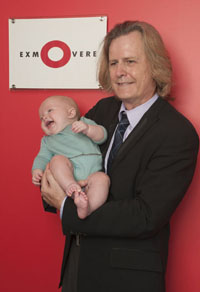 Exmovere Holdings, Inc., a US based biomedical engineering company, has announced plans to release vital signs monitoring sleepwear for babies. The company says it is in the advanced stages of taking washable, conductive fabric-based biosensor pyjamas called Exmobaby to market.
In December last year Exmovere acquired exclusive worldwide rights and license to manufacture and sell baby garments using biosensor textiles developed by Sensatex, Inc.
Sensatex, is a life sciences technology company focused on the development of smart textile systems whose first product, the Sensatex SmartShirt is a patented wearable smart textile unisex T-shirt designed to acquire physiological information and movement data from the human body.
Originally developed and patented by researchers at the Georgia Institute of Technology nd funded by DARPA, the primary research and development arm of the US Department of Defense, the SmartShirt is made from woven or knitted fabric incorporating a patented conductive fibre/sensor system designed specifically for the intended biometric information requirements.
According to Sensatex, heart rate, respiration and body temperature are all calibrated and relayed in real time for analysis.
Exmovere is actively seeking retail chains, wireless carriers and distributors interested in promoting the product internationally, with an initial focus on countries with high infant mortality rates and countries launching active campaigns to reduce Sudden Infant Death Syndrome (SIDS), including Germany, Japan, South Korea, the United Kingdom and the United States.
Company CEO David Bychkov said: "Each Exmobaby onesie will come with a baby-safe, rechargeable Zigbee wireless transceiver that snaps into a pouch.
From there, the data is transmitted to a nearby PC or cell phone in order to keep parents and other carers givers informed of a baby's status. This continuous monitoring in real time will allow for an 'emotional umbilical cord' between mother and child."
According to Exmovere, Exmobaby parents will be able to see icons representing their baby's heartbeat, emotional state and activity level on their cell phones. The company claims this is especially important for first-time mothers re-entering the work force, parents concerned about the vigilance of their babysitter and childcare centres juggling the needs of multiple children. Exmobaby will also be marketed to parents worried about infant sleep apnoea, choking and other dangers that relate to SIDS, the company says.
Exmobaby fits perfectly into Exmovere's overall product suite which is targeted at showing the relationship between data generation of emotional states and their relationship with human behaviour. David Bychov says that Exmobaby will also become one of the first mainstream consumer products utilizing the Zigbee wireless standard.
Zigbee is a standard using a WHAN (wireless home area network) and is targeted at radio frequency applications requiring lower data rate, longer battery life and network security. "This is particularly well-suited for Exmobaby moms as it is cost-effective, reliable and compatible with a wide range of USB and mini SD-slot dongle devices, such as cell phones," Bychov adds.
In early 2011, Exmovere will begin its limited edition marketing campaign where it will release only 1000 Exmobaby pyjama kits, available in blue or pink, to select buyers from a waiting list. Included with these kits will be an Exmobaby garment set, one Zigbee transceiver, PC and cell phone monitoring software and six months of online service. The company will be accepting deposits for the limited first run of Exmobaby kits until the 1000 slots on the waiting list are filled.
According to Cheyenne Crow, Exmovere Holdings' Vice President and COO, "The company expects to ship the 1000 kits to potential distributors, resellers and marketing partners worldwide by January 2011. By the third quarter of 2011, we plan to follow up with mass market and medical versions of Exmobaby.
These will be marketed through pharmacies, major retailers and various wireless service providers." Exmobaby will also be made available to patients at Exmovere's medical clinic in Fairfax, Virginia, which operates under the brand name Clinica.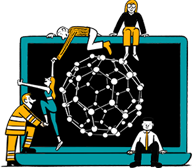 Business intelligence for the fibre, textiles and apparel industries: technologies, innovations, markets, investments, trade policy, sourcing, strategy...
Find out more