Smart Textiles
Far Infra Red technology can be printed onto fabrics
Following the recent launch from Schoeller Textil AG, the company's energear technology will now be available commencing summer 2011 under licence from group company Schoeller Technologies. Â  energear is a recently launched novel textile technology from the Austrian textile innovator, that is said to ensure that the wearer's energy is reflected back to the body bringing health and fitness benefits. A print version (paste

13th July 2011
Innovation in Textiles
| Sevelen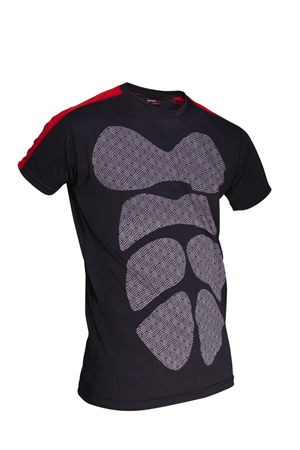 Following the recent launch from Schoeller Textil AG, the company's energear technology will now be available commencing summer 2011 under licence from group company Schoeller Technologies.
energear is a recently launched novel textile technology from the Austrian textile innovator, that is said to ensure that the wearer's energy is reflected back to the body bringing health and fitness benefits. A print version (paste for textile printing) of energear will be shown at this week's Outdoor in Friedrichshafen which Schoeller says will make it incredibly simple to print shirts, shorts and underwear (even after production) with the energy-reflecting titanium-based mineral matrix.
"Qi - the two letters that spell vital energy, is the most important thing of all. The free flow of Qi has been the focus of attention in eastern medicine for centuries and now many more people are discovering that their performance potential is more intensive when the balance and flow of energy are right," a Schoeller Technologies spokesperson said, adding:
"This is exactly where energear from Schoeller comes into play. The new system is based on the well-known properties of certain minerals to reflect Far Infrared Rays and thus reflecting back the body's energy. The effect is remarkable, as confirmed by first tests in practice."
How energear works
"Humans constantly radiate or emit energy. energear ensures that the heat energy radiated by the body in the form of Far Infrared Rays is reflected back by the fabric. This reflection can increase circulation and oxygen levels in the blood," Schoeller Technologies says.
"The additional energy can have various positive effects on the body, such as performance enhancement and the reduction of premature fatigue as well as improved regeneration. Furthermore, shorter warm-up phases suffice during physical activity and there is a general increase of concentration and wellbeing," the company adds.
Mineral printing in metal look
The energear textile technology was developed in 2010 for Schoeller textiles and is now available for diverse markets. energear can be integrated into textiles in different ways such as through membranes and coatings (Schoeller Textil AG) or now via textile printing (Schoeller Technologies AG).
According to Schoeller, to harness the benefits of this technology for a textile print, a minimum of 30% of a shirt or other garment can be finished with the laundry-permanent energear print.
Schoeller Technologies has also developed some design suggestions for the purpose and depending on the blend, the printing paste with energear results in a grey to silver-metallic look. Schoeller says the process is generating enormous interest in various areas and is officially launching at Outdoor. First consumer products in Schoeller fabrics will be available beginning this summer from, among other brands, Alberto (golf pants) and Bugatti (lifestyle jacket).
Practice test
According to Schoeller, Andrea Meier, nurse and successful amateur athlete (including 1st place Albstadt Bike Marathon 2010, 4th place Ultra Bike Marathon 2011) and member of the soq.de Speedzone Team was a subject in a blind test of the first shirt with energear print.
"I wore the test shirt during a 4-hour basic endurance interval training session. I noticed it was easier and quicker to warm up than usual during the training sessions. I felt more powerful with the shirt (sometimes I have difficulties warming up, but with the shirt, it was super and I felt great)..During technique training on the mountain bike, I was able to cope well with the tricky stretches," Andrea Meier concluded.
Bean test
Schoeller also conducted a simple experiment with beans which it says plausibly demonstrates the positive effects of energear. "Nestling in fabric covers - one with and one without energear - the growth of these plants that react sensitively to environmental influences was tested. After just eight days, a distinct difference was observed. The beans (on left in energearTM) grew significantly faster and in greater numbers that those without energear," the company said.
Far Infrared Rays
Far Infrared Rays are a component of infrared radiation. They are radiated by the sun and certain stones and metal but also by the human body and their therapeutic effect has long been used in Asian medicine.
"Far Infrared Rays have numerous positive influences on energetic processes in the body. With energear, Far Infrared Rays can make themselves felt through pleasant warmth and better circulation, but also through an increase in performance capacity and general wellbeing," Schoeller Technologies concludes.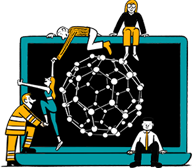 Business intelligence for the fibre, textiles and apparel industries: technologies, innovations, markets, investments, trade policy, sourcing, strategy...
Find out more