Opinion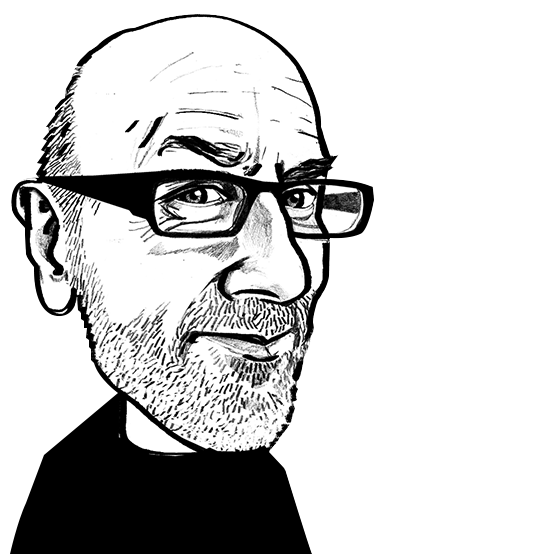 It's all in the inks...
Adrian Wilson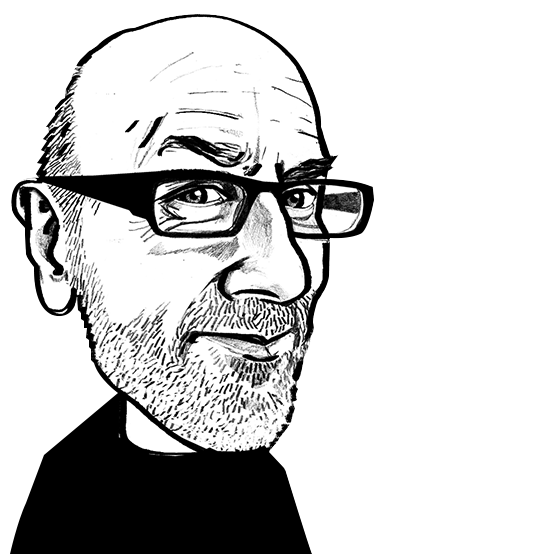 The crucial role of printing in the development of smart new materials was underlined at two separate webinars which took place within the space of days between each other.
24th November 2020
Adrian Wilson
| Online
The crucial role of printing in the development of smart new materials was underlined at two separate webinars which took place within the space of days between each other. On the face of it, the two highly sophisticated printing technologies featured and the complex end-products they are making are poles apart.
Nevertheless, both essentially boil down to the basic process of depositing inks onto substrates that's been around from circa 220 AD.
SmartX
SmartX Europe, the European Smart Textiles Accelerator, has just made its final call for project applications, with companies having until February to secure up to €60,000 in funding each.
Backed by the European Union's Horizon 2020 research and innovation scheme, the three-year SmartX Europe programme is supporting up to 40 smart textile projects with a total budget of €2.4 million and also providing one year of free coaching to help start-ups and small companies develop their technologies and establish the contacts they need.
In the latest in a series of SmartX webinars held on November 23rd, Arne Casteleyn of Quad Industries, based in Sint-Niklaas, Belgium, provided details of the kind of products which are now emerging in Europe, following successful, collaborative projects.
Quad Industries is a specialist in the creation of cost-effective circuits and sensors by screen printing multiple layers of conductive and non-conductive inks onto substrates. The company is currently making a significant investment in roll-to-roll manufacturing.
Membrane switches were one of the first applications for printed electronics, produced almost 30 years ago by laminating adhesives and a graphic overlay onto a flexible printed circuit layer. Today, high-precision, screen printing techniques are used to integrate many other functionalities, including sensors, antennas, touch controls and heaters for sports and healthcare wearables, automotive interiors and many other applications.
Run Smart
Quad has recently worked with Antwerp-based wearable health company Byteflies and its materials supplier Henkel on the development of the Run Smart – a stick-on smart health patch for competitive runners, consisting of a two-lead ECG device that can be worn continuously to record motion, electrocardiogram and respiration.
The monitoring solution is designed to guide athletes towards optimal preparation for long races by measuring heart rate variability to indicate general fitness and stress levels, very accurately determine oxygen consumption and provide insights into cardiac function, sleep apnoea and sleep patterns.
"The patch is based on an ultra-thin TPU substrate which provides optimal comfort through stretching," said Casteleyn. "It is printed with the latest generation stretchable silver, silver chloride and dielectric inks. The printed circuits are then integrated onto a high-end sports fabric for softness."
During 2020, Quad and other companies have been working on a variant of the product for coronavirus patient monitoring that has been trialled in Belgian hospitals.
Smart shirt
A smart shirt that can measure lung function has meanwhile been developed by the Dutch data science company Kinetic Analysis, in a collaboration with Quad.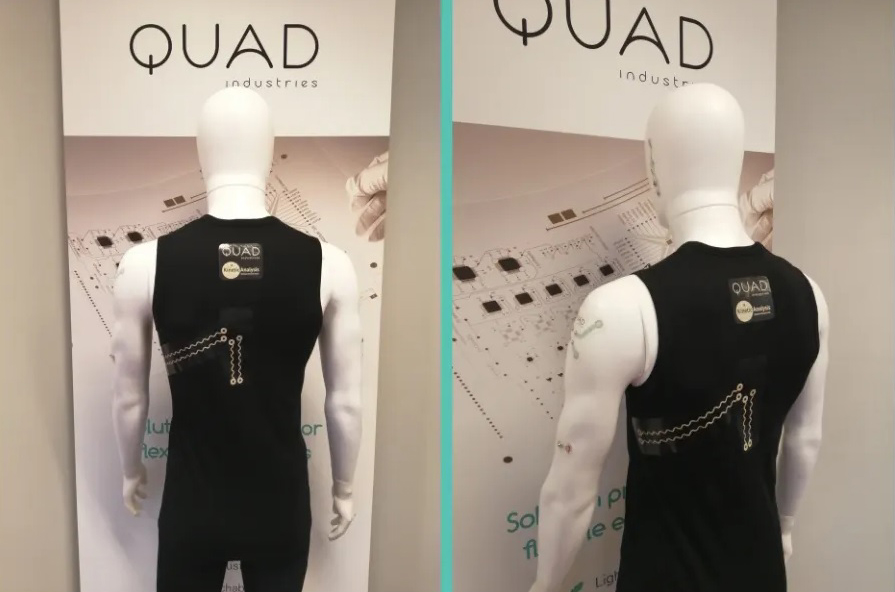 It can assist people with various lung diseases and has been specifically aimed at people with Chronic Obstructive Lung Disease (COPD), which ranks sixth among diseases that cause the highest death rates.
People with COPD have difficulty breathing and have less energy. As a result, normal activities such as climbing stairs, shopping or getting dressed can be difficult, as well as obtaining accurate measurements with conventional medical equipment.
The shirt is able to measure respiration and transmit the measured data to the patient via a mobile app. The caregiver and healthcare professional can also be given access to the daily collected data in order to create a safety net around the patient and to increase the feeling of safety and self-management.
To maintain wearing comfort, but also to send electrical signals reliably, Quad focused on the integration of flexible, electronic conductors, selecting the materials and processes that were best suited to achieving a smart, comfortable and washable E-shirt. By screen printing stretchable conductive inks onto thin films and then transferring them to the shirt, very little weight is added to the fabric and electrical connections are not felt, resulting in maximum wear comfort.
Arion insoles
A third wearable product, again developed for sports performance monitoring and training, exploits the extremely thin layers that can be achieved with printed electronics
Arion insoles, that have been commercialised by the Dutch company Ato-Gear BV, are flexible and ultra-thin slip and designed to fit neatly under the insoles of running shoes.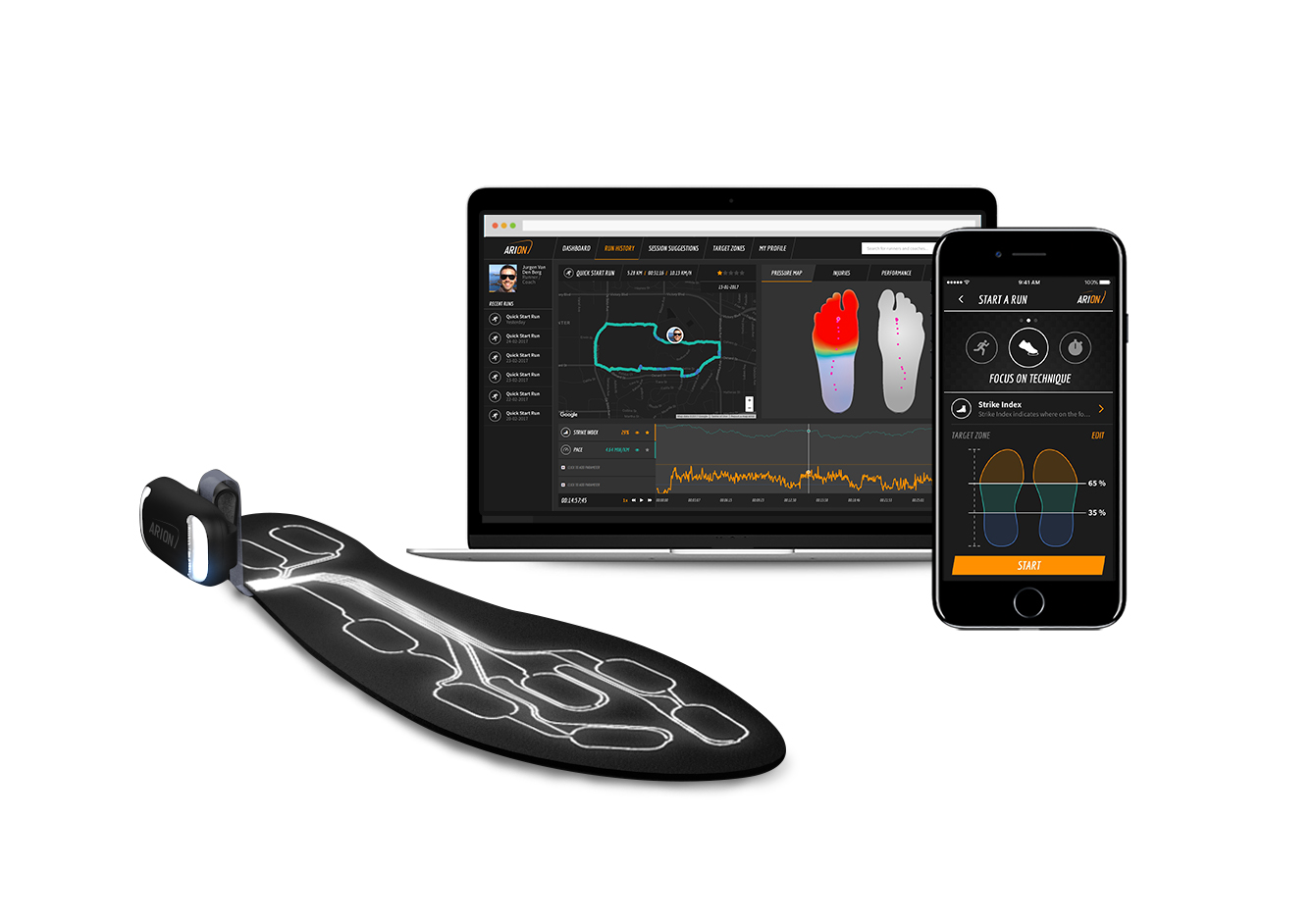 "In addition to being ultra-thin, the requirements were that the insoles had to be robust enough for running a thousand kilometres, with resistance to shear forces and bending along with the ability to operate in wet weather," Casteleyn said. "The insoles are just 400 micrometres in thickness and contain eight pressure sensors built up on a PET substrate."
Arion insoles work with a pod that clips unobtrusively on the side of the running shoe and work without a mobile phone and on a battery life of up to seven hours. They are equipped with a multi-axis accelerometer, gyroscope, Bluetooth and GPS, as well as multi-coloured LEDs for safe running at night.
3D Painting
Meanwhile, during the latest Techtextil North America symposium broadcast on November 19th, Chicago-based Dimension Inx introduced its 3D Painting technology for the creation of regenerative medical implants for repairing tissues and organs.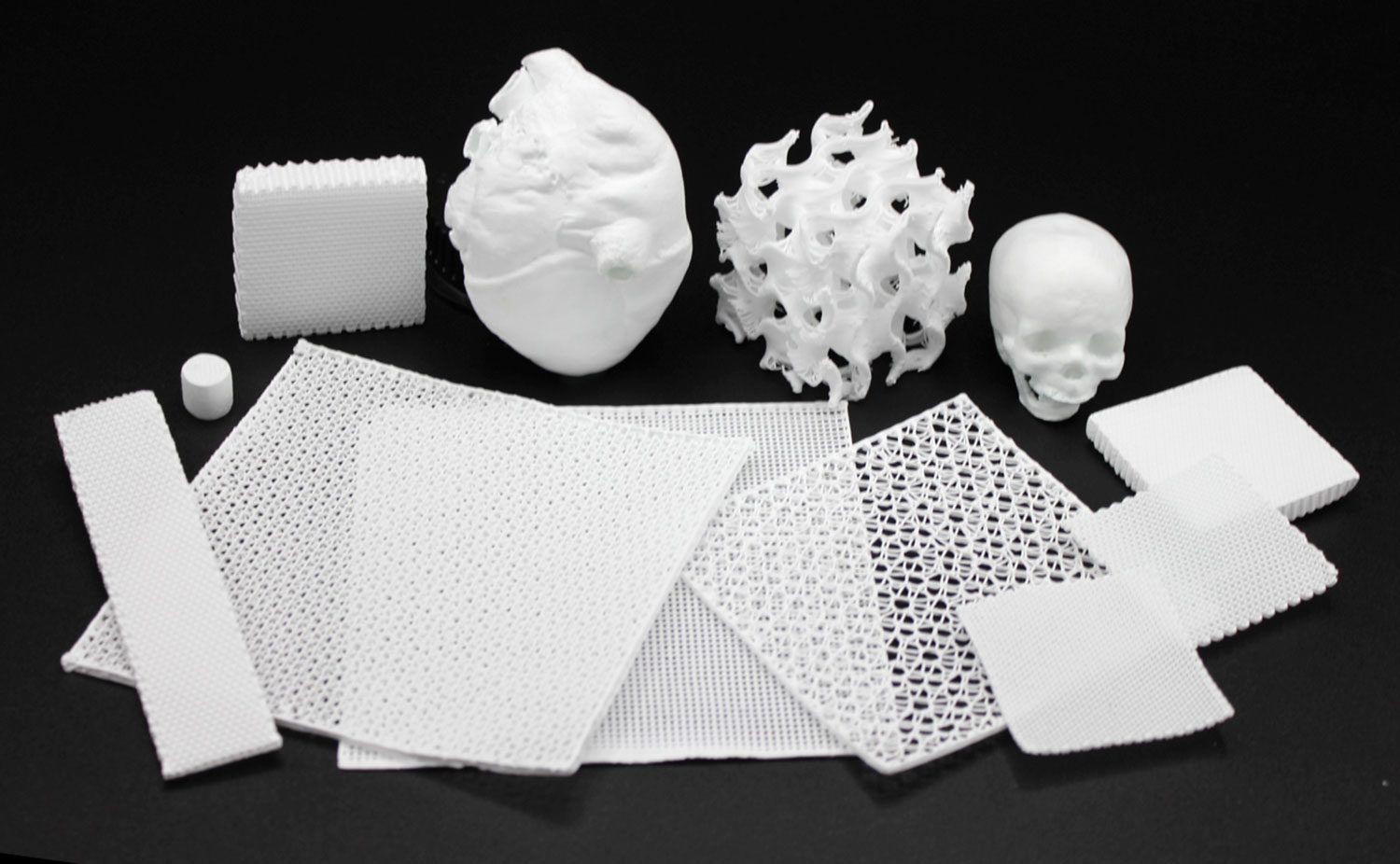 This company has just raised over $3.1 million in its latest financing round and believes that biofabrication stands to be the next frontier in medicine, dramatically improving patient care and eliminating the need for organ transplantation.
Existing biomaterials and manufacturing approaches, however, are insufficient for making this new way of treating human disease and debilitation a reality, the company says.
CTO Adam Jakus said the patented Dimension Inx 3D Painting materials design and manufacturing system can overcome important hurdles in creating medical products that repair and regenerate tissues and organs.
"We took a materials-centric approach and now have over 200 base formulations for the creation of compatible functional materials to date, based on highly loaded particle suspensions of powders, polymers and solvents, all of which are 3D printable in blends," he said. "They cover a wide spectrum from biological tissues to polymer systems to ceramics and to metals."
The 3D Painting process is an extrusion-based 3D printing system and a variation on direct ink writing, he added.
"Extrusion is carried out at room temperature, with instant solidification and without the need for any crosslinking, curing, drying times, depowdering, resin removal or bath removal, so it's a s simple as you can get. The body itself is really a complex palette of materials ranging from soft to heard and that's what we're working to replicate.
Dimension Inx will use the newly-raised financing to support the commercial development and FDA approval of its first therapeutic implants for facial reconstruction in patients following trauma, as well for dental malformations caused by congenital defects or ageing.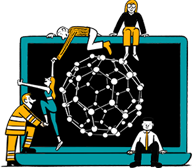 Business intelligence for the fibre, textiles and apparel industries: technologies, innovations, markets, investments, trade policy, sourcing, strategy...
Find out more