Smart Textiles
Myant launches Connect to Conquer Performance Lab
Myant Inc., has announced the establishment of a dedicated laboratory to drive the development of next generation connected performance solutions enabled via textiles that sense and react to the human body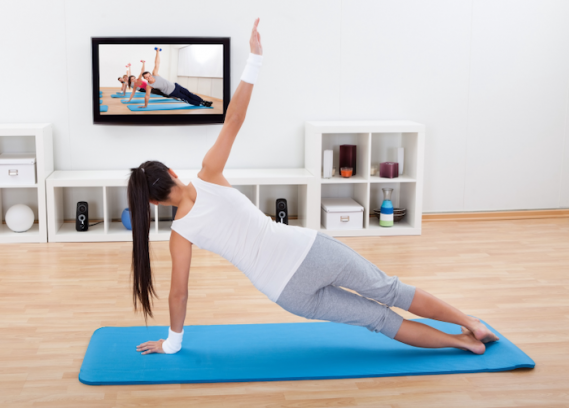 21st July 2020
Innovation in Textiles
| Toronto, ON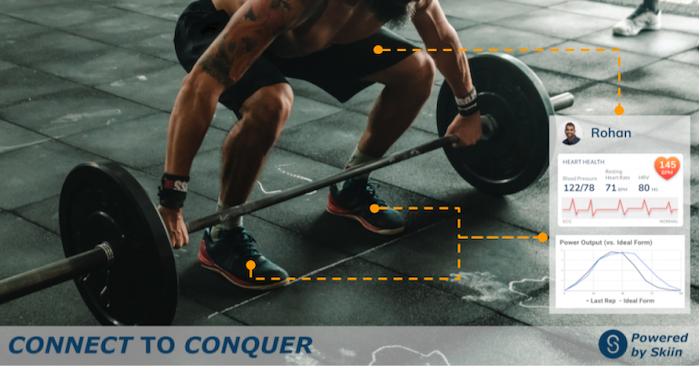 © Myant.
Myant Inc., a global pioneer in Textile Computing, has announced the establishment of a dedicated laboratory to drive the development of next generation connected performance solutions enabled via textiles that sense and react to the human body.
The mission of the Connect to Conquer Performance Lab will be to unleash the creativity of world class minds at the junction of applied sports science, electrophysiology, engineering, data science, behavioural science, and textiles. Myant says the nexus of these disciplines will bring forth a new degree of connectedness between athletes, their bodies, connected fitness equipment/devices and training / rehabilitation professionals, by taking the premise behind virtual workouts and going beyond by creating a fully bidirectional interface which empowers athletes to connect to training, recovery and previously unrealized levels of performance.
The Connect to Conquer Performance Lab will be located at Myant's Toronto facility and will be staffed by a newly hired team of experts across disciplines to realize a bold vision of the future of connected performance.
Beyond the virtual training session
One of the by-products of the global pandemic has been the mass embracing of virtual fitness as a viable alternative to face-to-face training, Myant explains. While the restrictions put in place due to COVID-19 are unlikely to last forever, there is enough confidence in the trend to encourage the likes of Lululemon acquiring the connected fitness company Mirror, it adds. Meanwhile Peloton, and its connected workout bikes and treadmills that stream studio quality workouts, continues to build momentum as more and more consumers open up to the idea of remotely connecting to fitness.
Virtual Training? Can there be more to it than working out while staring at a screen?
Canadian innovators collaborating to reimagine connected care
"While being able to access training remotely has been positive for many consumers, many limitations continue to exist," Myant explains. "First and foremost, the delivery of virtual training relies almost exclusively on audio-visual assessment and feedback, a setup that does not permit the trainer to physically interact with the athlete to correct form or measure performance."
"In the instances where complementary forms of performance measurement are integrated, they are typically very basic biometric measures like simply tracking heart rate. This limited window into the body's performance makes virtual training unimpactful for serious athletes."
"In scenarios where connected fitness equipment (like connected stationary bikes, treadmills, or workout mirrors) are used, the experiences typically feel disjointed as the user's focus is on the visual interface, taking an athlete outside of the performance mindset. Last but not least, tapping into the highest levels of performance requires a deep connection to the athlete not simply when training occurs, but throughout their entire day, week, month - life. Current solutions for connected training do not deeply integrate contextual activity and well-being (e.g. sleep, stress, nutrition, etc.) into assessing, predicting, and optimizing performance and recovery."
"The future of connected performance will require a deeper connection between the athlete and their body, their lives, and the people and equipment/devices that help them unleash their potential," Myant adds.
Textile: A bidirectional interface to the human body enabling connected performance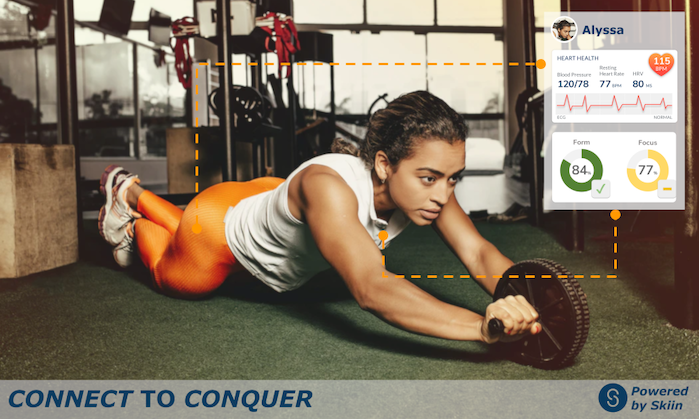 © Myant.
"What could be achieved if we could enable a high-fidelity representation of the physical connectedness needed to train, perform, and recover at the highest levels?" asks Myant. "This is the fundamental problem that Myant exists to conquer. Here are the key elements needed in order to make this happen":
A bidirectional interface to the human body (both sensing and reacting) in order to create a continuous, high-fidelity digital representation of the athlete and their surrounding context (i.e. a digital twin)
A platform that fuses this data with other biometric or contextual information gathered via IoT-enabled devices or platforms
Artificial intelligence on this platform to understand and create insight from this massive cache of data
The ability to connect an athlete to whomever or whatever can create value for them (e.g. a training partner, a coach, an organization, machine learning algorithms, one's self, etc.) and distribute those insights
"When textiles are knitted with the ability to sense and react to the body and connected to the cloud, they enable this vision of the future of fitness to become a reality. Over the past decade, Myant has built an ecosystem of technologies, capabilities and partners to enable this future, becoming the world leader in textile computing. This revolutionary ability is embodied in the form of Skiin, Myant's connected clothing line designed to connect people to better health and well-being. Now, Myant wants to enable for athletic performance what it has already enabled for health & wellness."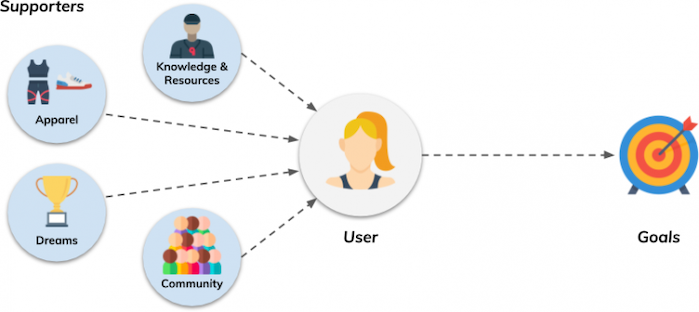 The Old Paradigm: Apparel (and other tools) are one of the many ways that support an athlete on their journey towards achieving their fitness goals.
By creating a direct interface to the human body across training, performance and recovery, Myant aims to create value based on 4 types of connections:
Improve connection to self: Provide a deeper understanding of your own body not just through raw biometrics (e.g. heart rate, power output, etc.) but through deeper insights discovered via AI for a holistic view (e.g. impact of sleep and diet on performance)
Improve connection to performance professionals: Provide others like coaches, rehabilitation/recovery specialists, nutritionists and others with biometric data and holistic insight derived from AI. These professionals who may otherwise be inaccessible to an athlete can now be involved in the management of the athlete's progress
Improve connection to community: The athlete can access a deeper, more direct connection to loved ones, training partners, competition and others who provide emotional and psychological support
Improve connection to aspirations: Provide the athlete, particularly young ones, with a deeper connection to their aspirations via biometric comparisons with their peers or athletic heroes, and connected communities (e.g. biometric leaderboards for your sport - a potential for scouts to discover new talent and for a kid from anywhere to be discovered)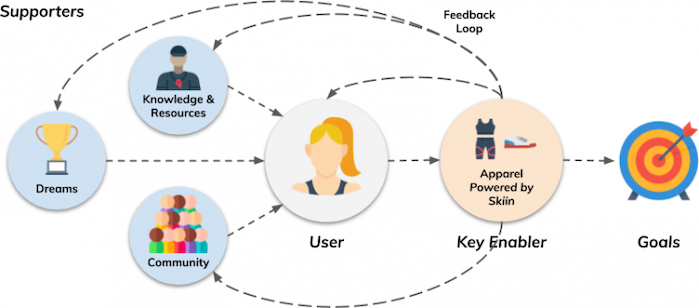 The New Paradigm Powered by Skiin: Apparel serves as the critical enabler, amplifying the impact that knowledge & resources and community have, as well as connecting athletes to their aspirations and their own bodies.
"Textiles that are Powered by Skiin will reposition apparel as the key enabler of a new type of connectedness that amplifies the impact that knowledge, resources, communities (peers, trainers etc.) and dreams have on an athlete," Myant concludes.
Conquering together: a call to connect and collaborate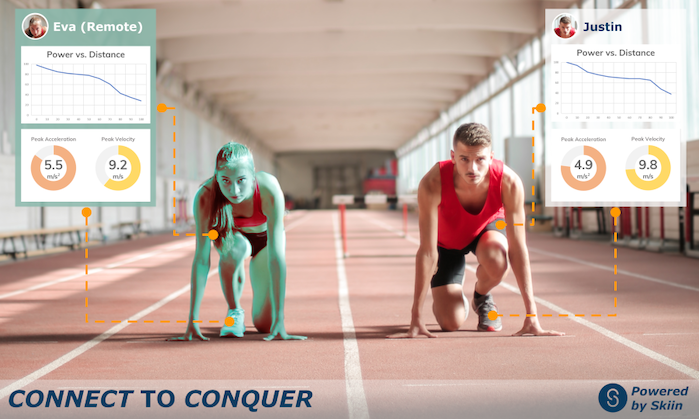 © Myant.
To realize this vision, Myant will be hiring for new roles dedicated to advancing the future of fitness and performance. "We are looking for experts in the following areas: Sports biomechanists; Exercise lab technicians; Phd-level exercise science researchers with a focus on either electrophysiology or metabolic dynamics; Experts in rehabilitation and exercise recovery sciences; Mechanical & electrical engineers with experience in wearables; Data scientists with a focus on performance analytics and sensor fusion; Software developers; Project managers with background in technology for training, performance, or recovery applications."
Transforming the future of fitness and performance cannot be done alone, and Myant is partnering with companies that complement our existing ecosystem of capabilities and knowledge in the following areas: Sports analytics companies; Performance testing labs; Movement specialists; Remote coaching platforms.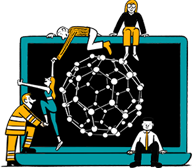 Business intelligence for the fibre, textiles and apparel industries: technologies, innovations, markets, investments, trade policy, sourcing, strategy...
Find out more