Smart Textiles
Wound-healing bandage with a voice
A novel bandage alerts the nursing staff as soon as a wound starts healing badly.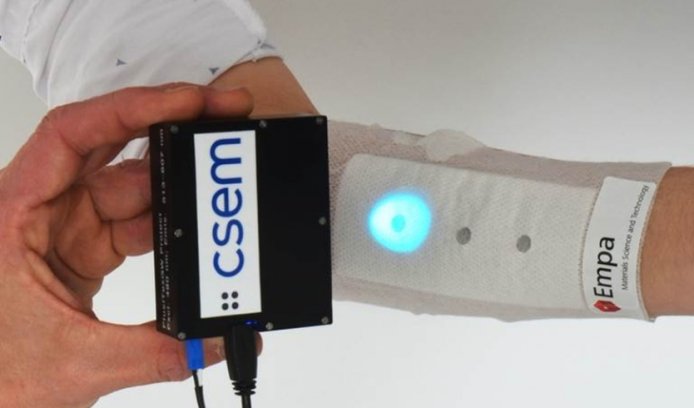 5th July 2017
Innovation in Textiles
| Dübendorf
Researchers from Empa teamed up with ETH Zurich, Centre Suisse d'Electronique et de Microtechnique (CSEM) and University Hospital Zurich to develop a high-tech system that is supposed to supply the nursing staff with relevant data about the condition of a wound.
When wounds heal, the body produces specific substances in a complex sequence of biochemical processes, which leads to a significant variation in a number of metabolic parameters. All these variations can be detected with specialised sensors. With this in mind, Empa teamed up with project partner CSEM to develop a portable, cheap and easy-to-use device for measuring fluorescence that is capable of monitoring several parameters at once.
A novel bandage alerts the nursing staff as soon as a wound starts healing badly. Sensors incorporated into the base material glow with a different intensity if the wound's pH level changes. This way even chronic wounds could be monitored at home. This would also mean a gentler treatment for patients, less work for the nursing staff and, therefore, lower costs: globally, around US$ 17 billion were spent on treating wounds last year, according to Empa.
High pH signals chronic wounds
The pH level is particularly useful for chronic wounds. If the wound heals normally, the pH rises to 8 before falling to 5 or 6. If a wound fails to close and becomes chronic, however, the pH level fluctuates between 7 and 8.
The idea behind the sensors is that if certain substances appear in the wound fluid, "customised" fluorescent sensor molecules respond with a physical signal. They start glowing and some even change colour in the visible or ultra-violet (UV) range. Thanks to a colour scale, weaker and stronger changes in colour can be detected and the quantity of the emitted substance be deduced.
Luminous molecules under UV
The Empa team designed a molecule composed of benzalkonium chloride and pyranine. While benzalkonium chloride is a substance also used for conventional medical soap to combat bacteria, fungi and other microorganisms, pyranine is a dye found in highlighters that glows under UV light. "This biomarker works really well, especially at pH levels between 5.5 and 7.5," said Empa chemist Guido Panzarasa from the Laboratory for Biomimetic Membranes and Textiles. "The colours can be visualised with simple UV lamps available in electronics stores."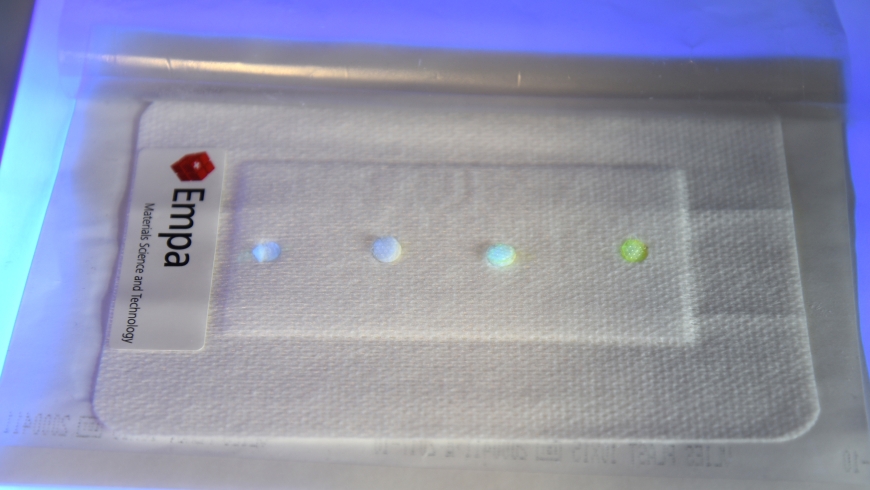 The designer molecule has another advantage: thanks to the benzalkonium chloride, it has an antimicrobial effect, as researchers from Empa's Laboratory for Biointerfaces confirmed for the bacteria strain Staphylococcus aureus. Unwelcome bacteria might potentially also be combatted by selecting the right bandage material in future.
Keen interest from industry
In order to illustrate what a smart wound dressing might actually look like in future, Luciano Boesel, from Empa's Laboratory for Biomimetic Membranes and Textiles, places a prototype on the lab bench. "You don't have to cover the entire surface of wound dressings with sensors," he explains. "It's enough for a few small areas to be impregnated with the pyranine benzalkonium molecules and integrated into the base material. This means the industrial wound dressings won't be much pricier than they are now – only up to 20% more expensive." Empa scientists are currently working on this in the follow-up project FlusiTex-Gateway in cooperation with industrial partners Flawa, Schöller, Kenzen and Theranoptics.
Panzarasa now drips various liquids with different pH levels onto all the little cylinders on the wound pad prototype. Sure enough, the lighter and darker dots are also clearly discernible as soon as the UV lamp is switched on. They are even visible to the naked eye and glow in bright yellow if liquids with a high pH come into contact with the sensor.
According to Boesel, it might one day even be possible to read the signals with the aid of a smartphone camera. Combined with a simple app, nursing staff and doctors would have a tool that enables them to easily and conveniently read the wound status "from outside", even without a UV lamp. And patients would then also have the possibility of detecting the early onset of a chronic wound at home.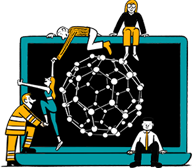 Business intelligence for the fibre, textiles and apparel industries: technologies, innovations, markets, investments, trade policy, sourcing, strategy...
Find out more