The North American technical textile's industry's premier show, Techtextil North America, was held May 13-15 at the Georgia World Congress Center in Atlanta, providing the technical textiles industry with a multi-faceted show in one location.
Trade shows, expositions, and conferences are designed to appeal to focused audiences and as many elements of that focus as possible. When Techtextil NA was begun in 2000, it was hoped that the various segments, many represented with their own individual show, would be attracted to TTNA, locate in one place, and lessen the need for people to exhibit and travel to so many such events. Many segments cross boundaries in many fields, often necessitating some companies exhibiting and/or attended in several of the shows.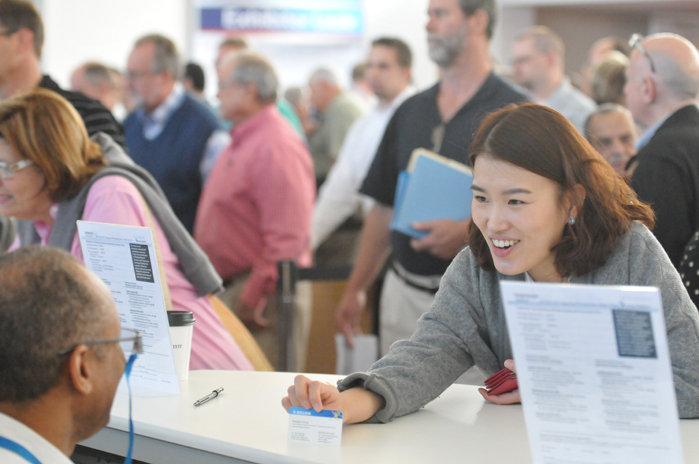 What has actually happened is that expositions and conferences of the various groups have grown to the point where everyone wants their own show, and it is hard to schedule one that doesn't fall close with another. TTNA continues to make efforts to cover many bases in one show, making strides in achieving their goal of a large "all-in-one" show by focusing on the "higher end" of technical textiles, adding exhibitors not previously there, and co-locating with other shows representing segments where there is synergy with Techtextil.
"2014 edition was the best yet"
TTNA has grown over the years and the 2014 edition was indeed the best yet. The alliance with JEC showcased the rapidly growing composites field, and Texprocess, the sewn products, "beyond fabric" area.
So the three shows at the GWCC, Techtextil NA, Texprocess, and JEC, ended up with about 800 exhibitors and over 100 symposium topics, drawing a large crowd of over 8000.
Made in America
A unique new program was also tried in 2014 by having a separate area highlighting the supply chain, with a focus on "Made in America". Exhibitors included those in fabric production, as well as apparel producers, knitters and weavers, even braiders, and distributors and brokers. The US Department of Commerce booth was in the Supply Chain sector. That section confused some since many of those in the supply chain side were inside the Texprocess section, with many of the companies that would normally be in the Techtextil side – large fabric producers, such as Milliken. But those interviewed felt it was a successful addition, perhaps needing a bit of tweaking to make it more relevant.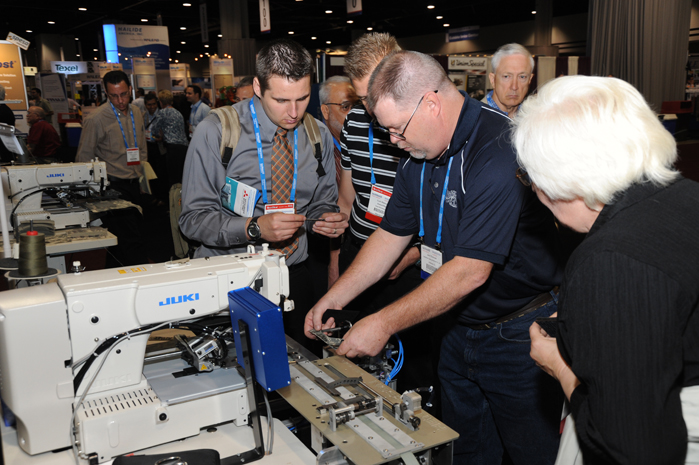 Though extensive country pavilions were present (Chinese, German, Italian, among others), "Made in America" was a theme in many sections of US companies. Some feel there is a renaissance of sorts of the textiles and apparel industry in the US, with new mills (some Chinese and Indian) and specialized garment and sewn products firms being established in the area with some frequency. Also, many companies are moving production back to America for production. Not a tidal wave - that won't happen - but a sizeable amount and a good omen for the US textile industry.
Dave Gardner, president of SPESA, the sewn products group, in the opening press conference indicated that far from declining, in the last two years, production of cut-and-sew products have actually increased 13% in the US. A major point made by Gardner, and one relevant for all sections, was that while production was higher, job growth was not. Technology and innovative production techniques have made a major difference in producing at a competitive price.
While not a lot of Chinese companies in Texprocess as such, Gardner pointed out numerous big name companies that were exhibiting that were owned by Chinese – "The Chinese are indeed here," he said adding, "Though most of the new technology comes from the west".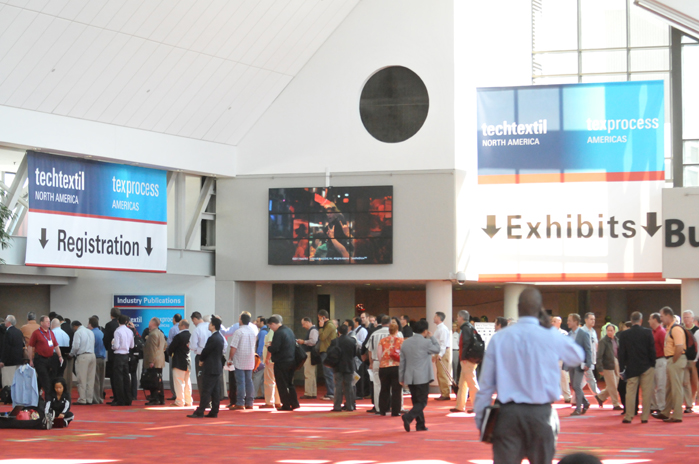 As previously announced the large Techtextil in Frankfurt, the largest event worldwide for the technical textiles industry, will be expanded to four days in 2015 and synchronized with Texprocess so that both shows will run at the same time. New areas will be added. The largest growth and interest areas of all markets for Techtextil, said Michael Janecke, Brand Manager of the Techtextil brand worldwide, are those involving protective clothing and military applications.
This author spent most of his time in the TTNA side, with only a walk-through of Texprocess and a couple more of the JEC exhibitors. All had very interesting exhibitors, but it depended on one's specific areas of interest.
Techtextil Symposium
The Symposium had several interesting presentations, and was, generally, well attended. The fibres areas and those of protective clothing and military seemed to draw the largest crowds. Space does not permit extensive coverage, only highlights. TTNA had a good mix, though some were a bit technical for the average attendee, but it is hard to please everyone. Areas highlighted included the aforementioned fibres and protective/military topics, as well as Trade and Regulatory issues, medical research, automotive, high performance sports applications and intelligent textiles.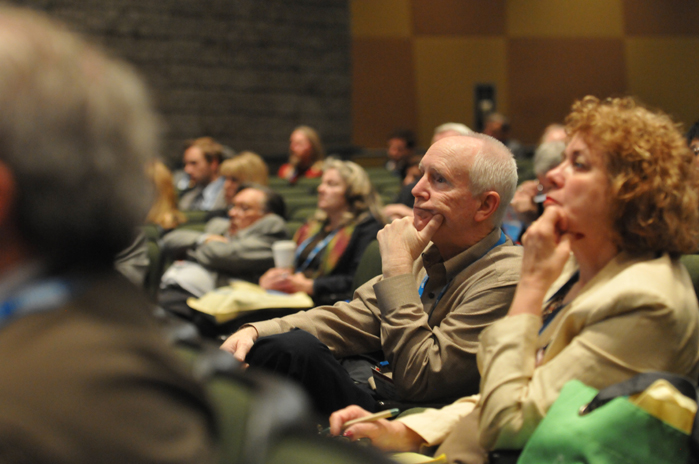 In the trade/regulatory area, Hardy Poole, of the National Council of Textile Organizations (NCTO), the umbrella lobbying group in the US, reviewed a long list of things being worked on by the Federal government, and the various states, running the gamut from safety, FR, chemical safety, pollution, and other concerns, sustainability, and recycling, all relating to textiles. He pointed to the various laws in the states, many conflicting, and concluded that: "States will continue to regulate until the Federal government takes action".
Poole pointed out that though many think the US textile industry dead, it is actually quite viable, depending on one's interest in particular segments. In 2012 (latest available figures) 499,000 are employed, fibres through apparel, in the US textile industry; shipping $53 billion, in products, $17 billion exported, making the US the fourth largest exporter of textile materials.
"Fibers are the building blocks of nature"
Ryan Heniford of Secant Medical presented a fascinating presentation on Textiles and Regenerative Medicine. He sees the next crisis as the ageing populations, people living longer, needing more care and new cures for existing ailments such as cancer and diabetes, outlining the cost to the economy of each sector. Can fibres play a part? "Fibers are the building blocks of nature" he says. Synthetic biomedical textiles can be the next disruptive technology.
Heniford says: "The basic constructs familiar in synthetic textile repair can be transformed into biodegradable tissue scaffolds by changing the building block materials of construction. The impact of coupling new biomaterials with precision textile engineering allows the ability to control multiple functional tissue mechanical properties of the biodegradable with 'rational' scaffold design."
JEC Composites
In the JEC portion, it was fascinating what is being done with composites, with carbon leading the way in new technology. A slight irritation for some was splitting JEC, one part on each end of the hall, with TTNA and Texprocess in between. This was explained by TTNA staff as the result of when JEC finalized the co-locating, after most of the hall had already been committed. It will not happen again. Attendees though took it in their stride.
Dornier, a leading producer of looms for technical textiles, was showcasing their tape weaving loom with their Composite Systems Group. Said by Peter Brust, executive vice president to be the only one of its type available, advised that tape weaving is not new but Dornier's system uses a monoaxially stretched and flat coated webs (typically with polyethylene), about one inch or so width, as the warp, with the machine grabbing the webs and keep them stable while inserting a similar tape filling in a unique way. The system provides 100% control over the process, producing a flat biaxial surface structure with low weight and little undulation. The fabrics can be used in a flat or a shaped composite part.
Brust points out that Dornier also offers many other solutions for the composites industry including 2 and 3-D weaving technology.
Bally Ribbon Mills has a full line of traditional narrow fabrics and webbing, with a booth in the Techtextil area. Their Advanced Products Group showing in the JEC area, also has a wide range of technology for the high performance composites industry, many of carbon yarns. These include 3-D woven joints for complex net shapes, advanced spiral woven structures, braiding, carbon and ceramic woven tapes and fabrics. Bally's senior textile engineer Curt Wilkinson, reviewed a number of those areas, with models. He pointed out a special new technology being introduced utilizing a new computer controlled weaving 'device' to automatically weave '3-D quasi-isotropical (0°, 90°, +/- 45°) near-net-shape preforms, significantly reducing labour costs' in production of composites. Such a multi-layer, bias ply material designed to offer significant advantages in fabrication, is reducing costs in aerospace applications.
Heating textiles
Kufner Textil GmbH, Germany, drew a lot of attention with their THS, Thermal Heating System, utilizing conductive yarns and materials to provide fabrics using low voltage current for heating, personal or medical reasons, for temperature control in equipment, and the like. The textile heating elements are produced on a roll and easily stitched and fabricated to a variety of end use applications – failure of one 'wire' does not affect the rest of the fabric's performance. It provides a flexible platform for uniform heat distribution. The products can be engineered into the products. Heated seats in automobiles is one familiar application.
DMT free coatings
There is concern in Europe, and globally, over the use of DMT as a solvent in production of urethane coated fabrics. It is being considered for banning but a suitable, economical, alternate material has been difficult to find. Nicholas Smith, General Manager, Textile Coatings, of Bayer Material Science, showed a PUR coated fabric, completely free of DMT that was soft and flexible, making a fabric much like fine leather. Cost and production changes were not discussed, but it appears as though Bayer has developed a suitable system.
BlueStar Silicones USA, impressed with a new product, Bluesil™ TCS silicone coated fabric with texture. No more rubbery fabric. The product was said by Blue Star's Ronald Hanks to be designed as a top-coat to conventional silicone coated fabrics applied as a thin film (approximately 10 microns). The finished product yields a desirable textured matte finish, yet retains a high slip and low friction surface found in silicone coated fabrics. It also had less static build-up and attracts less dirt.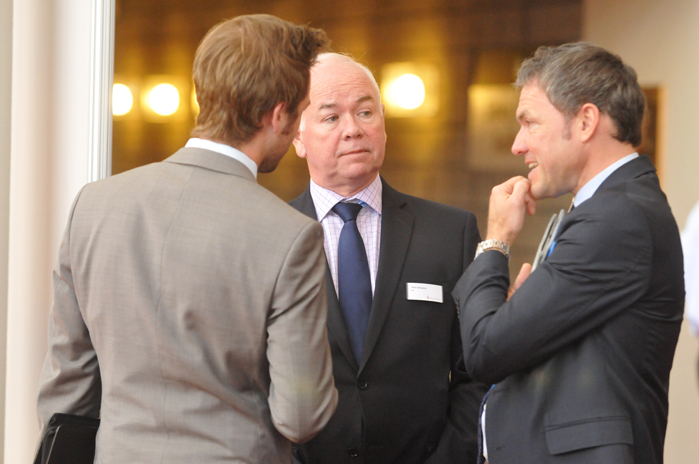 Techtextil NA was a busy, high technology event with 'something for everyone'. One has only to look to find new products and innovative application of technology to move the industry forward.
All three 'partners' professed to be pleased with the arrangement and will again co-locate in 2015 in Houston, for the 'western' edition of TTNA, a smaller show focused on educating about the technical textiles industry.